Mark this as the second time someone has replaced a Carson on late-night television. Lilly Singh, author, actress, and YouTube sensation, will be replacing Carson Daly as host of the 1:30am time-slot on NBC.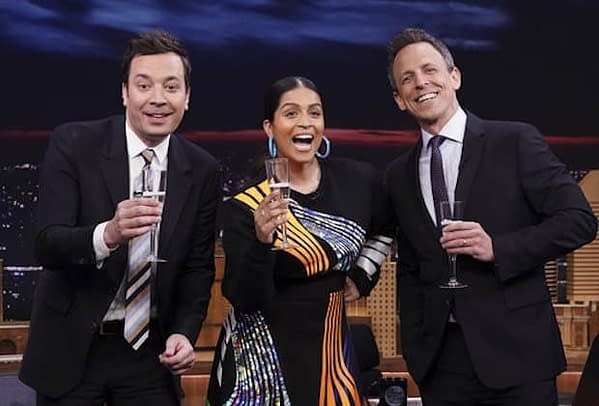 A Little Late with Lilly Singh will debut this September, and will feature studio interviews, pre-recorded comedy segments, and "signature segments".
An Indian-Canadian woman with her own late night show? Now that is a dream come true. I'm thrilled to bring it to life on NBC, and I hope my parents consider this to be as exciting as a grandchild.

-Lilly Singh
Sing stopped by The Tonight Show Starring Jimmy Fallon on Thursday night to make the announcement.
Lilly is truly a star and we're thrilled to welcome her to our NBC family. She is a multi-talented performer who will surely have a great rapport with not only all her guests but also with our devoted late-night audience. We can't wait to get started."

-Doug Vaughan, Executive Vice President, Special Programs and Late Night, NBC Entertainment.
Singh is no stranger to fame, having a YouTube channel with over 14 million subscribers. Singh uses the channel to provide a mix of comedic and inspirational programming.
Singh is also the author of the How to Be a Bawse: A Guide to Conquering Life, and has appeared on Forbes' 30 Under 30 Hollywood & Entertainment list, as well as being named one of the most influential people on the internet by Time.
Singh appeared in the Emmy nominated Fahrenheit  451 on HBO alongside Michael B. Jordan. Singh was also in Bad Moms, and performed in Ice Age: Collision Course.
Singh will be replacing Daly, who has been hosting the 1:30am time-slot for 17 years. Daily is stepping down from the late night position to focus on his hosting segments on the Today show, as well as his duties on The Voice.
Singh will be an executive producer on A Little Late with Lilly Singh, with co-executive producer Polly Auritt working alongside Universal Television and Unicorn Island Productions.
Singh will be the only woman fronting a late-night talk show on a major network.
Enjoyed this article? Share it!