"Locke & Key": Let's Let Joe Hill Enjoy His Netflix Series' Early Rotten Tomatoes Score, Okay?
Netflix's upcoming adaptation of Joe Hill and Gabriel Rodriguez's comic book Locke & Key has had a bit of an adventure of its own over the past year or so. Originally Hulu-bound, the ten-episode, supernatural-fantasy drama from Hill, co-showrunner/EP Carlton Cuse, and IDW Entertainment went through some major behind-the-scenes creative changes as it switched streamers.
So with only days to go before its February 7th premiere, we can't blame Hill for taking a cautious early "victory lap" – taking to Instagram earlier this week to express his pride in the show's early Rotten Tomatoes scores. Though readily admitting that it's still early on, Hill wants to "enjoy this for a moment", and expressed his overall pride in and appreciation for the show's team in his following message:
UPDATE: So we have six more reviews in – and while the series may no longer be coasting in the 90s, it's holding a solid and respectable 83% – and we're suspecting the Audience Score will end up being another shot of adrenaline to the show's system: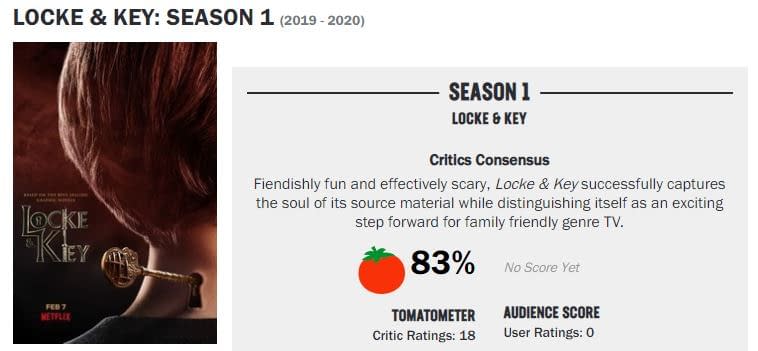 Netflix released a sneak preview that offers us a little background on how the Locke kids rally some support – while also reminding them
The following previously-released teaser focuses more on the conspiracy surrounding Rendell Locke's murder – and what it all has to do with those special keys…
In the following video, Hill, Rodriguez, Cuse, and co-showrunner/EP Meredith Averill look back on the graphic novels' journey from comic book to screen:
Here's a look at the character profile posters for the series – along with more about those keys: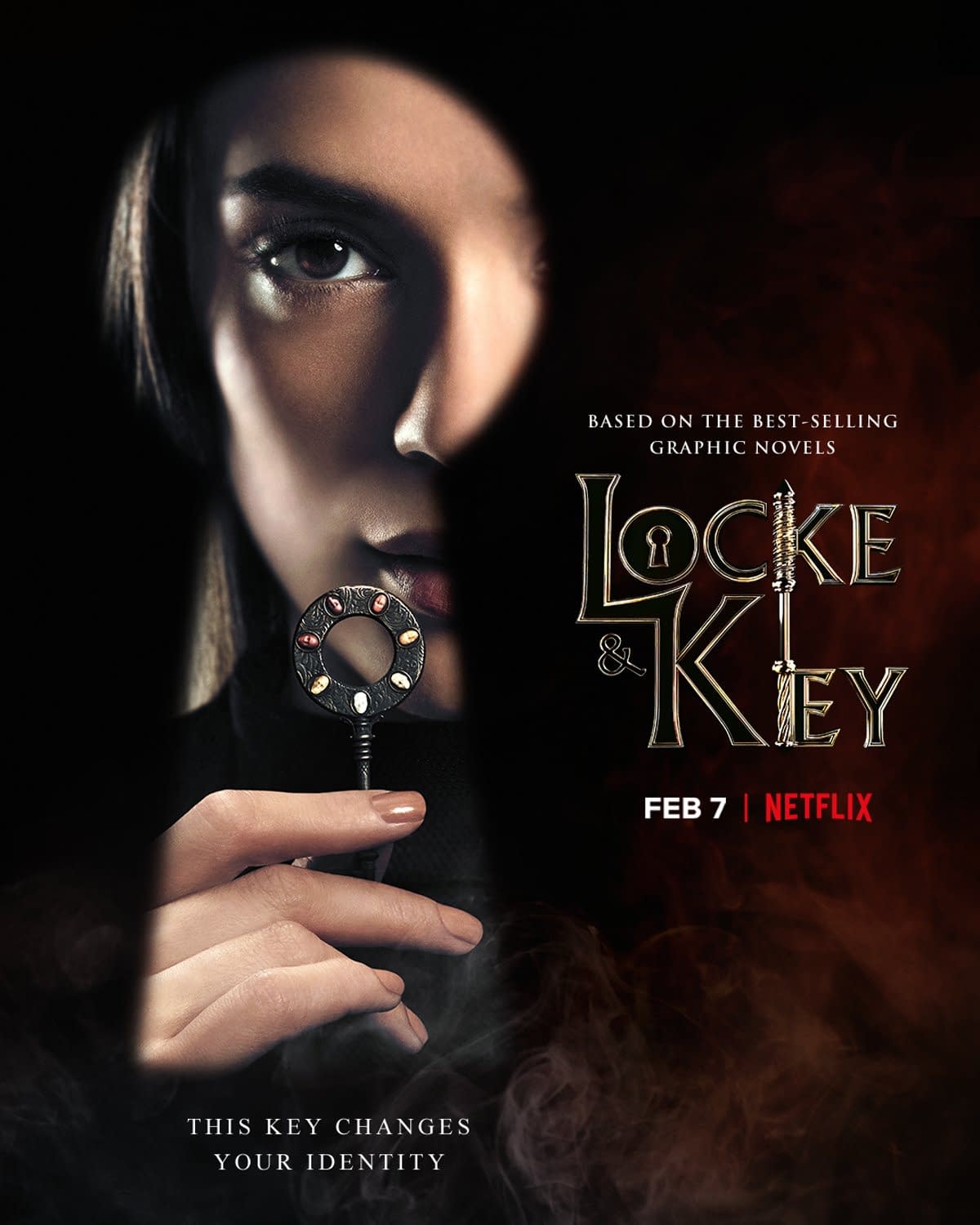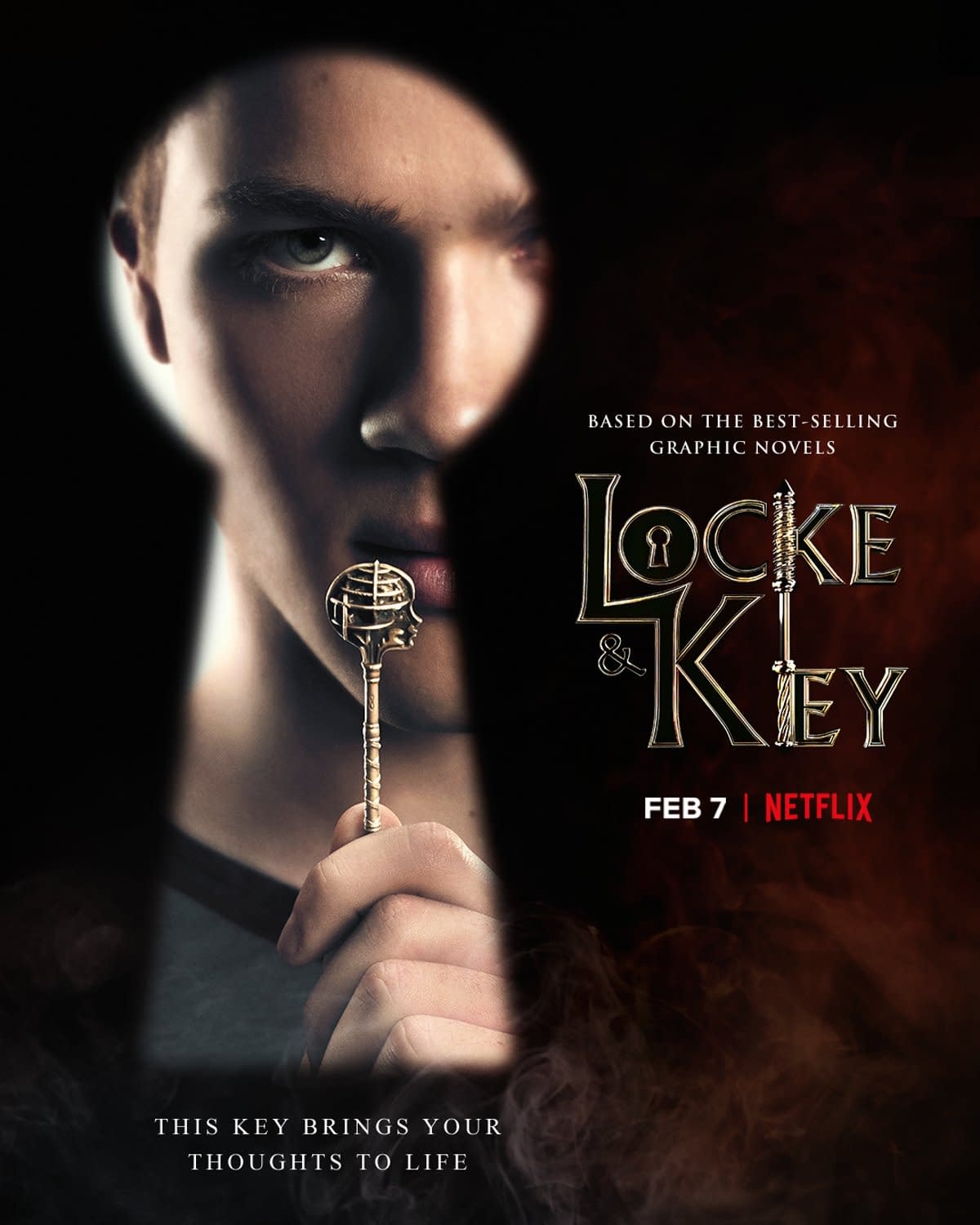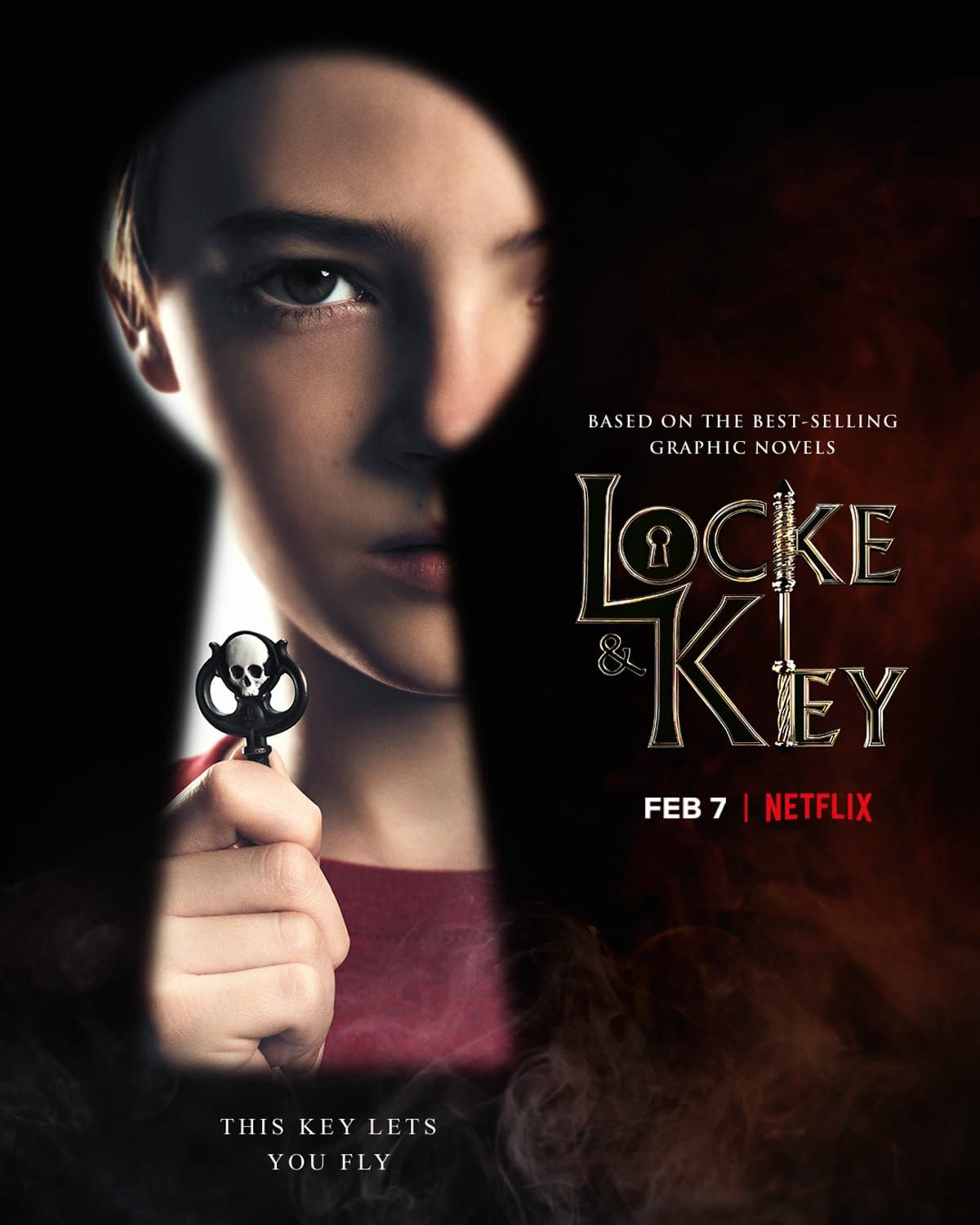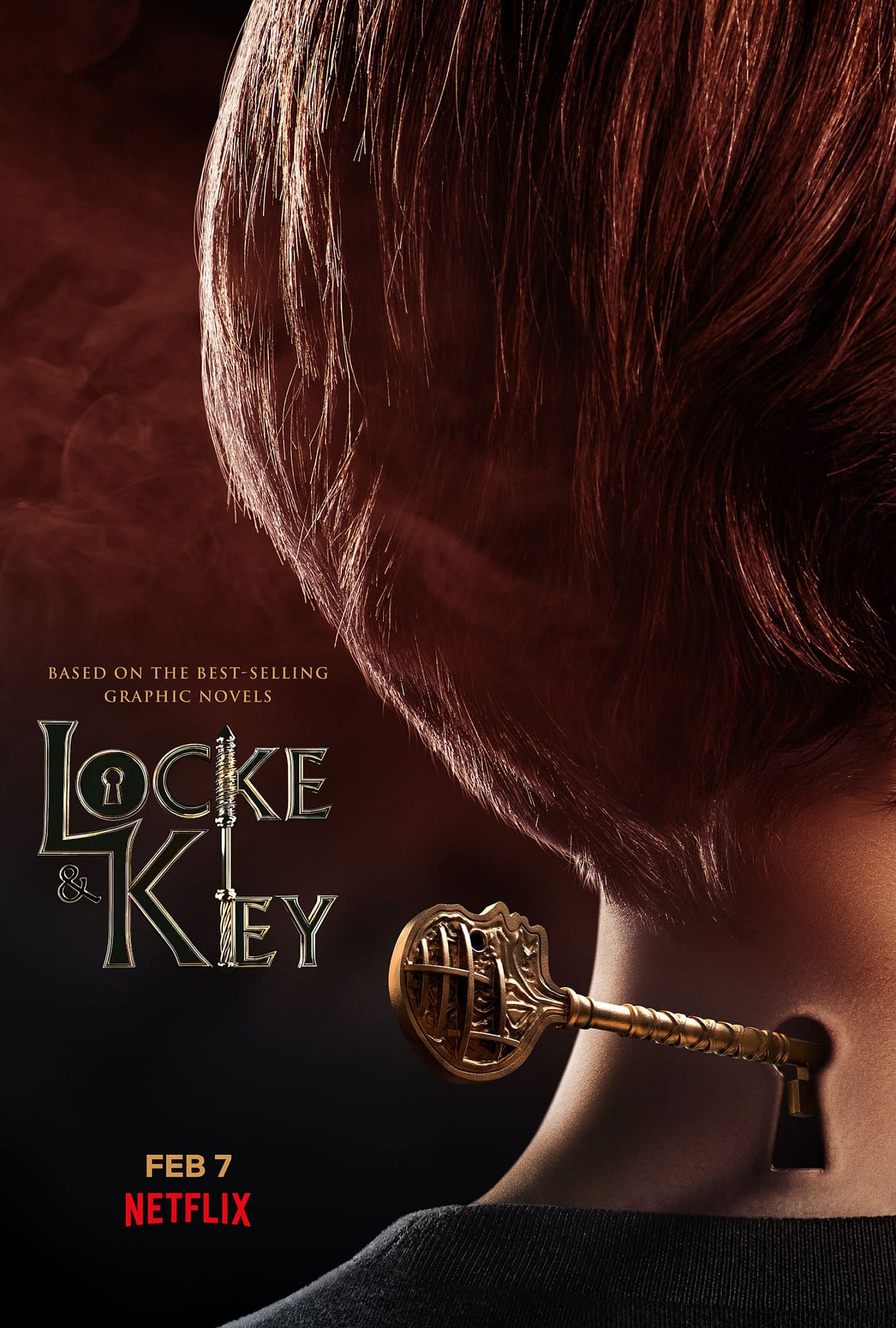 One person who's done an excellent job of keeping fans up-to-speed on the personal, behind-the-scenes aspects of filming is actress Darby Stanchfield (Scandal), otherwise known as family head Nina Locke.
After a traumatic home attack, Stanchfield's Nina moves her family across the country to Keyhouse for a fresh start — and also to solve the mystery surrounding her late husband Rendell's murder. She struggles with her new role as a single mom, as Rendell was always more the traditional parent type. She's much more comfortable as an artist and house renovator.
Stanchfield has proven a one-woman social media public relations machine, with a strong "Instagram fu" for offering fans updates. Stanchfield continues to help those who still need to get caught up on Locke & Key before the series premiere. In a series on Instagram stories (that you can check out here), the on-screen matriarch of the Locke family introduces us to Hill and Rodriguez's world – and it's just great. Trust us. It really is.
If you don't believe us, check out the following food-related incident that took place during filming and then tell us you're not sold…
In November 2019, Stanchfield shared her thoughts on the show's writing team after lunch and a group photo that includes Cuse, Averill, Michael D. Fuller, Vanessa Rojas, Liz Phang, and Lindsey Springer:
Netflix's adaptation of the horror/fantasy comic book series focuses on the Locke siblings – Kinsey (Emilia Jones), Tyler (American Crime's Connor Jessup), and Bode (It's Jackson Robert Scott) – who move to their ancestral home in Massachusetts after the gruesome murder of their father, only to find the house has magical keys that give them a vast array of powers and abilities. Standing in their way is a devious demon who also wants the keys and will stop at nothing to attain them.
Petrice Jones' (Step Up: High Water) Scot is a massive horror movie nerd and ringleader of the "Savini Squad" – a group of teen misfits named for famed special effects artist Tom Savini – who becomes Kinsey Locke's first friend at the Academy.
Thomas Mitchell Barnet's (Saving Hope) Sam Lesser is a troubled, sensitive young man who longs for a connection and will go to desperate lengths to find one. His vulnerability makes him an easy target for Dodge's manipulation.
Laysla De Oliveira's Dodge is a beautiful, unpredictable and sinister demon in human form that torments the Locke family.
Kevin Alves' Javi is the colorful life of the party who doesn't take life too seriously – doing his best to try to persuade new friend Tyler Locke to do the same.
Asha Bromfield's (Riverdale) Zadie is a spunky horror nerd and the lone female member of the "Savini Squad" – that is, until Kinsey Locke arrives at Matheson Academy.
Griffin Gluck's (American Vandal) Gabe is a new boarding student at Matheson Academy who befriends Kinsey Locke.
Steven Williams' (The Chi, The X-Files) Joe Ridgeway, an esteemed teacher at Matheson Academy who connects with the newly arrived Locke family and who might be in for much more than he was expecting.
Felix Mallard's (Happy Together) Lucas Caravaggio is a charming teenager in the town of Matheson whose exposure to magic leads to serious complications.
Coby Bird's (The Good Doctor) Rufus Whedon is the son of Ellie Whedon, and a friend of Bode Locke. He has an unspecified mental disorder that causes him to be affected by the Keys in different ways than others.
Sherri Saum's (TheFosters) Ellie Whedon is Rufus' mother and a teacher at Matheson Academy who has a mysterious history with the Locke family.
Eric Graise (Step Up: High Water) portrays Logan Calloway, though little else was released.
Hill and Cuse are joined on the Locke & Key creative team by Aron Eli Coleite and Meredith Averill. The first episode is written by Hill and Coleite, with Cuse and Averill as showrunners. Michael Morris (Better Call Saul, Preacher) directs the first two episodes. It's Andy Muschietti and Cuse will serve as executive producers, alongside with Barbara Muschietti, Hill, Averill, Coleite and Morris. Genre Arts' Lindsey Springer, IDW Entertainment reps Ted Adams, and David Alpert, and Rick Jacobs via Circle of Confusion will also executive produce.