Lucifer Season 4: The Devil and the Original Sinner Meet in This New Image
It was almost a really rough summer for the fanbase and cast of the Fox show Lucifer. After three seasons, the show was canceled — potentially ending on a huge cliffhanger. The fans and the cast used the power of social media and in the 11th hour Netflix swept in and renewed the show for a fourth season. We've seen a few pieces of information teased about the new season, but TV Line has a new picture and spoke to stars Tom Ellis and Lauren German about the new character of Eve, the original sinner, played by Inbar Lavi.
"Lucifer is in a very vulnerable moment, emotionally — not that he would ever recognize that — when out of nowhere, Eve turns up," series star Tom Ellis shared.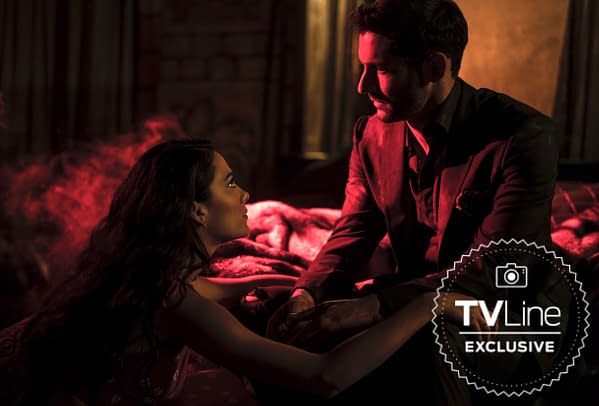 It sounds like Eve could really throw a wrench into the dynamics of the show, considering Chloe has just found out about who Lucifer is and this is going to make those revelations harder to deal with.
"[Seeing Eve again] brings back so much for Lucifer, about the man he used to be — or, the Devil he used to be," Ellis added. "She's never forgotten about him. And she loves him."
German had nothing but nice things to say about her new co-star, saying that Lavi really manages to capture an otherworldly performance.
"Inbar plays Eve so uniquely, and well…. She just brings a whole new vibe to the show," Lauren German effused. "She has this ethereal and light and sensual energy."
This set visit that TV Line did was during the filming of the finale and they've been filming since August. They could be wrapping up the season pretty soon and there is a decent chance we'll see season four sometime in 2019.
Summary: Lucifer Morningstar has decided he's had enough of being the dutiful servant in Hell and decides to spend some time on Earth to better understand humanity. He settles in Los Angeles – the City of Angels.
Lucifer, with showrunners Joe Henderson and Ildy Modrovich, stars Tom Ellis, Lauren German, Kevin Alejandro, D.B. Woodside, Lesley-Ann Brandt, Rachael Harris, and Aimee Garcia. The fourth season of Lucifer is currently in production but there is no announcement about when the fourth season will stream to Netflix.