Lucifer Season 5 Showrunner Talks Possibility of God Johnson Return
While Lucifer showrunner Ildy Modrovich is out having fun dousing the fires of mindless sixth-season recasting speculation, fellow showrunner Joe Henderson is offering some thoughts on if a familiar face will be making an appearance during the fifth season: Timothy Omundson's (Psych) fan-favorite Earl "God" Johnson. Understandably, Henderson isn't willing to divulge too much about the series' return and who may (or may not) be returning but he didn't write off the possibility. A major factor would be Omundson's health, with the actor still recovering from a major stroke in 2017: "It depends on where he is recovery-wise. It's one of the things we want to do is reach out and see where he is as we get closer. I think we've talked about this a little bit. I've never before had an actor come into one episode who just felt like part of the family so quickly," said Henderson. "I haven't talked with him for a couple of months, I don't know where he is in recovery, I don't know where he is on wanting to be either on screen or in anything right now. But we love him, and he's just such a joy and talent."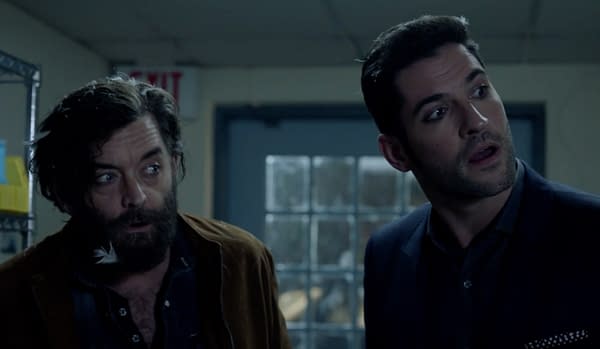 First introduced in second season episode "God Johnson," Earl Johnson was a wealthy Texas oil magnate who one day gave away all of his money and changed his name to God. Johnson would end up committed to Westridge Canyon Psychiatric Hospital by his wife, with a murdered orderly bringing Johnson to Lucifer's attention. While doubtful at first, Lucifer changes his mind after Johnson calls him "Samael." Unfortunately, Johnson's powers were derived from the Medallion of Life, which was embedded in the belt buckle he bought at a New Mexico Navajo gift shop. Once the belt was removed, all of Johnson's "god memories" were gone.
Here's a look back at the shooting script info tweet sent out to usher in the title of the season 5 opener, sporting the curious-sounding title "Really Sad Devil Guy" – written by executive producer Jason Ning (The Expanse) and directed by Eagle Egilsson (Gotham). Following the opener, viewers can look forward to "Lucifer! Lucifer! Lucifer!", "¡Diablo!", "It Never Ends Well for the Chicken", "Detective Amenadiel", "BluBallz", "Our Mojo", "Spoiler Alert", "Family Dinner", "Bloody Celestial Karaoke Jam", "Resting Devil Face", "Daniel Espinoza: Naked and Afraid", "A Little Harmless Stalking", "Nothing Last Forever", "Is This Really How It's Going To End?!", and "A Chance at a Happy Ending" (so much to unpack in that run of titles).
Modrovich is set to helm the season's penultimate episode, "Is This Really How It's Going To End?!" (written by Ning, and what a wonderfully ironic title). Now that she's free to talk about it (so wait, as showrunner would she have to yell at herself if she spoiled anything), here's Modrovich's thoughts on the announcement: