Lucifer Showrunner Responds to Those Tom Ellis/Ian Somerhalder Rumors
Though reports surfaced at the end of May that Warner Bros. TV and Tom Ellis had reached an agreement on a renegotiated contract for a sixth season, fans of Netflix's Lucifer are still waiting patiently on an official confirmation (as well as news on when season 5 will see the light of day). Things got a little shaky last month when word surfaced that Ellis and WBTV had reached an impasse, which was further complicated by the fact that the actor already had a sixth season built into his existing contract.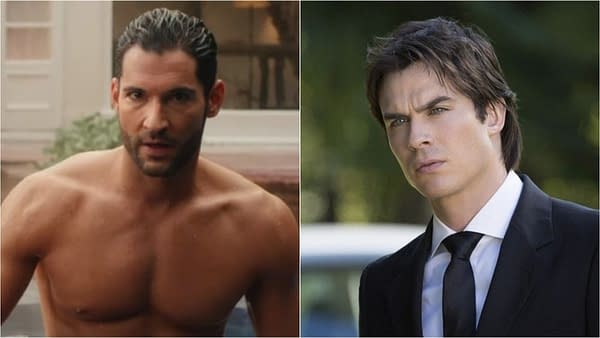 So needless to say, fans of the fallen angel started getting nervous. We all know where nervousness leads to, right? The dumpster fire otherwise known as "random speculation," with one rumor in particular gathering some social media traction: that The Vampire Diaries star Ian Somerhalder would be taking over the lead role with the sixth season. Well, let's just say that showrunner Ildy Modrovich had a pretty straight-forward response that didn't leave much for interpretation and should pretty much put the rumors to rest:
Here's a look back at the shooting script info tweet sent out to usher in the title of the season 5 opener, sporting the curious-sounding title "Really Sad Devil Guy" – written by executive producer Jason Ning (The Expanse) and directed by Eagle Egilsson (Gotham). Following the opener, viewers can look forward to "Lucifer! Lucifer! Lucifer!", "¡Diablo!", "It Never Ends Well for the Chicken", "Detective Amenadiel", "BluBallz", "Our Mojo", "Spoiler Alert", "Family Dinner", "Bloody Celestial Karaoke Jam", "Resting Devil Face", "Daniel Espinoza: Naked and Afraid", "A Little Harmless Stalking", "Nothing Last Forever", "Is This Really How It's Going To End?!", and "A Chance at a Happy Ending" (so much to unpack in that run of titles).
Modrovich is set to helm the season's penultimate episode, "Is This Really How It's Going To End?!" (written by Ning, and what a wonderfully ironic title). Now that she's free to talk about it (so wait, as showrunner would she have to yell at herself if she spoiled anything), here's Modrovich's thoughts on the announcement: