"Lucifer" – The Devil Made Them Do It: Netflix Ups Season 5 to 16 Episodes
While fans of Netflix's Lucifer are still bracing for their final run with Tom Ellis' devilish lead, the streamer is doing what it can to extend that final run. The streamer announced on Friday that the series' fifth season will go from 10 to 16 episodes – which means the creative team will have six additional hours to not pull a Dexter (thought we were going Game of Thrones there, didn't you?).
Here's a look at the official announcement of the final season's increased episode order; followed by the original tweet announcing the series' return to Netflix for a fifth and final season, as well as the official statement from the streamer at the time of the series' renewal:
"We're thrilled that Lucifer fans around the world have embraced this series on Netflix, and we can't wait to give them the big finish they've all been waiting for."
Showrunners and executive producers Ildy Modrovich and Joe Henderson expressed their gratitude to not only Netflix but also the dedicated fanbase for giving them the opportunity to end the show on their terms:
"We are so incredibly thankful to Netflix for resurrecting our show last season, and now letting us finish the story of Lucifer on our terms. Most importantly, we want to thank the fans for their incredible passion and support. The best is yet to come!!"
Now here's a look at the official trailer/overview for the fourth season of Lucifer, as well as a look at the season's episode titles/synopses:
Reeling from the aftermath of Chloe seeing his devil face, Lucifer faces a new challenge: Eve, the original sinner herself, is back. Does she want revenge for when he tempted her out of Eden oh so many years ago… or something else entirely?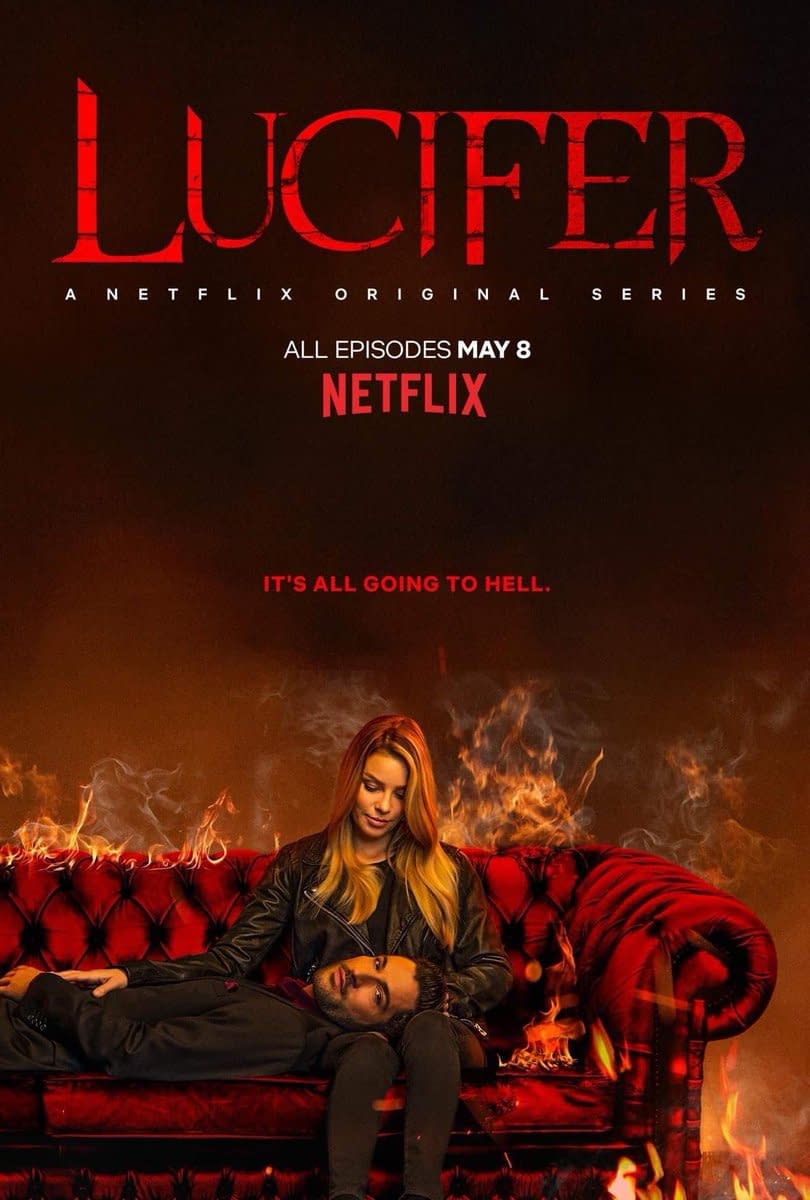 Episode 1 "Everything's Okay": While investigating a beekeepers murder with Lucifer, Chloe insists that she's completely fine with his devilish revelation, thank you very much.
Episode 2 "Somebody's Been Reading Dante's Inferno": Chloe and Lucifer look into a murder on the set of a reality show. Father Kinley presses forward with a plan. Amenadiel reconsiders his idea of home.
Episode 3 "O Ye of Little Faith, Father": An ex-gang member's murder may mask an even darker crime. Lucifer catches Chloe in a lie. Dan and Maze go rogue. Linda braces for looming motherhood.
Episode 4 "All About Eve": When a jewelry designer is murdered, Lucifer and Chloe strive to solve the case without each other's help. Also, Lucifer reconnects with an old flame.
Episode 5 "Expire Erect": After a collector of classic cars is killed, Lucifer and Chloe search for the culprit – as well as some closure to their relationship.
Episode 6 "Orgy Pants to Work": While Lucifer and Chloe search for a connection between a murdered auditor and a nudist colony, Amenadiel plays host to an unexpected visitor.
Episode 7 "Devil Is as Devil Does": Eve takes a more active role in her main man's professional life; Lucifer goes back to basics; Amenadiel fights for his family.
Episode 8 "Super Bad Boyfriend": Lucifer and Chloe investigate a teacher's murder; Lucifer goes to extremes to convince Eve to dump him; Amenadiel mentors a teen.
Episode 9 "Save Lucifer": Lucifer's so-called epiphany has Chloe worried, but it is his physical transformation that is really freaking her out; Maze gives Eve a pep talk.
Episode 10 "Who's da New King of Hell?": With murderous demons on the loose in Los Angeles, it is up to Lucifer to reign in the chaos and protect the people he cares about the most.