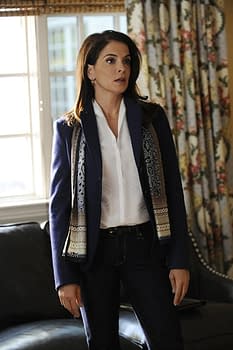 In what seems to be a rather late announcement for a series that was said to wrap filming back in November 2017, The Sopranos alum Annabella Sciorra has been cast in season 2 of Marvel's Luke Cage. Sciorra has been cast as Rosalie Carbone, a dangerous downtown criminal underworld power player with an eye and agenda toward Harlem.
Sciorra joins returning cast members Mike Colter (Luke Cage), Simone Missick (Misty Knight), Alfre Woodard (Mariah Dillard), and Theo Rossi (Hernan 'Shades' Alvarez), and two new villains Bushmaster / John McIver played by Mustafa Shakir and Nightshade / Tabitha Johnson played by Gabrielle Dennis.
In the new season, after clearing his name, Luke Cage (Colter) has become a celebrity on the streets of Harlem with a reputation as bulletproof as his skin. But being so well known has only increased the pressure he feels to protect the community. With the rise of a formidable new foe, Luke is forced to confront the fine line that separates a hero from a villain.
Sciorra may be best known for her performance as Gloria Trillo on The Sopranos. She also had leading roles in Jungle Fever and The Hand That Rocks The Cradle. She will star in a recurring role in season 2 of Netflix's G.L.O.W., as well.
Carbone is a character from the comics — a mafia princess in the Carbone crime family who fell for the newest member of the family, Johnny Tower. She felt extremely betrayed when Tower turned out to be Frank Castle, aka the Punisher. When she inherited the family, she spent a lot of time and resources trying to hunt down the Punisher. She first appeared in Punisher Warzone Vol 2 #1 by Chuck Dixon and John Romita Jr.
This is not the first time Sciorra and Colter have worked together — the actress did a guest spot on The Good Wife in 2012 when Colter was on the series.
All 13 episodes of Marvel's Luke Cage season 2 will premiere on June 22nd on Netflix.
Enjoyed this article? Share it!