Sometimes you just hear things in the right conversation. So, as I was hearing earlier the other week from very-connected sources that a) Secret Invasion would be happening as a live-action TV drama from Marvel for Disney + and b) there was still another A-list MCU character show to be revealed, I also heard a tiny detail about the upcoming M.O.D.O.K. TV series for Hulu that, along with Hit Monkey, survived the Kevin Feige culling that saw Tigra & Dazzler and the Kevin Smith-led show Howard The Duck, hit the skids. And potentially dooming the combined-show The Offenders, that would have had cast from all four shows appear.
Which would have been really interesting for M.O.D.O.K. Starring Patton Oswalt as the titular Mental Organism Designed Only for Killing, and who is also co-writing and co-producing the show with Jordan Blum, the show also has cast Beck Bennett as Austin Van Der Sleet, Jon Daly as the Super Adaptoid, Aimee Garcia as Jodie, Wendi McLendon-Covey as Monica Rappaccini, Sam Richardson as Gary and Ben Schwartz as Lou.
Because what I have been told, what has been prepared so far for M.O.D.O.K is a stop-frame animated cartoon in the manner of Robot Chicken, which gave the impression of animated action figures – and may have a similar tone as well. It is also notable that Marvel Comics already made a number of M.O.D.O.K. shorts a decade ago using that kind of Robot Chicken-esque style. Like this:
What the new MODOK will look like – maybe we'll find out for San Diego Comic Con… how that would – or still will – work in The Offenders, I have no idea.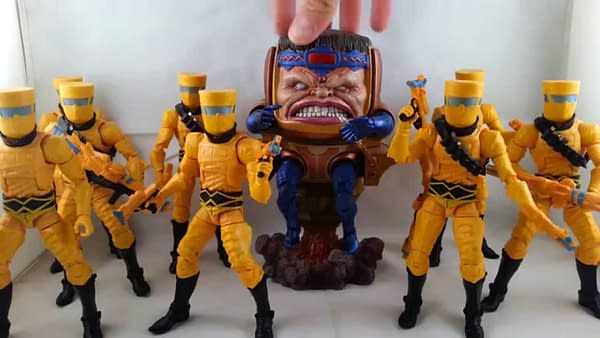 Enjoyed this article? Share it!