Divinely Dull 'Miracle Workers' Makes 22 Minutes Feel Like "12 Days" [REVIEW]
What exactly is Miracle Workers? The TBS show bills itself as a comedy, but that would imply that the show is actually funny – so, comedy is out. Miracle Workers is occasionally clever, but not clever enough for me to call it a Clevery. Mostly, Miracle Workers is trying.
So I am going to call it a trial, then.
After last week's terribly dull "13 Days", I decided that perhaps I didn't understand comedy. Maybe the writing team on Miracle Workers has written something that's so next level that I'm just not catching it… but then there was a Geiko commercial with a lobster in a hot-tub that got a solid chuckle out of me, which is more than any single scene in this week's "12 Days" got.
Miracle Workers is like one of those SNL bits that airs after Weekend Update – but an entire season of that.
"12 Days" has Craig (Daniel Radcliffe) and Eliza (Geraldine Viswanathan) desperately in need of help. Their plan to pull two hapless mortals together to avert Armageddon has gone off the rails, and Eliza thinks they should go to Sanjay (Karan Soni) for assistance.
Craig wants nothing to do with this, since Sanjay once worked in the Prayers department – and Craig thinks he's a showboating jerk. On the other hand, Sanjay is busy trying to keep God (Steve Buscemi) out of his hair – and here lies the biggest problem with Miracle Workers:
It just doesn't work.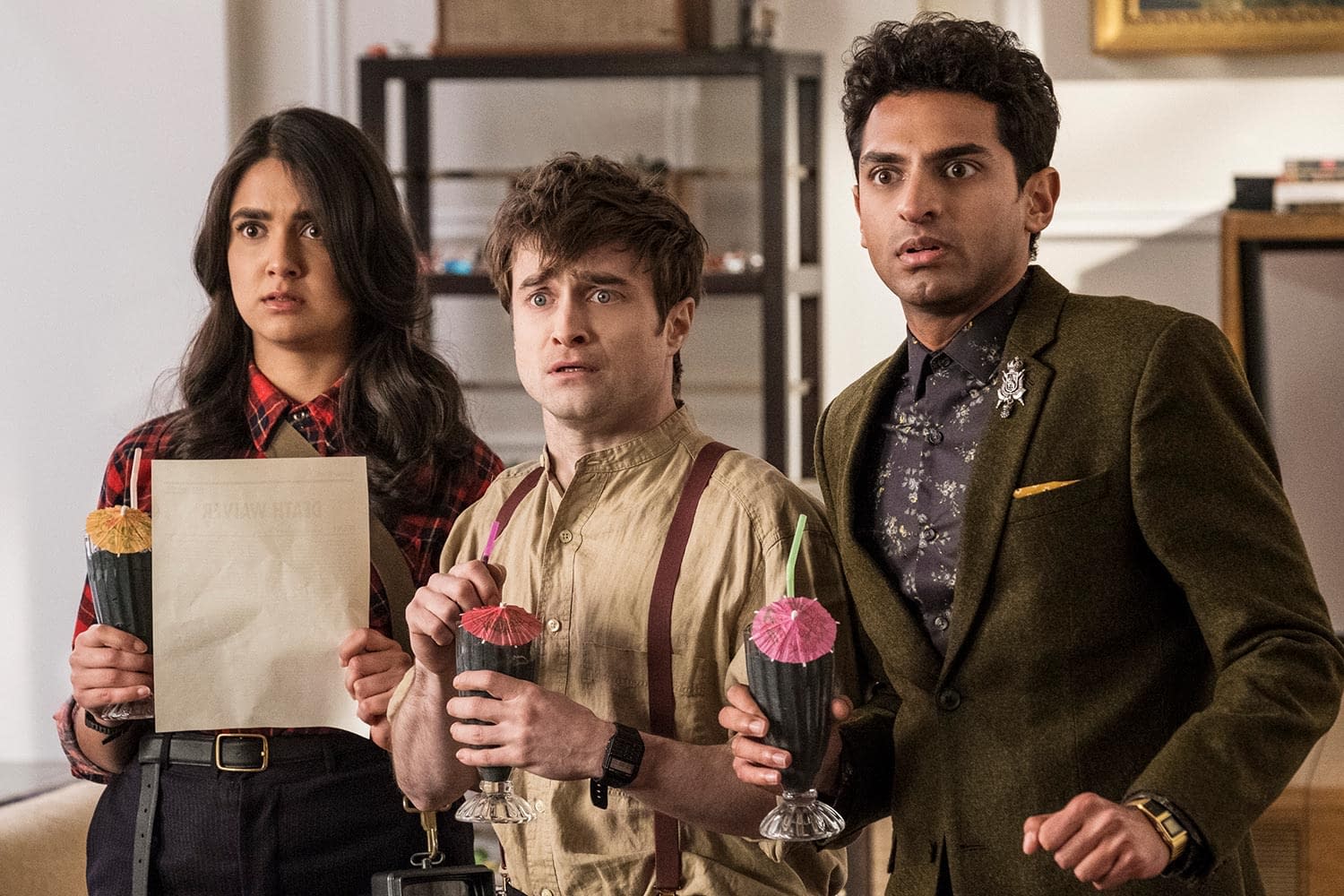 Half of "12 Days" revolved around Sanjay trying to help God get his lunch. God can't work the microwave. God drank too much juice. God has to poop a lot. Seriously, there is a running attempt at a joke involving Sanjay's inability to get anything done because he has to help God in the bathroom.
Because he drank too much juice.
And he has to poop.
See what I mean?
If Miracle Workers was trying to paint a picture of incompetent upper management in the modern workplace, they failed wildly – and somehow managed to waste having Steve Freaking Buscemi on their cast.
Mama always said to try and find something nice to say, though… so here are some things that worked on this episode of Miracle Workers:
● Karan Soni can rock a mustard-colored turtleneck. Most people can't even work out a turtleneck, but I'll be damned if he doesn't make it look effortlessly chic.
● Geraldine Viswanathan and Daniel Radcliffe have really cute chemistry together.
● That talking lobster commercial really was pretty funny, and I think I can save a lot on my car insurance.
● Miracle Workers does not have a laugh track.
On Tuesday, March 5th, TBS will be punishing me for cheating on my 7th grade pre-algebra test with the next episode of Miracle Workers titled "6 Days". Perhaps this episode will feature a flatulent gorilla on a tricycle.
Dare to dream.