Ms. Marvel Images Released; Sana Amanat on Changing Kamala's Power
With less than a month to go until Disney+, Marvel Studios, and head writer & executive producer Bisha K. Ali's (Hulu's Four Weddings and a Funeral) Iman Vellani-starring Ms. Marvel hits our screens, we have some new preview images to pass along that show off more of Kamala's powers. And speaking of her powers, that's one of the topics that character co-creator & series producer Sana Amanat addressed during an interview with EW. In the comics, Kamala can stretch & morph her body thanks to exposure to the Terrigen Mist. But for the streaming series, purplish cosmic powers (Green Lantern-ish, maybe?) seem to be in play. Previously, Marvel Studios boss Kevin Feige offered some intel on why the change was needed, but now Amanat is checking in with why the change works with the greater MCU and more.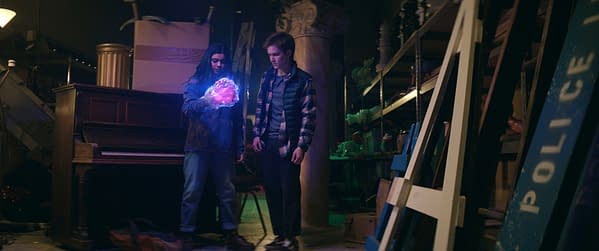 "Obviously, so much of the show is an adaptation, and we thought it was important to make sure that her powers are linking to larger stories in the Marvel universe. We wanted to make sure there is a little bit more story to tell after this series. Obviously, she goes into The Marvels. The powers do look different, which is very controversial. I know people are like, 'How dare you change the powers!' I know people are upset about it, but as someone who's probably one of the closest people to this character from the inception, and having spoken to Willow about this as well, I think Willow and I have always felt that this made sense. This was the right move because there are bigger stories to tell," Amanat explained. "It's really fun to give Kamala different kinds of powers that feel big in scope and cinematic in a different way. We can do a lot of fun things with her. I don't want to spoil too much about how she uses her powers, but they're fun and bouncy. At the same point, the essence of what the powers are in the comics is there, both from a metaphorical standpoint and from a visual standpoint. We're doing the embiggened fist. We're doing the elements that make her feel and look kind of crazy, but also really cool. I think it's going to be familiar to people, but at the same time, different in a fresh and unique way.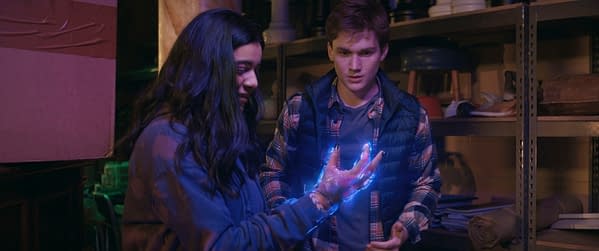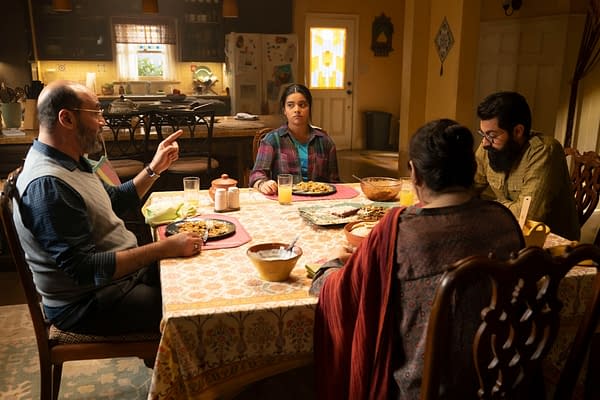 Created by Amanat and Stephen Wacker, writer G. Willow Wilson, and artists Adrian Alphona and Jamie McKelvie, and first introduced in the comics in 2013, Kamala Khan is a Pakistani-American teen who juggles being a teenager with being a superhero while fighting against the prejudice she receives for her Muslim faith- all while attempting to forge her own path. Vellani's Khan aka Ms. Marvel is also set to appear in future MCU films (such as the upcoming The Marvels). Now here's a look at the newest teaser (with Disney+ & Marvel Studios' live-action Ms. Marvel premiering on June 8):
Marvel Studios' "Ms. Marvel" is a new, original series that introduces Kamala Khan, a Muslim American teenager growing up in Jersey City. An avid gamer and a voracious fan-fiction scribe, Kamala is a Super Hero mega fan with an oversized imagination—particularly when it comes to Captain Marvel. Yet Kamala feels like she doesn't fit in at school and sometimes even at home—that is, until she gets super powers like the heroes she's always looked up to. Life gets better with super powers, right?
Joining Vellani on the series are Aramis Knight (Red Dagger), Saagar Shaikh (Aamir), Rish Shah, Zenobia Shroff (Muneeba Khan), Mohan Kapur (Yusuf Khan), Matt Lintz (Bruno), Yasmeen Fletcher, Laith Naki, Azher Usman, Travina Springer, Nimra Bucha, Anjali Bhimani, and Laurel Marsden. Bollywood writer, director, producer & star Farhan Akhtar (Jee Le Zaraa) is also set to make a guest appearance in an undisclosed role. Directors on board include Adil El Arbi and Bilall Fallah (Bad Boys for Life), Sharmeen Obaid-Chinoy (A Girl in the River: The Price of Forgiveness), and Meera Menon (The Walking Dead, Titans)- with the series scheduled to hit on June 8th.