MST3K Announces Their Own 24/7 Twitch Channel
We've got livestreaming sign! The folks over at MST3K have announced today they will be launching their own 24/7 Twitch channel. Starting tomorrow, November 20th, you can now see complete episodes of Mystery Science Theater 3000 streaming live on a direct feed non-stop. While it will have the entire library of episodes to pick through, it won't just be the films and shorts. There will be original content planned for the future with interactive segments. The trailer below shows off what apparently will be some talk shows with the cast.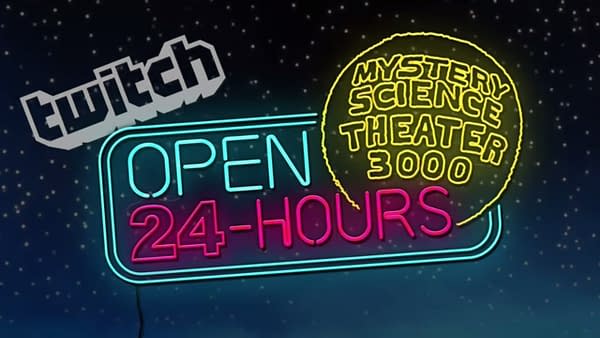 But that's not all! This MST3K channel will be showing off DVD featurettes as well, some of which you can't get anymore as the sets are out-of-print. You'll also be able to experience two other programs as they'll have episodes of Cinematic Titanic and The Film Crew, both of which featuring former Mystery Science Theater 3000 cast members and writers. (Yes, we know, RiffTrax isn't here, but they got their own thing going on their own channel.) You can follow the channel right now if you go here, but the feed won't officially start until 10am PST tomorrow. Which they will start with a full week of classic episodes livestreamed in chronological order, all leading up to Turkey Day next week.