Netflix Cancels "Mystery Science Theater 3000", But The Show Isn't Ending
Sad news today from the Satellite Of Love, as Mystery Science Theater 3000 has been canceled for the third time, this time by Netflix. The news came down today after several members of the cast revealed they had received word they would not be coming back for a third season on the streaming platform. The show had found a renewed audience after they Kickstarted themselves back to life with enough money to make a dozen episodes, with Netflix as their home to stream the content to the masses. No reason has been given by Netflix, as of the time of this article being written, to why they didn't renew the show.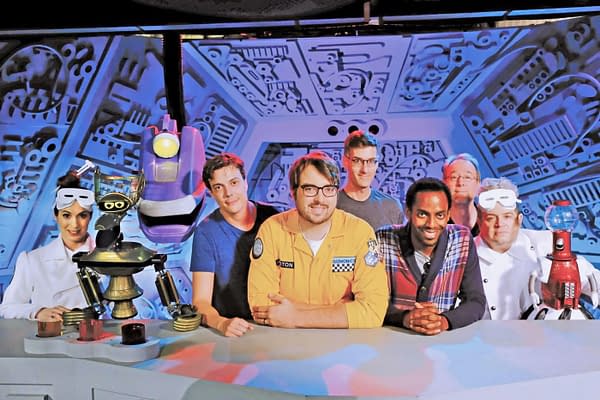 It's not the first time the show has gone through this as the original run was canceled by Comedy Central in 1996, then was picked up by the Sci-Fi Network for three years before being canceled again in 1999. After the MST3K's record-setting Kickstarter to fund new episodes took place in 2015, they were picked up by Netflix for distribution while still working with Shout! Factory for home releases of old and new material. Netflix funded Season 12, but only enough to make a six-episode season, referred to as The Gauntlet. While the news is sad, Joel Hodgson and others were quick to point out that while this is the end of their run on Netflix, it is not the end of MST3K.
Indeed, Mystery Science Theater 3000 is not going off into the cold, lonely, Manos-controlled night. The minds behind the show are still doing a nation-wide tour, launched their own Twitch channel with 24/7 content, and have their annual Turkey Day Marathon coming up this Thursday. Hopefully, Joel and everyone else can shed some light on what they have planned next. Meanwhile, Netflix is already getting grief on social media from fans. With criticism ranging from them raising their rates while only delivering half a season of MST3K episodes, all the way to accusing the platform of not knowing what to do with the show.