"Lost In Space" Season Two Trailer: A Boy & His Lost Robot
Netflix released the trailer for the second season of Lost in Space, which surrounds Will Robinson(Maxwell Jenkins) and his search for the whereabouts of the Robot (Brian Steele). The trailer begins with Will talking to his mother, Maureen Robinson (Molly Parker about how to go about the search. Not sure where to begin, he speculates maybe the Robot left clews behind.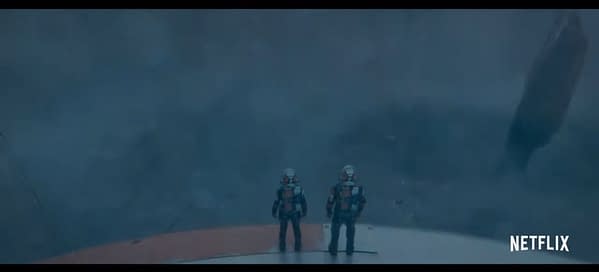 The scene then cuts to some of the vast landscapes including the parting of a sea and then a surface shot on a different location as the Jupiter Two prepares to make a landing. The scene then cuts to the devious Dr. Smith (Parker Posey) scheming as she pops a potato chip in her mouth.
The scene then cuts away to Will and Judy Robinson (Taylor Russell) hiding from something before another quick shot shows the Robot planting its left leg followed up with Maureen running toward a corridor in the ship. It shifts to another scene where Will is hiding from a mysterious figure in a hazmat suit then it cuts away to a separate shot of Maureen in a spacesuit making a discovery.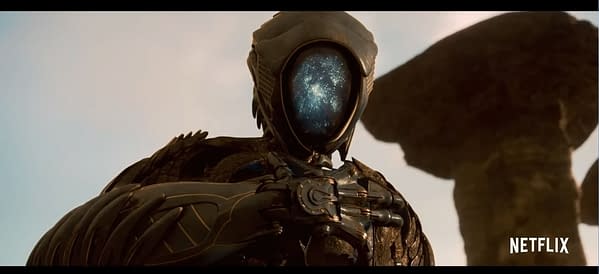 There is Danger Ahead
The trailer transitions to a shot of a set up camp, an overhead shot of a man looking at a ship below and later a shot of John Robinson (Toby Stephens) evoking Lewis Caroll asking his family if they're ready to go through the looking glass transitioning into a shot of the entire family in their spacesuits.
We get some majestic CGI shot of a translucent marine-type of animal floating in the sky, part of a ship blowing off, Judy Robinson (Taylor Russell) shocked from a creature with an elongated head reminiscent of H. R. Giger's xenomorph design from Alien, closing out with a series of crisis shots before Will says to Penny with renewed determination, "We're going to find him."
The next shot sees the Robot looking at its right hand in a circling vertical shot from below grasping its "heart" before looking up at the sky as it. The camera then zooms into the Robot's face revealing the celestial galaxy before it shows the title, Lost in Space 2.
Lost in Space on Netflix is the remake of the 1965 CBS series of the same name. Netflix will release the second season on December 24th.
https://youtu.be/pdwBMPKUV3E