A Series of Unfortunate Events Season 2: The Baudelaires Go to Boarding School
Netflix has released a new trailer for A Series of Unfortunate Events season 2, and it's obvious that Count Olaf (Neil Patrick Harris) is up to his old tricks to try to get ahold of the Baudelaire children's inheritance, making their lives miserable as he goes. The new season, which starts at the end of March, will be 10 one-hour long episodes. The season continues along from the best-selling book series, picking up with the fifth of 13 darkly comedic mysteries.
The trailer shows Violet (Malina Weissman), Klaus (Louis Hynes), and Sunny (Presley Smith) doing their best to avoid Olaf and his ridiculous disguises and maniacal plans while trying to solve the mystery of their parents' death — which is somehow linked to a covert organization.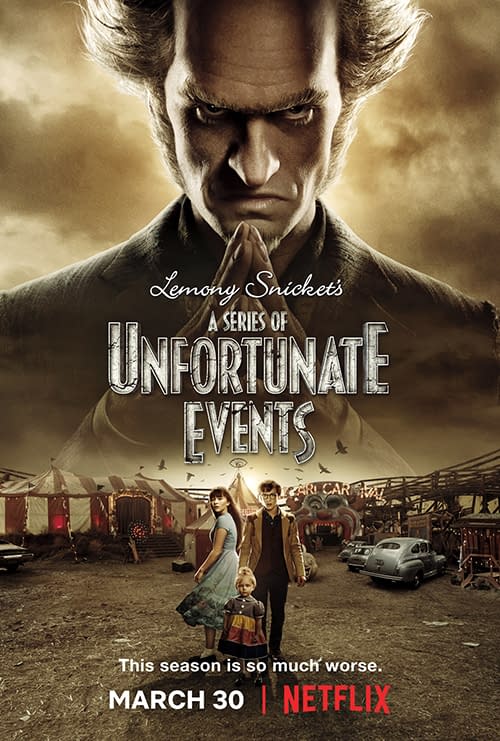 There was speculation after Netflix renewed the series for seasons 2 and 3 at the same time, that it would end after that. The first season covered books 1-4 in the Lemony Snicket set, so making two more seasons just about perfectly covers the rest of the 13 titles. This was later confirmed by Harris that the series would indeed end after the third season.
Also returning for the second season are Patrick Warburton and K. Todd Freeman. There are some new faces, too, some of which you can see in the trailer below, including Lucy Punch, Nathan Fillion, Tony Hale, Robbie Amell, Sara Rue, Roger Bart, and David Alan Grier.
Netflix played along with the theme of the series with their announcement for the trailer today:
NETFLIX REGRETFULLY RELEASES OFFICIAL TRAILER FOR THE SECOND [*GROAN*] SEASON OF A SERIES OF UNFORTUNATE EVENTS

Be forewarned, upon watching the official trailer, you will be subjected to a shack full of crabs, a tyrannical vice principal, murder, kidnapping, high fashion, unnecessary surgery, ravenous lions, and a great deal of herring.

But sadly, the trailer is only the beginning. Like some dreaded disease or infestation, A Series of Unfortunate Events will soon reappear with the global launch of season two, March 30 on Netflix. Our sincerest apologies.
A Series of Unfortunate Events season 2 kicks off March 30th on Netflix.