Night Gallery: SYFY Re-Imagining Rod Serling's Supernatural/Horror Anthology Series
Appears there's a renewed appreciation for Rod Serling's work, with SYFY developing a re-imagining of the writer/director's horror anthology series Night Gallery, from Teen Wolf creator/executive producer Jeff Davis and Midnight, Texas executive producer David Janollari. The updated series will be a co-production of Universal TV (home to David Janollari Entertainment) and Universal Cable Prods; and comes on the heels of CBS All Access and Jordan Peele's (Get Out) announcement of a The Twilight Zone reboot.
Running on NBC from 1969-1973, Night Gallery was Sterling's supernatural/horror equivalentof his sci-fi anthology series The Twilight Zone. Serving as the host, Serling appeared in an art gallery setting to introduce a segment of the episode by revealing a painting that thematically matches the narrative. Davis and Janollari's reboot will update the original series for the digital age. Dark and twisted morality tales paired with Serling's specific brand of irony, Night Gallery will explore and exploit every modern nightmare imaginable, mining our fears of the dangers of social media.

On a personal note, here's a look at the scariest episode of Night Gallery, 'Green Fingers':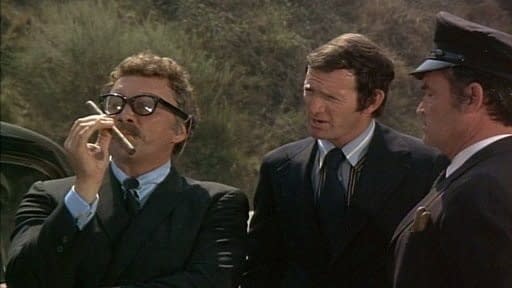 The basic story setup is pretty simple: Lydia Bowen (Elsa Lanchester) loves her home and really loves her gardening, so she refuses to sell her home to an evil business tycoon (Cameron Mitchell) looking to build a development. Evil business tycoon decides to get Bowen off of her land by any means necessary. Bloody shenanigans ensue, and in the end, we learn that some of the most disturbing things can come from the soil with just a little love, care — and sacrifice. Lanchester's (Bride of Frankenstein, Murder By Death) portrayal of Lydia Bowen is masterfully tragic and disturbing, and worth repeated viewing just to see how many times you flip back-and-forth between being heartbroken and creeped out by her. On a side note, Lanchester also starred in the comedy-horror movie/bane-of-my-young-existence-at-the-time Arnold that featured some of the most disturbing television commercials I can remember as a young geek.