No Word on 'GLOW' Season 3 During Netflix's TCA Presentation
The TCA (Television Critics Association) summer press tour kicked off last week, and today Netflix offered zero updates on the fate of original series GLOW getting a third season.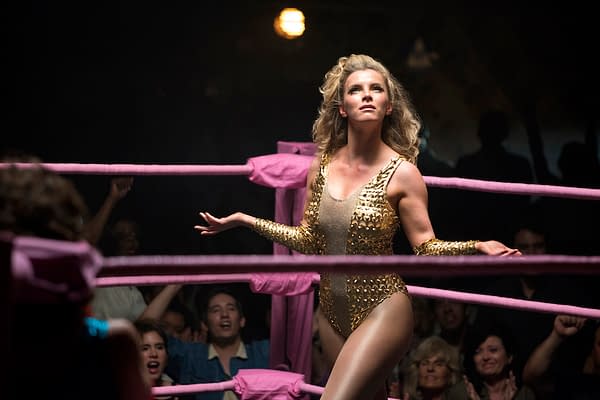 They're not against it, theoretically, but with no set yes or no, it's hard to tell where the fate of GLOW lies.
Melanie McFarland (TCA secretary and Salon author) was tweeting from the Netflix presentation today, giving us some idea of the tone of the lack-of-news:
On #GLOW renewal: @netflix's Holland says "I love the show" but she doesn't have any news on whether we'll be getting a 3rd season, or whether we need to riot. #TCA18

— Melanie McFarland (@McTelevision) July 29, 2018
The cast was on hand, with series star Alison Brie looking fabulous (as usual):
Critics were GLOWing in the #TCA18 ballroom with @alisonbrie and the cast of #GLOW discussing the differences between contemporary and old-school wrestling, on-set injuries and glittery dreams of a possible (probable) Season 3. Netflix (Matt Winkelmeyer/@Netflix) pic.twitter.com/K1NXZhpoc9

— The TCA (@OfficialTCA) July 29, 2018
We'll let you know as soon as Netflix gives the thumbs up or thumbs down for a third season of the critically acclaimed series GLOW.
(C'MON NETFLIX, DO IT!)