Rick and Morty: Dan Harmon, Douglas Olsen, James Siciliano Talk Turkey
So here's the thing. While we weren't the biggest fans of the Douglas Olsen-directed and James Siciliano-written sixth episode of Season 5, "Rick & Morty's Thanksploitation Spectacular" (check out our review here), the episode did give Dan Harmon and Justin Roiland's dimension-hopping duo another chance to team up with President Curtis (Keith David) so that's never a bad thing at least. But for those of you who appreciated the episode more than we did, the Adult Swim series is offering a chance to learn a little more about what the Thanksgiving festivities were really all about.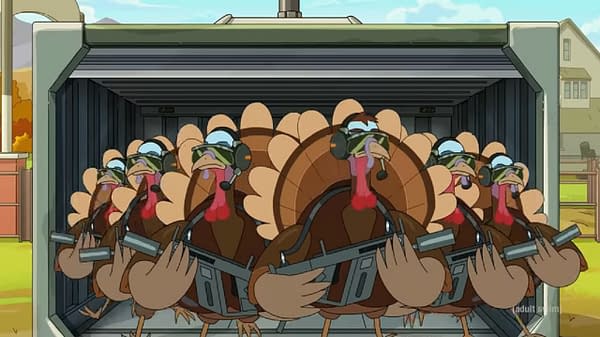 For a look behind the scenes with Harmon, Olsen, and Siciliano on how all of this turkey madness came about, check out the following featurette:
And because you demanded it (we're assuming), here's a look at the music video for "Turnin' Turkey":
Kicking off with the season-opener "Mort Dinner Rick Andre," the titles for the fifth season include "Mortyplicity," "Forgetting Sarick Mortshall," "Rickternal Friendshine of the Spotless Mort," "Rick and Morty's Tanksploitation Spectacular," "Rickdependence Spray," "Amortycan Grickfitti," "Gotron Jerrysis Rickvangelion," "Rickmurai Jack," and "A Rickconvenient Mort." Now as we head into the second half of the fifth season, here's a look back at the first official episode of the fifth season of Adult Swim's Rick and Morty:
Bleeding Cool TV on Instagram: For all of the stuff too random and bizarre to make the site, make sure to follow us on Instagram (with an official launch on June 19): Bleeding Cool TV (@bleedingcooltv).
BCTV Daily Dispatch: For a look at what's going on across the television and streaming landscape, sign up for Bleeding Cool's daily email round-up of the news you need to know here.