Rick and Morty Karaoke: Your Best Way to Celebrate Season 4's Return
With Dan Harmon and Justin Roiland's Rick and Morty dimension-hopping their way back to Adult Swim this Sunday, May 3, with the five remaining episodes of their fourth-season run (and a trip across the pond later next week for its UK debut on E4 starting Thursday, May 7). This means that between now and then, there's some serious time to do a little social-distancing celebrating to honor this special time. Thanks to the fine folks at both Adult Swim and the animated series, fans of karaoke are getting a pretty cool way to rind in the new eps. With animation from Angela Stempel, what follows are a series of karaoke videos that are ripe and ready for your vocal cords to make beautiful music with (or like us, a sledgehammer bashing a windshield).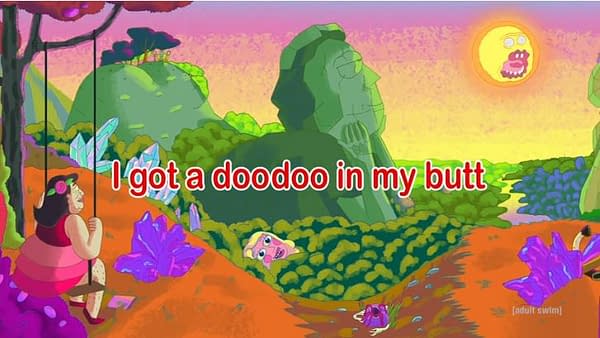 The series' second season is represented strongly with songs from "Big Trouble in Little Sanchez", "Mortynight Run", and "Total Rickall". The premiere season yields tracks from "Ricksy Business" and "Anatomy Park", but it's the third season's ode to fathers, daughters, and the poo that bonds them from "The ABC's of Beth." Here's a look at the first three clips, followed by a little intel about the upcoming episodes and then the remaining three toe-tappers.
Harmon, Roiland, and Adult Swim released an episode titles announcement video that gave a nice "wink-and-a-nod" to The Terminator before revealing the following loaded episode names (with loglines included). Beginning with return episode "Never Ricking Morty," we have "Promortyus" (Get off my face, broth), "The Vat of Acid Episode" (The one with the acid vat, broth), "Childrick of Mort" (Miracle of life, broth. Whole family in this one, broh.), and "Star Mort Rickturn of the Jerri" (Parenting is crazy, broh. Stuff straight disappearin in this one).
Snowball's returning is just one of the things that caught our eyeballs when we first screened the season return trailer. With Rick and Morty apparently helping him fend off a feline invasion, we're left wondering if there's some off-shoot of the Galactic Federation still active (think recent Star Wars trilogy) and backing the cats in the conflict? The laser sword fight between Beth and Tammy has us thinking along those lines, but you can't trust trailer edits and we're not completely sure if the backgrounds match up. With Tammy back, will be lucky enough to get a Phoenixperson sighting? And let's not forget that a very powerful Evil Morty is still out there consolidating power.