Robert Englund Returns as Freddy Krueger on Halloween Episode of The Goldbergs
Robert Englund has played Freddy Krueger for 34 years now, with the last time being in 2003's Freddy Vs Jason. We were never sure we would see him don the make-up again, and thankfully, we would have been wrong. Because Freddy is back!
Englund will reprise his role on this years Halloween episode of the excellent ABC series The Goldbergs. The news was announced on Twitter, and a short video starring the man himself and Beverly Goldberg (Wendi McLendon-Covey) which you can check out below!
In the episode, titled 'Nightmare on Elk Avenue' will see our hero Adam Goldberg (Sean Giambrone) see the film for the first time in theaters, only for it to terrify him. Surely this means that Freddy will visit him in his dreams and I can't wait to see what they come up with.
The Goldbergs, entering its sixth season, is no stranger to having beloved 80's icons on the show. Just last year they got Rick Moranis to appear on an episode as his Spaceballs character Dark Helmet. The show is based on series creator Adam Goldberg actual family and his time growing up in the pop-culture smorgasbord of the 1980's in Philadelphia.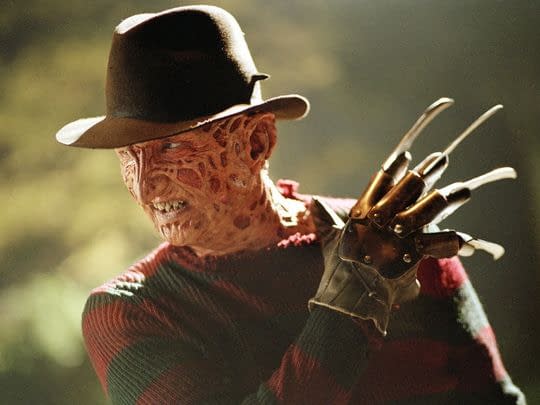 Freddy Krueger burst on the scene in 1984 and the Nightmare on Elm Street franchise both scared and delighted fans for decades after. Robert Englund has portrayed Freddy in eight films, and the Freddy's Nightmares television show that ran from 1988-1990, and countless other appearances in music videos, ads, MTV skits, etc. He is one of, if not the most beloved horror icons of the last 50 years.
The Goldbergs sixth season premiere airs on Wednesday, September 26th at 8 PM. The Halloween episode guest-starring Englund will air Halloween night, Wednesday, October 31st at 8 PM. Sounds like a perfect way to wind down after trick or treating to me.