Sarah Michelle Gellar on One "Buffy" Reminder That She Doesn't Need
On The Graham Norton Show, Sarah Michelle Gellar (Wolf Pack) revealed one Buffy the Vampire Slayer fact she doesn't need to be reminded of...
---
Heading into this week's premiere of Paramount+, writer & executive producer Jeff Davis (Teen Wolf) and series star & executive producer Sarah Michelle Gellar's Wolf Pack, Gellar has been making the rounds to support the streaming series. And to absolutely no one's surprise (as you know by now if you've been following our coverage), Gellar has also been fielding a ton of Buffy the Vampire Slayer questions on a wide range of topics. For this go-around, things are a lot more light-hearted as Gellar explains that she quite enjoys discussing "Buffy" and what the show meant to so many over the course of its run and even through until today. But when it comes to being constantly reminded of just how long it's been since the influential series was on our screens? Well, let's just say that she would be more than happy to drive a stake through the heart of that topic…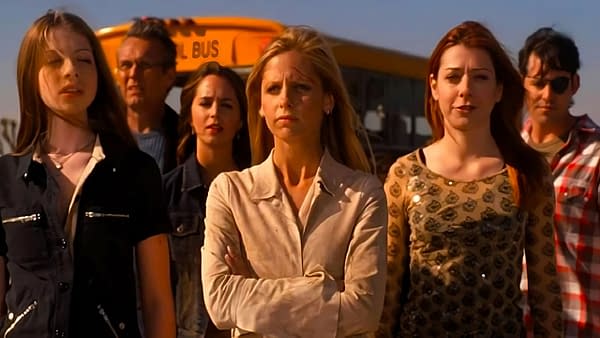 Here's a look at the clip from The Graham Norton Show, which also sees Gellar open to the idea of teaching a class in a course on BTVS (though sharing why she believes the students would be disappointed, we're not sure we're buying it):
In a profile/interview with The Hollywood Reporter from earlier this month, Gellar shared some additional thoughts on "Buffy," her experiences working on the series, and the seasons/episodes she's hesitant to show his children:
Gellar Has "Come to a Good Place" with Her "Buffy" Years- Just Don't Expect a "Tell-All" Anytime Soon: "I've come to a good place with it, where it's easier to talk about. I'll never tell my full story because I don't get anything out of it. I've said all I'm going to say because nobody wins. Everybody loses."
Gellar Hopes "Buffy" Legacy Can Outshine Whedon's Failures: "I'm not the only person facing this, and I hope the legacy hasn't changed. I hope that it gives the success back to the people that put in all of the work. I will always be proud of 'Buffy.' I will always be proud of what my castmates did [and] what I did. Was it an ideal working situation? Absolutely not. But it's OK to love Buffy for what we created because I think it's pretty spectacular."
Gellar Didn't Want Her Children Watching All Seven Seasons: "We watched seasons one through five. "We skipped around a lot on those last two. I have trouble with six. It wasn't appropriate for them at the time, and I just don't want to rewatch it." (Note: the later seasons of "Buffy" included the controversial Buffy/Spike (James Marsters) storyline that involved an attempted rape).