Sam Lloyd, best known for playing the self-deprecating sad-sack lawyer Ted Buckland on Scrubs, passed away at the age of 56 from cancer. As Sacred Heart's resident legal expert, Ted became an endearing character despite his continuous pratfalls and bad luck. Lloyd remained in the recurring role throughout the sitcom's nine seasons on NBC and ABC. Lloyd frequently collaborated with the Scrubs creator Bill Lawrence appearing in Spin City and reprising Ted for Cougar Town (both aired on ABC). Whether if someone else's fall causes him to spill his coffee or gets himself into an embarrassing situation, Ted always provided a welcome awkward chuckle. He even managed his own catchphrase, "Oh!" when something bad happens. The "fledgling klutz" was also part of The Braintrust, a group assembled by the Janitor (Neil Flynn) to concoct schemes and ideas. He also has a traveling quartet of hospital staff ready at a moment's notice to burst into song when the situation calls for it.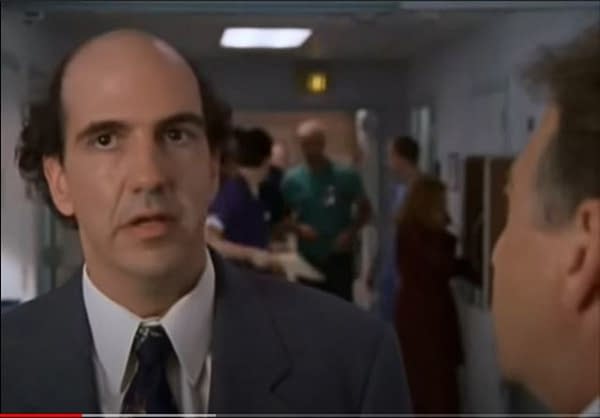 Looking at Sam Lloyd's Career and Cast Tributes
The nephew of actor Christopher Lloyd, Sam made his debut on the popular NBC sitcom Night Court in 1988. Following his two appearances, he was cast on the short-lived series City as Lance Armstrong, predating the namesake of the disgraced cyclist. The actor mostly stuck to guest-starring roles managing a few repeat appearances. His most notable roles were on Seinfeld, Mad About You, 3rd Rock from the Sun, and The West Wing. Lloyd's Ted appeared in 95 of the 182 episodes on Scrubs and three episodes of Cougar Town. He also landed a recurring role on ABC's Desperate Housewives as the obsessive-compulsive Dr. Albert Goldfine. Lloyd's final roles included appearances in The PET Squad Files and Modern Family. Some of his Scrubs castmates and crew posted heartfelt tributes like Zach Braff, Lawrence, Robert Maschio, and Sarah Chalke.
Rest In Peace to one of the funniest actors I've ever had the joy of working with. Sam Lloyd made me crack up and break character every single time we did a scene together. He could not have been a kinder man. I will forever cherish the time I had with you, Sammy. pic.twitter.com/wwyvGNbveG

— Zach Braff (@zachbraff) May 1, 2020
Thinking a lot about Sam Lloyd today. (Ted). Truly such a kind, sweet guy. He will be missed by so many. pic.twitter.com/JRzlLKhqHB

— Bill Lawrence (@VDOOZER) May 1, 2020
Simpler times, happier days, the kindest man I ever met. Easy going Sam, Rest In Peace. #RIPSamLloyd pic.twitter.com/zuXyXi19sI

— Robert Maschio (@robertmaschio) May 1, 2020
Oh Sam…I feel so lucky I got the chance to know and work with you. You were the the kindest, funniest man. Sending so much love to your family. Rest In Peace. pic.twitter.com/knwULwYpIb

— Sarah Chalke (@sarahchalke) May 2, 2020
Enjoyed this article? Share it!