Seth MacFarlane Compares 'The Orville' to 'M.A.S.H.', Talks Carrie Fisher
Season 2 of FOX's space dramady The Orville is about to premiere, and series creator Seth MacFarlane is making the press rounds, offering bits and pieces of insight into the show.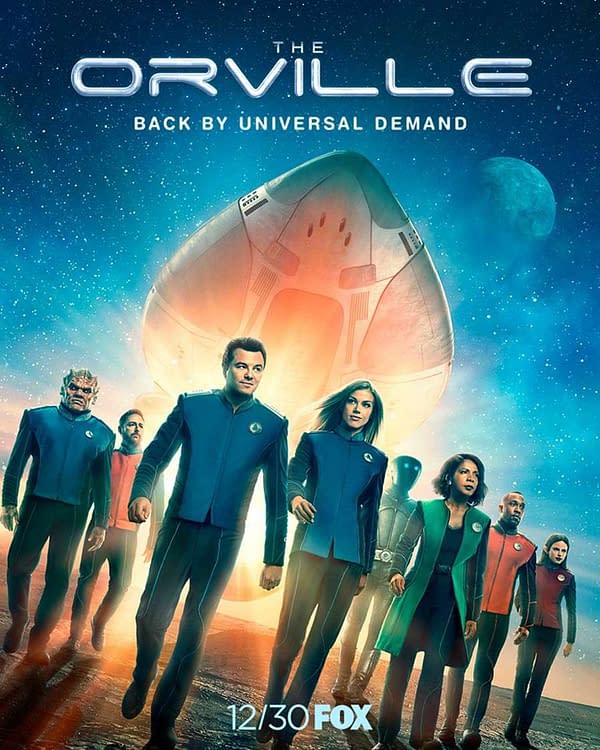 While The Orville is most often compared to Star Trek and Galaxy Quest, MacFarlane has a different suggestion for a tonal goal as mentioned in a recent interview with USA Today:
Q: Is the tone similar to Season 1? A drama with comic overtones and character and relationship developments?

MacFarlane: As with any show that walks a hybrid line, there's a little bit of a learning curve. I think we settled into it early enough in the season that by (the finale) we had a show that was self-assured. We always look to "M*A*S*H" as the ultimate achievement in that regard, and even that was a show that took a minute to find its tonal footing. You can't just be an hour-long jokefest. That works for a movie, but not for a television series where you want people to come back week after week and care what happens to these characters. … Going into this, I was not sure if viewers would insist everything be joke, joke, joke, joke. And it really wasn't that. They were responding to the science fiction and the feedback I got was they wanted more of it.
That actually makes perfect sense- M.A.S.H. really is unparalleled in terms of balance and timing. The Orville found its footing early on, and only got better as the first season progressed [we REALLY enjoyed the show].
There was also a question about the recent Family Guy tribute to our dearly departed Princess General, Carrie Fisher, who was a frequent voice actor on the animated series:
Q: "Family Guy" recently honored Carrie Fisher, who died two years ago, with a Peter Griffin tribute to the character she voiced, brewery boss Angela. What was it like working with her?

MacFarlane: I loved having (Carrie) come in. She was always so much fun, full of surprises. You never knew what she was going to say next. Above all, she was a vibrant, warm presence. We all miss her very much.
As to what we can expect to see in The Orville season 2? MacFarlane points to more of the incredible visual effects, costume, and makeup work:
Question: What can we look forward to in Season 2 of "The Orville," besides the "first contact" with a previously unknown civilization and the return of an enemy race, The Krill?

MacFarlane: People can expect to see a visual expansion, an expanded knowledge about the characters and their relationships and a show that's been worth the wait. The budget is bigger for Season 2. We obviously have a first-rate visual-effects and costume and makeup team. All the money is on the screen. I think people will be shocked with the level of feature-quality cinematic work they're going to see.

We're part of this new, experimental program that creates a different balance between ad time and programming time, so the episodes are about seven or eight minutes longer than last year (which) allows you to let things breathe in a way that streaming shows are able to do. … That's been a big boon for our storytelling process.
The Orville returns to FOX for season 2 on December 30th 2018.