Angry Shadowhunters Fans Tell Freeform It's Too Soon…Too Soon
If Freeform thought fans of Shadowhunters were going to sit back and let them apparently make light of their online campaign to save the series – that wasn't going to happen. During an airing of a POPnKnowledge version of the Disney/Pixar film Toy Story, the cable channel jokingly referenced fans' online campaign to save the show through a "still too soon" pop-up.
The pop-up in question takes place during the scene when Woody holds up a Magic 8 Ball, asking it if Andy will pick him as the lone toy his parents will allow him to bring. The ball responds, "Don't Count On It" – and Freeform decided the scene was the perfect moment to give fans of Shadowhunters a nod and wink with a pop up that read, "Will Freeform save Shadowhunters if I keep tweeting about it?"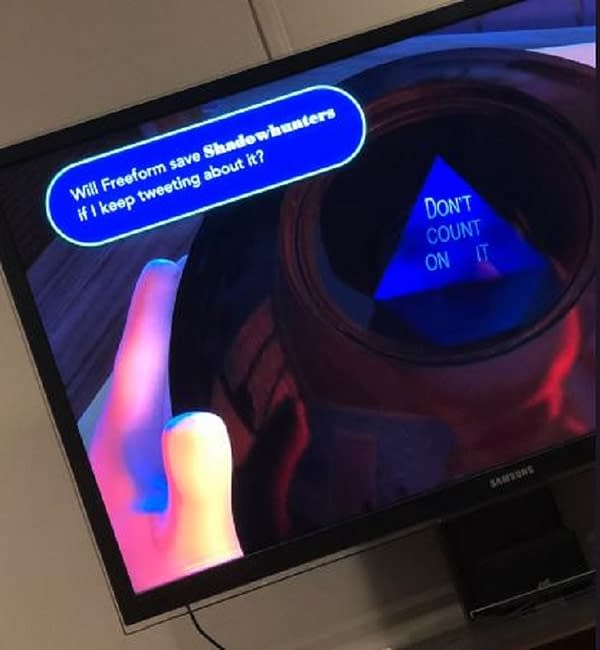 For the uninitiated, the network announced the abrupt cancellation of Shadowhunters before a planned final fourth season, which covers the final book of The Mortal Instruments series by Cassandra Claire. Not to abandon fans completely, Freeform opted to conclude the series in a definitive 2-hour TV movie to tie up the loose ends and provide closure – even if a bit rushed. Fans campaigned to save the show under "#SaveShadowhunters" to allow another network or streaming service to pick up the series for the final season.
More than anything, it speaks towards the heartless nature of the TV business sometimes and a lack of gratitude sometimes to the fans who are responsible for making shows successful in the first place. https://t.co/PxIfz5419d

— ➰Shadowhunters Austria 🇦🇹 🇪🇺 MARRIED💍MALEC ➰ (@ShadowhuntersOE) December 16, 2018
Freefrom taunts Shadowhunters fans during Toy Story over cancellation https://t.co/QXRD7mnEBd via @MattCarterMedia thanks Matt for calling attention to this unprofessional behavior by a network @WaltDisneyCo @ABCNetwork #SaveShadowhunters

— Sian265, Denise 🇺🇸 (@sian265) December 16, 2018
Even the Clockblockers – who understand what this feels like – showed their solidarity:
I can't believe they did that, and during Toy Story of all things. It was so tacky and rude to fans of both Toy Story and #Shadowhunters. I've never even seen Shadowhunters, but I hope someone shows better class and helps them out. #SaveShadowhunters

— 𝗚𝗶𝗻𝗮 (@gweb77) December 16, 2018
Seeing the error of their ways – and a wave of social media backlash – Freeform has since issued an apology:
This was a mistake. We never intended to disrespect the Shadowhunters fandom. We apologize for this. https://t.co/CNz7Tv6FQ1

— Freeform (@FreeformTV) December 16, 2018
The third and final season expands to 12-episodes in spring 2019 with series finale movie Shadowhunters: The Final Hunt.