CBS Sets Young Sheldon/The Big Bang Theory Crossover for December
While CBS' The Big Bang Theory and Young Sheldon take place in a "Sheldon shared universe," the two series have pretty much kept to themsleves – comfortable with telling their own time-separated tales. But with The Big Bang Theory coming to an end after twelve seasons, all bets are off this December as Young Sheldon's Iain Armitage (Sheldon), Lance Barber (George), and Montana Jordan (Georgie) are set to make an appearance on the main series.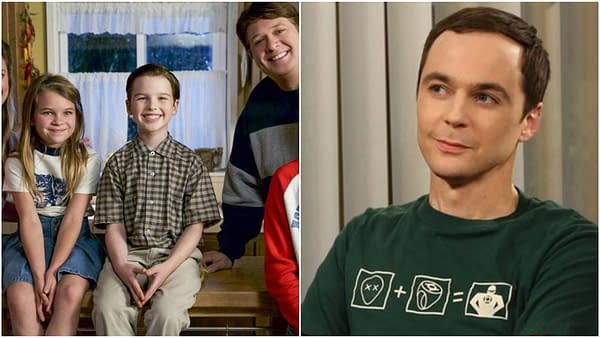 Though no storyline details were made available, one would expect the spin-off show's cast to appear in either flashback or fantasy/hallucination scenes. As for whether the possibility of having more of these "crossovers" in the future – even with The Big Bang Theory leaving the air – Young Sheldon co-creator Steve Molaro said at a Deadline Hollywood event in April 2018: "There's no reason why we can't keep going back and forth in this weird time portal that has been created between the two shows."
https://www.youtube.com/watch?v=9NPd3RealoI
The Big Bang Theory Season 12, Episode 9 'The Citation Negation': Sheldon and Amy are devastated after learning from a Russian paper that Super Asymmetry has already been discovered and disproven. Also, ultra-competitive Bernadette asks Stuart's girlfriend, Denise (Lauren Lapkus), to teach her how to beat Howard in a popular videogame
Airing on Thursdays at 8 p.m., The Big Bang Theory is executive produced by Chuck Lorre, Bill Prady, Molaro, and Steve Holland; and stars Johnny Galecki, Jim Parsons, Kaley Cuoco, Simon Helberg, Kunal Nayyar, Mayim Bialik and Melissa Rauch. The series is produced by Chuck Lorre Productions, Inc., in association with Warner Bros. Television.
https://youtu.be/3Y-K8CbLlYo
Young Sheldon Season 2, Episode 9 'Family Dynamics and a Red Fiero': Sheldon studies his family for a psychology project, and Thanksgiving dinner turns into a family fight when George Sr. is offered a job in Oklahoma
Following The Big Bang Theory on Thursdays at 8:30 p.m., Young Sheldon is executive produced by Lorre, Molaro, Parsons and Todd Spiewak. The series is produced by Chuck Lorre Productions, Inc. in association with Warner Bros. Television.