SNL: Woody Harrelson Wraps Rambling Monologue on Anti-Vaxxer Note
Near the end of his opening monologue, SNL host Woody Harrelson wrapped things up with what sounded like an anti-vaxxer message.
---
Well, we're at about the halfway point of tonight's Saturday Night Live with host Woody Harreslon and musical guest Jack White, and without spoiling anything ahead of my review tomorrow morning? So far, it's been… hmmm… interesting. One person who could be smiling tonight is season-opener host Miles Teller, who may no longer hold the title belt for "The Worst Season 48 Show" (but tonight's not quite over yet). What helped contribute to a night that would've had me rewatching the Pedro Pascal show again if I didn't have to review tonight's "show" was Harrelson's monologue. Clocking in at a little more that 6-1/2 minutes, the rambling mess included Harreslon looking for someone to give him "SNL 5-Time Host" jacket, a rundown of colors that he likes to show how he's open to all people, a lot of moments when Harrelson kinda felt the need to defend his weed use, some stuff about palm tress, and a number of other random topics that screamed less-scripted and more "stream of consciousness." But when Harrelson got to the end of his monologue and revealed where he was going with his "script reading" story, things got really weird. As in, "Did Woody Harrelson Just Out Himself As An Anti-Vaxxer?"-level weird. Whether it was his direct intent, an attempt at a joke that lost all of its "funny" halfway through, or another option that we might be missing.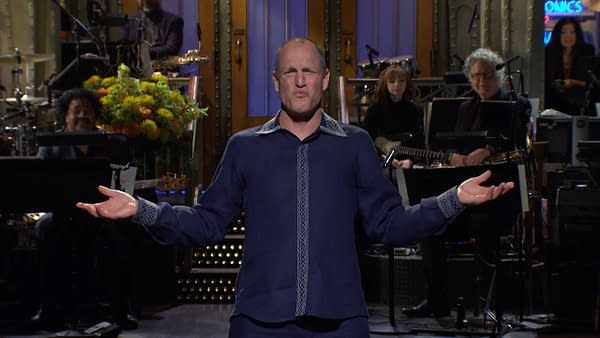 "So the movie goes like this," Harrelson began the ending to his monologue story. "The biggest drug cartels in the world get together and buy up all the media and all the politicians and force all the people in the world to stay locked in their homes. And people can only come out if they take the cartel's drugs and keep taking them over and over. I threw the script away. I mean, who was going to believe that crazy idea? Being forced to do drugs? I do that voluntarily all day long." Here's a look at Harrelson's opening monologue from tonight's show:
NBC's SNL Season 48 includes Michael Che, Mikey Day, Andrew Dismukes, Chloe Fineman, Heidi Gardner, Marcello Hernandez, James Austin Johnson, Punkie Johnson, Colin Jost, Molly Kearney, Michael Longfellow, Ego Nwodim, Sarah Sherman, Cecily Strong, Kenan Thompson, Devon Walker, and Bowen Yang. Executive produced by Michaels, SNL is directed by Liz Patrick, with alum Darrell Hammond announcing. Based out of Studio 8H in Rockefeller Center, the long-running late-night sketch comedy/music series is produced by SNL Studios in association with Universal Television and Broadway Video.