Snowpiercer Season 1 Preview: Layton's Too Close to Melanie's Secrets
Barreling our way into the fourth episode of TNT's Snowpiercer, could Layton (Daveed Diggs) and Till's (Mickey Sumner) investigation be coming to a close much sooner than (at least we) expected? We head into "Without Their Maker" after an episode that gave us a lot to process. Melanie's (Jennifer Connelly) "fight night" resulted in way more action outside of the ring, actually throwing more gasoline on an already-nicely-burning dumpster fire of tension and fear. Layton and Till's visit to see Nikki (Madeleine Arthur) leads the pair as well as Melanie to the truth about the black market drug Kronole: it's a street version of the drug Dr. Klimpt (Happy Anderson) uses to keep people in stasis (one that the good doctor's peddling in) and was the subject of the victim's black market investigation. Layton gets some intel on the first-class passenger who was with the victim before the murder from Terence (Shaun Toub), the head of the black market. So with all of that, it seems natural to assume we're getting close to our answers, right? Except there's one problem: Layton's search for answers is getting him a little too close to Melanie's secrets, and we can't see a way they can coexist. Not when there's a rebellion brewing: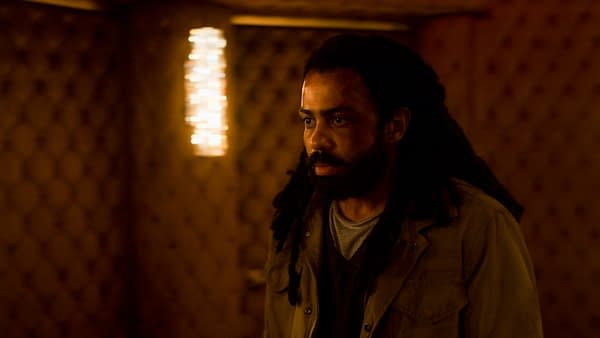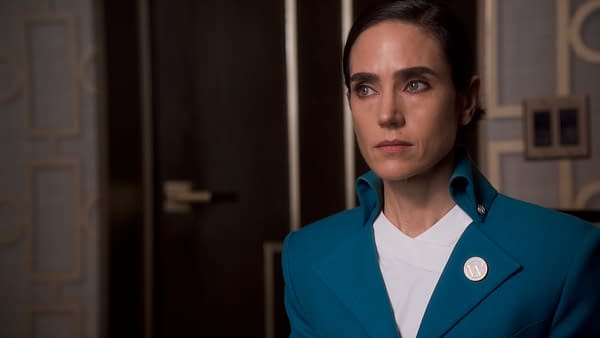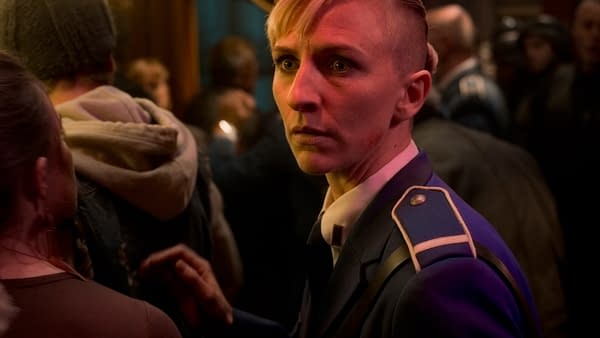 Snowpiercer season 1, episode 4 "Without Their Maker": A shocking twist in the murder investigation brings Layton (Daveed Diggs) and Till's (Mickey Sumner) manhunt to a cat-and-mouse climax. But Layton is getting too close to Melanie's (Jennifer Connelly) big secret, which may prove the most dangerous game of all. Written by Hiram Martinez.
Joining Connelly and Diggs are Alison Wright (The Americans), Mickey Sumner (Frances Ha, Battle of the Sexes), Susan Park (Ghostbusters), Iddo Goldberg (Peaky Blinders, The Zookeeper's Wife), Katie McGuinness (Dirty Filthy Love), Lena Hall (Hedwig and the Angry Inch), Annalise Basso (Bedtime Stories), Sam Otto (Jellyfish), Roberto Urbina (Narcos), Sheila Vand (Argo), and Jaylin Fletcher (Saturday Church).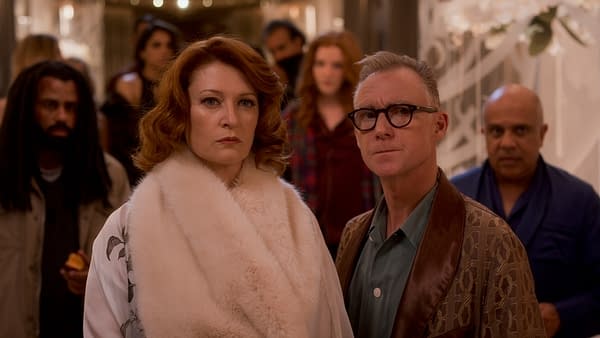 Snowpiercer is produced by Tomorrow Studios, along with original film producer CJ Entertainment. The series is executive produced by Tomorrow Studios' Marty Adelstein (Cowboy Bebop, Hanna, Prison Break) and Becky Clements (Hanna, Cowboy Bebop, Last Man Standing); showrunner Graeme Manson (Orphan Black), who wrote the first episode; director James Hawes (The Alienist, Black Mirror); Matthew O'Connor (Continuum, Tin Man); Scott Derrickson (Sinister, Doctor Strange), and the original film's producers Joon Ho, Miky Lee, Tae-sung Jeong, Park Chan-wook, Lee Tae-hun, and Dooho Choi. The original film and television series is based on the French graphic novel Le Transperceneige, from Jacques Lob, Benjamin Legrand, and Jean-Marc Rochette.