Snyderbros, Leaky Pools & Lofty Dreams: James Gunn/DCU Watch Thoughts
Overnight, we decided to check out what Twitter was saying about James Gunn & the DCU, and #DCStudios did not disappoint. Some takeaways...
---
So today is finally the day. By the time you're reading this, we're either just a few hours away from DC Studios co-heads James Gunn & Peter Safran announcing the first wave of films, series, and more, as they look to kick off an 8-10 year plan that (fingers crossed) will position the DCU to be in the same conversation with Marvel Studios' MCU, or we're carving apart everything we've learned for some kind of meaning. No matter what happens, I have to say that it's been pretty cool covering the DCU for the past 24 hours, and it not be the wave after wave of depressing, negative shit like it usually is. Dare I say… folks were cautiously optimistic that this might be the start of something… good?!? Oh, yes. I dare. Because my inner fanboy took over last night, and I will readily admit that I had that "day before a school field trip" insomnia going on last night. So in an effort to lull my brain into some kind of coma-like state for at least a decent hour, I decided to check out what was going on with the hashtag #DCStudios. And while it didn't help me get back to sleep, it did not disappoint in terms of entertainment. So with that in mind, here are some quick observations: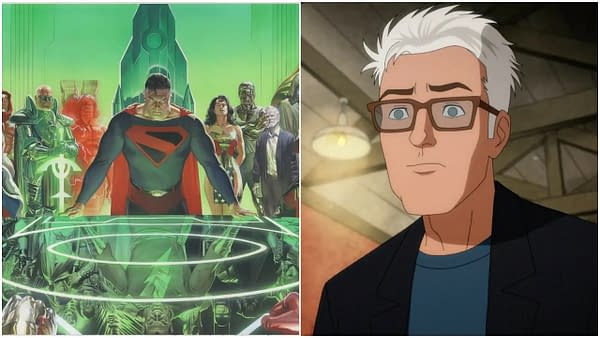 Social Media Has Absolutely No Faith In Us: Apparently, Gunn & Safran had a lockdown rollout on Monday for select press and others from within Warner Bros. Discovery ahead of today's reveal. And in an honesty that you have to objectively appreciate even if they're talking about you, some fine folks on social media began debating who among us in the pop culture reporting game was going to fuck up and leak first. Yup, pretty much an informal "leak pool." Just the fact that they approached it more as from when it will happen as opposed to if it will happen speaks volumes. That said? I was expecting the Hoover Dam to have broken by now, so props to Gunn, Safran & Zaslav's NDA team.
Snyderbros Need to Move On: Honestly, I don't know what's left to say. Too much money was spent coddling a fanbase polluted way too much by a toxic cesspool of fans to boost up a slightly better-than-average take on the DCU that did not improve with more hours. And in this instance, Zack Snyder does get to walk away with his hands clean. He deserves his fair share of shit for not taking a more active role in shutting down some of the shit they've been spewing for years. The Snyderverse isn't going to be the foundation for the main DCU. Sorry. It's not going to happen. It's time for some new visions (and better lighting).
Gunn & Safran: DC Studios' "Buddy Cop" Superstars: From a business standpoint, Gunn & Safran have been pros right out of the gate. How? Simple. Gunn's allowed himself to be the bullhorn and the focus of attention in all of this because that's what he's good at, and he's proven that. In DCU terms, Gunn is the yellow Batman symbol that attracts all of the gunfire. Meanwhile, you have Safran working the landscape from behind the scenes because that's his superpower. To carve out a new DCU from everything that came before it, they're exactly the kind of combo that DC Studios needs to succeed.
People Are F***ing Funny: From memes & GIFs to folks getting "righteously angry" if their "favorite" third-tier DC character doesn't get a film or limited series had me pissing myself at times (and bonus points to the "B'wana Beast" for making me choke on my coffee). But I can't wrap this up without throwing some love writer/director Ben Mekler's way for his stirring play-by-play of what "really" went down during Monday's press event. I'm not sure it says more (or less) about people or just how whacked out things have gotten when Mekler has to be asked if he's kidding or not.
Fans of Fallen Shows, We Feel Your Pain: I'm not exactly spoiling anything when I say that the DCU has taken some serious hits on the television side over the past year. And then 2023 brought news that Titans and Doom Patrol were ending with their respective fourth seasons. Add to that the question marks surrounding the fate of Gotham Knights and Superman & Lois over at The CW now that new ownership is looking to go in a different (and cheaper) direction. So for everyone out there last night still fighting the good fight to make sure folks remember their favorite shows and to possibly help them earn a reprieve. I tip my hate, raise a pint, and will have your back if anyone dares tell you to stop fighting for what you love. No snark. No jokes. I've been there, so you get all of the respect (as long as you don't become "Snyderbro-ish").