Posted in: CBS, Preview, Star Trek, streaming, Trailer, TV | Tagged: Anson Mount, bleeding cool, cable, Captain Pike, enterprise, episode 10, Ethan Peck, janeway, Kirk, mcccoy, Michael Burnham, michelle yeoh, Philippa Georgiou, Red Angel, season 2, sisko, Sonequa Martin-Green, spock, star trek, Star Trek: Discovery Season 2, Starfleet, streaming, television, tv
---
'Star Trek: Discovery' Season 2, Episode 10 – Is This A "Red Angel" I See Before Me? [PREVIEW]
Season 2 of CBS All Access's Star Trek: Discovery has all been leading up to this one point. Nine episodes of mystery, intrigue, espionage, and death have all built up to this week's episode, "Red Angel." The mysterious red signals, Spock's (Ethan Peck) memory loss, Section 31's involvement, the trip to Talos IV, all have been stepping stones in the search for the identity of the Red Angel. After last week's heartbreaking episode, the crew of the Discovery is mourning, but they are also closer than they have ever been before to completing their mission. From all appearances, "Red Angel" is the turning point. Proximity alert – spoilers and conjecture ahead.
In order to prepare viewers adequately for "Red Angel, CBS All Access released the above trailer and an unprecedented 18 images from the episode (included throughout this article). The studio description of the episode indicates that this week's episode will finally solve the mystery of the Red Angel and reveal more about Michael Burnham's (Sonequa Martin-Green) past. However, we have been mis-led before, so judge for yourself:
Burnham is stunned when she learns her ties to Section 31 run deeper than she ever fathomed. Armed with the identity of the Red Angel, the U.S.S. Discovery goes to work on its most critical mission to date.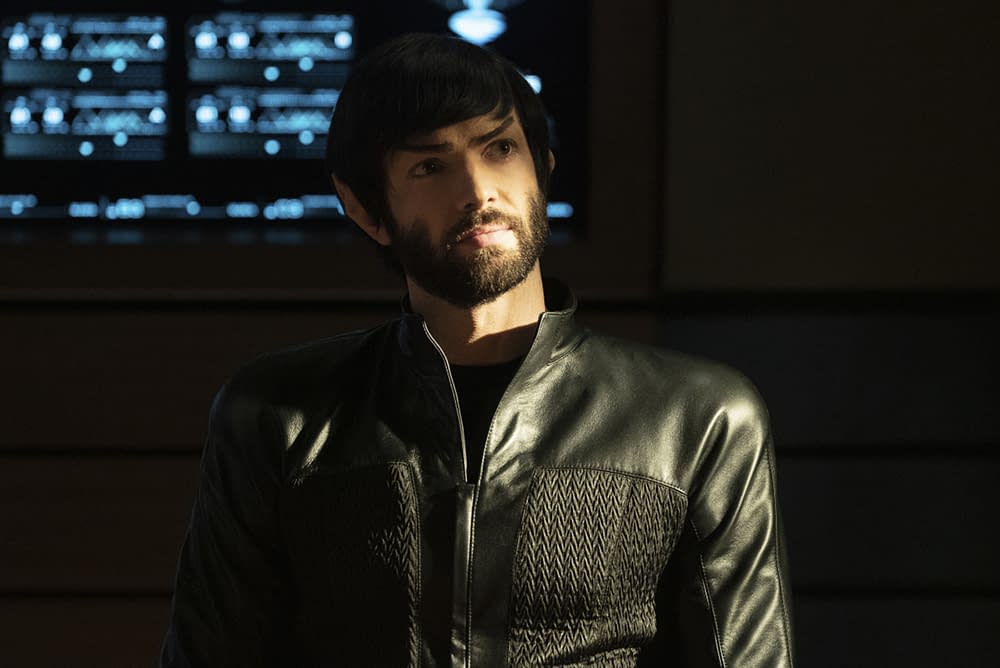 Last week's episode of Discovery, "Project Daedalus," had tragic results for one member of the ship's crew. Lieutenant Commander Airiam (Hannah Cheesman) was compromised by the source code of the futuristic alien probe and sacrificed herself before threatening the Discovery's mission. However, she left Burnham with a priceless parting gift: the knowledge that Burnham, herself, is at the center of the Red Angel mystery.
Before the crew can follow up on that lead, however, they must say goodbye to their friend and colleague. For the first time on Discovery, we see a Starfleet funeral.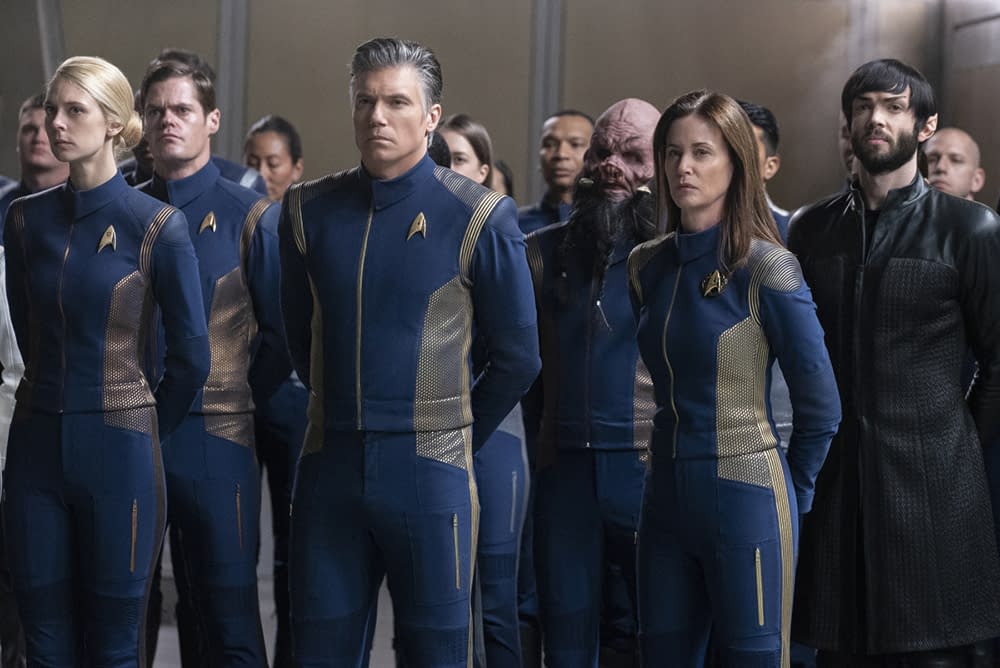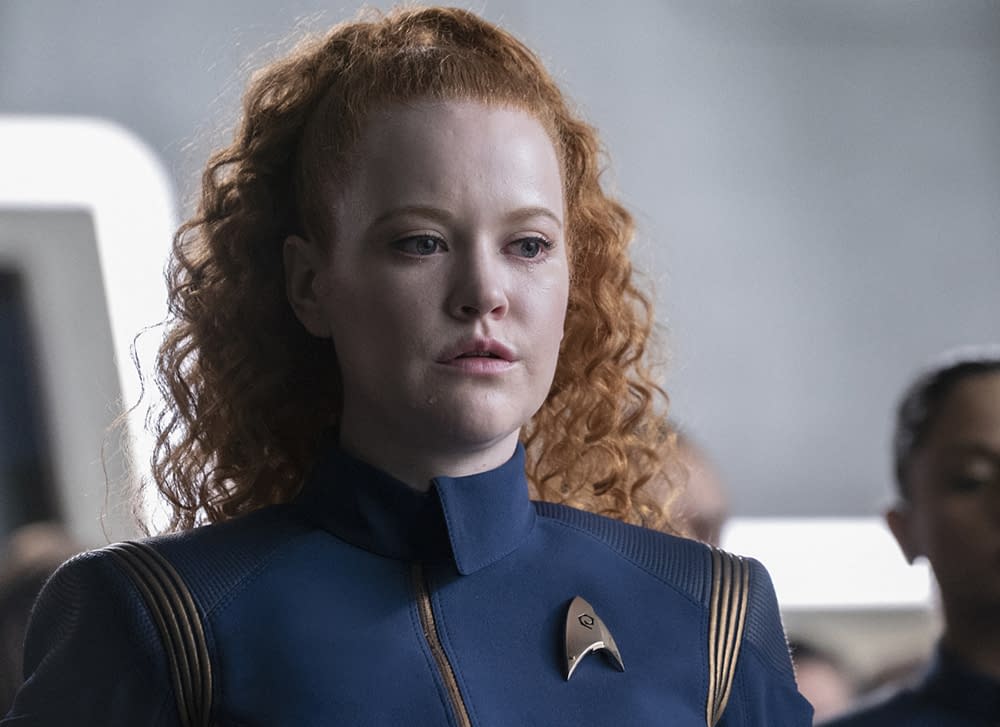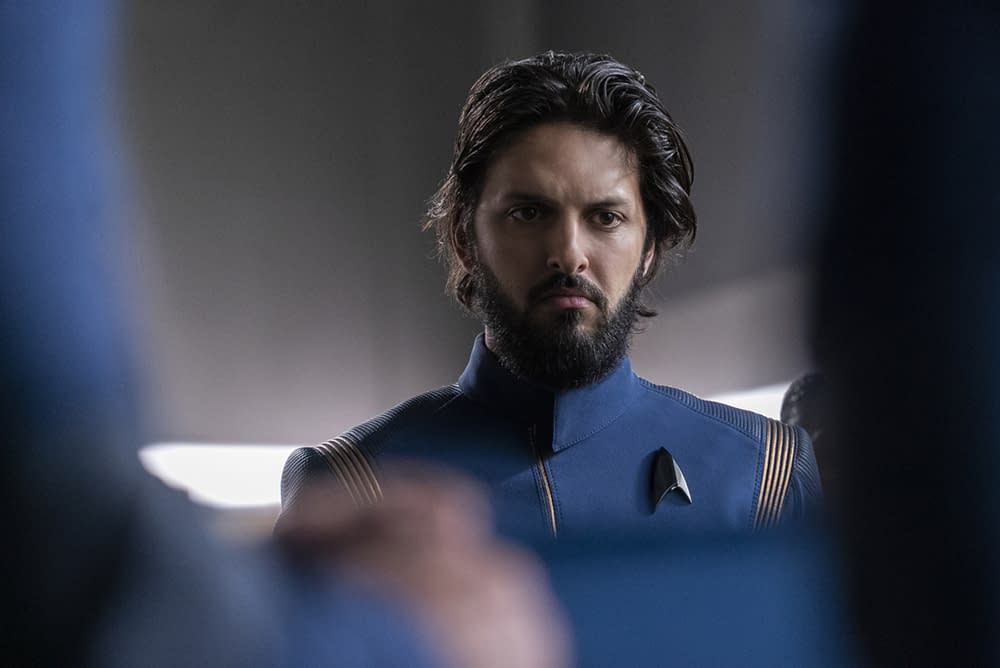 However hard it may be for the crew, they do not have long to dwell. The preview and the images released show numerous shots of the bridge crew and others building some sort of apparatus on what looks like a decommissioned starbase or ship. Possibly the old penal colony near the Section 31 headquarters? Stamets (Anthony Rapp), Culber (Wilson Cruz), Tilly (Mary Wiseman), and Spock all appear to be working in the facility while wearing their away-team suits. The set-up includes both health and communications gear, and multiple satellite dishes.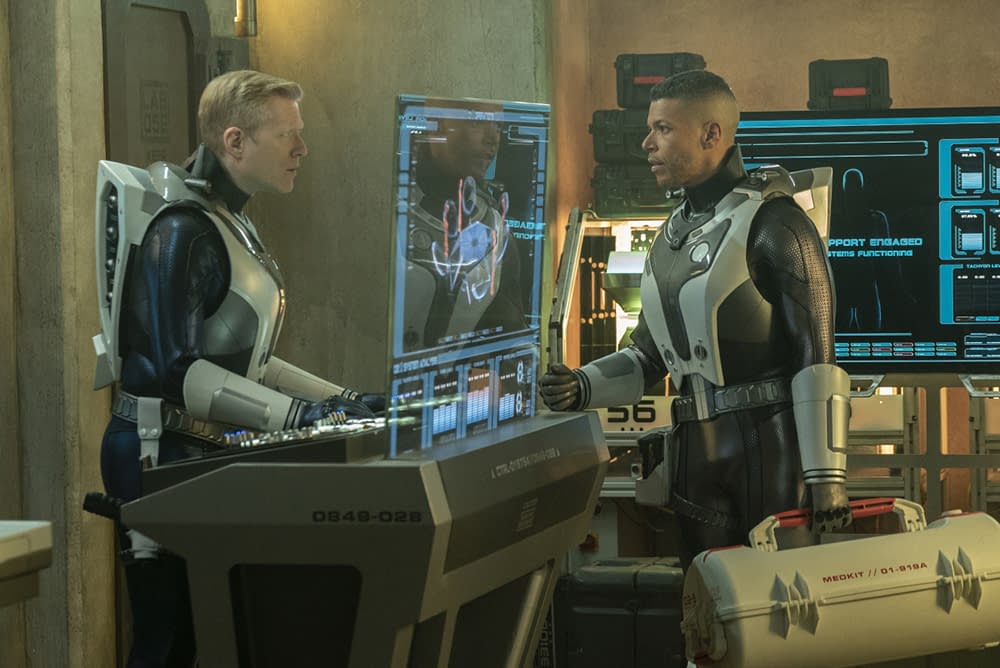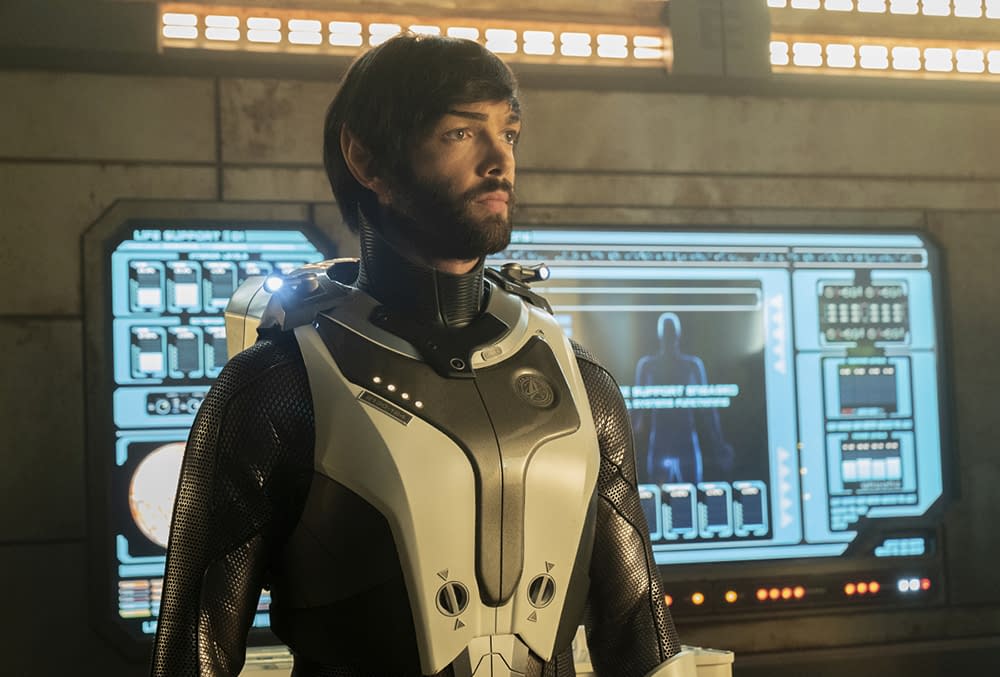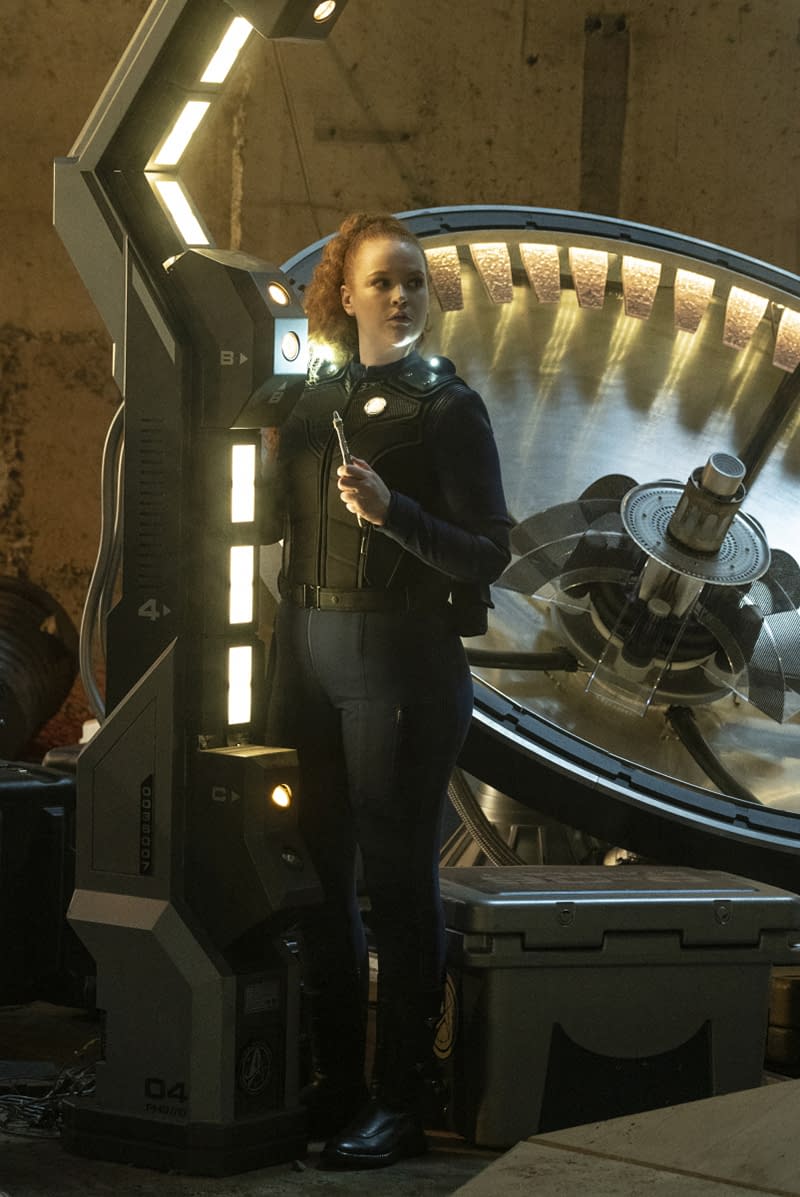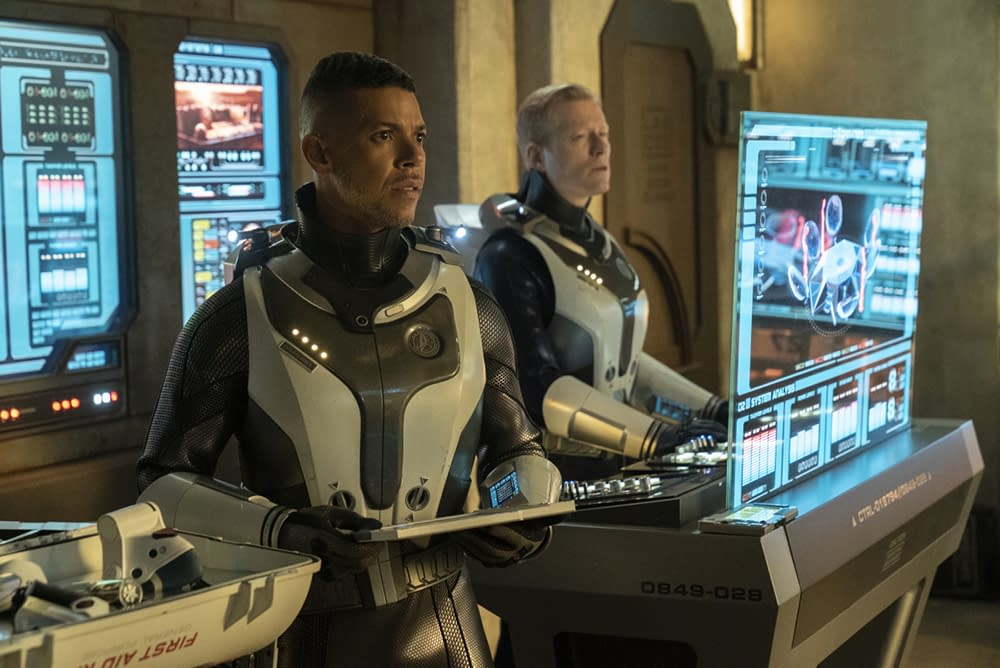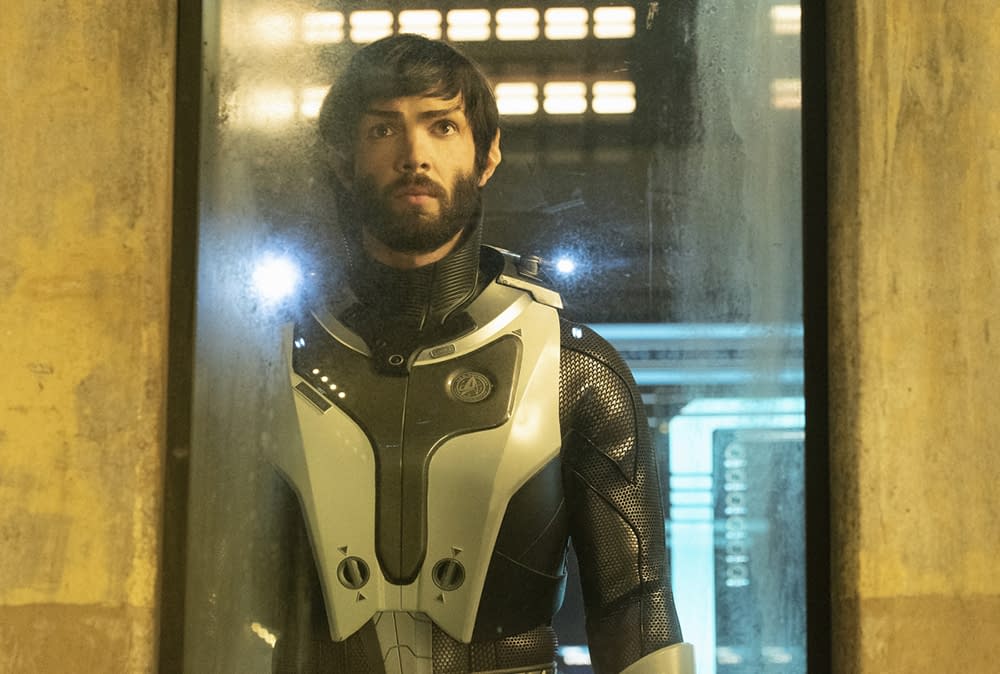 Interestingly, Captain Georgiou (Michelle Yeoh) appears to be on the Discovery for their Red Angel-related mission. Multiple shots show her both on the Discovery and at the location of the away-team work site. Having Georgiou around makes it less likely that the ship has stuck around Section 31 territory, as she was not around for last week's episode – but it does make me wonder why and how they picked her up before they went ahead with whatever plan they are working on.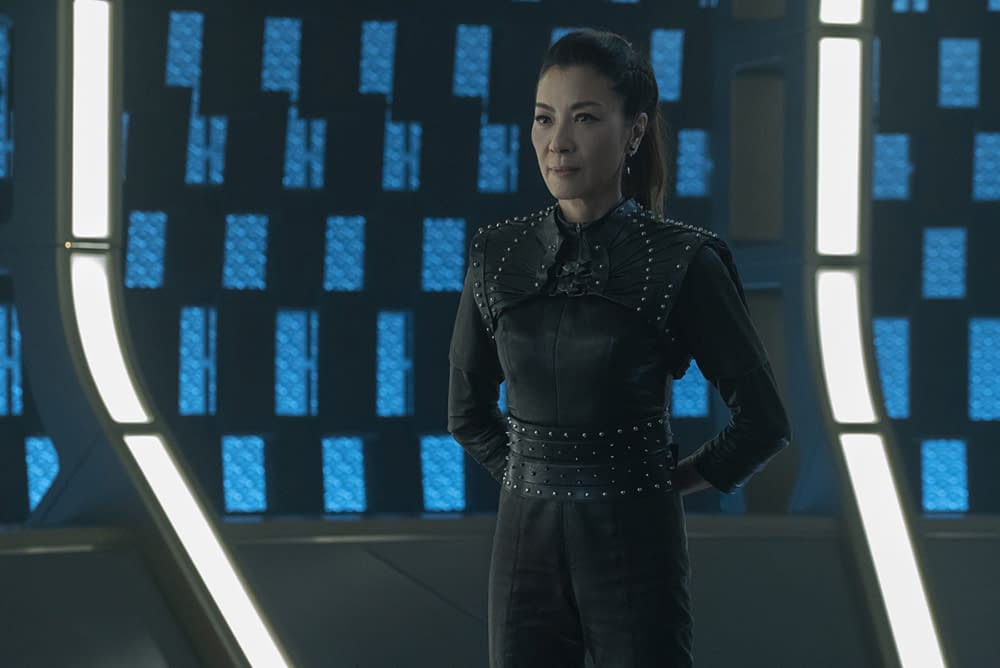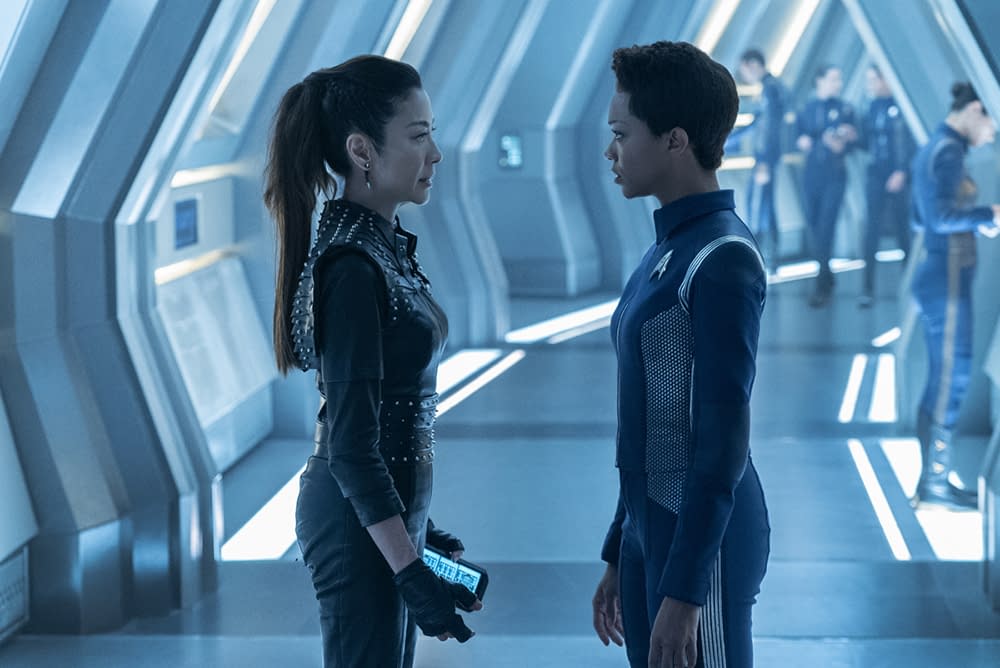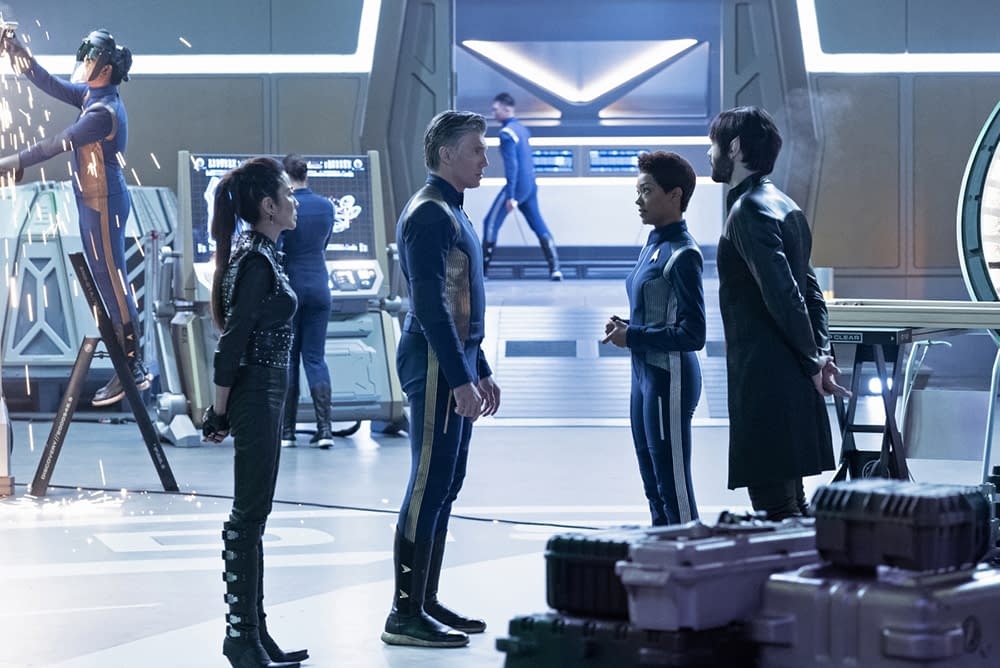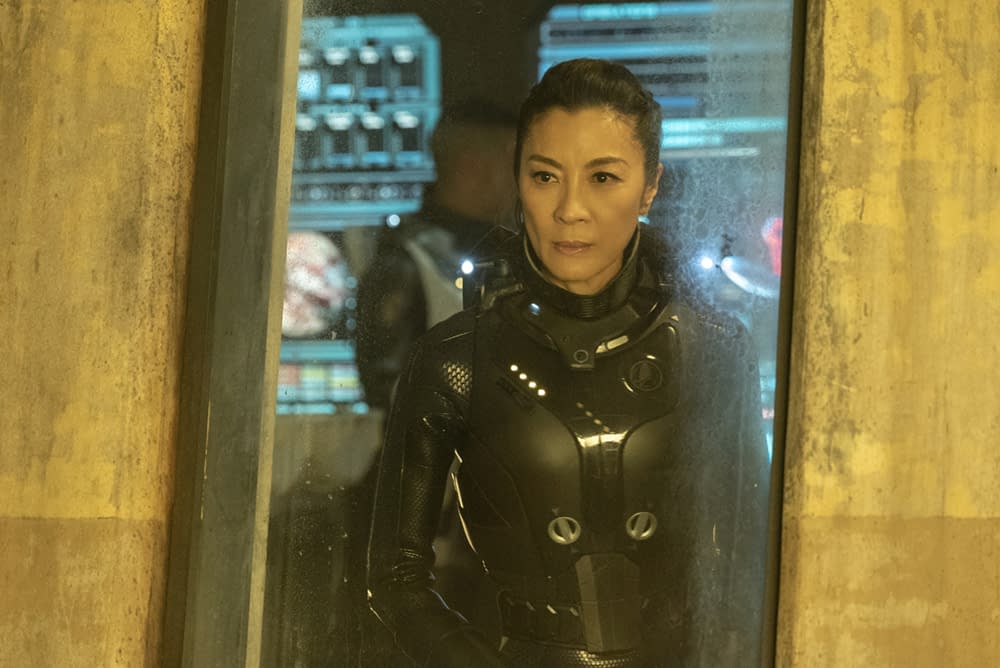 Oddly enough, while Burnham is at the away-team build site, she does not appear to be participating. In fact, she is the only Discovery crew member not dressed in a protective suit. By the look of the images and the scenes from the preview, Burnham is some kind of test subject. Whatever apparatus the crew of the Discovery is trying to build, Burnham is at the center of it (literally and figuratively). Once completed, Burnham is then strapped into a chair at the center of the array. Maybe this is an attempt to send her through time? To transport her in some way to the future?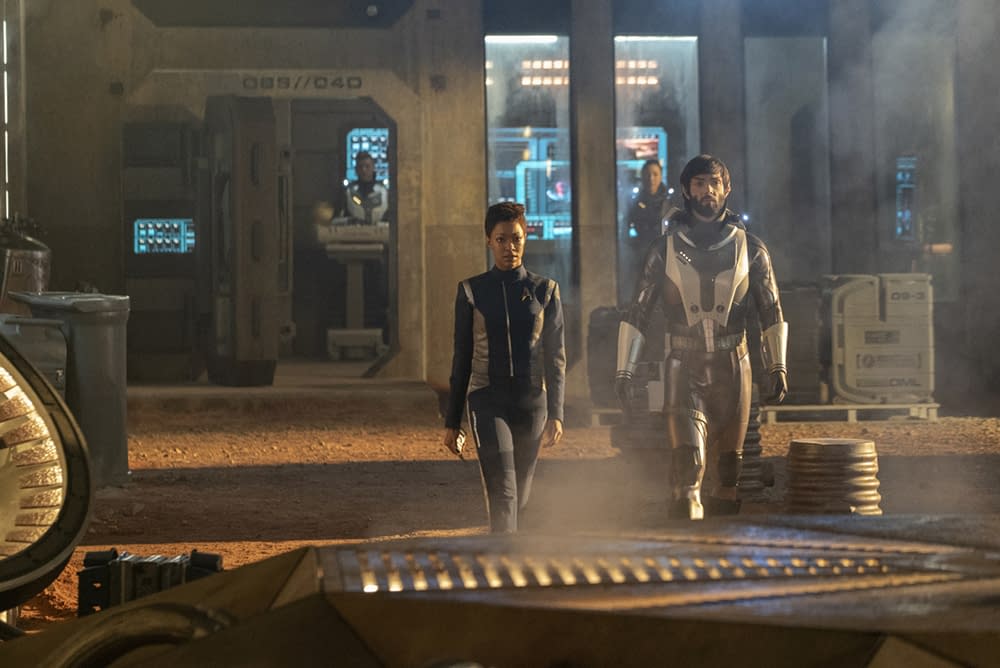 Whatever is happening in this special off-ship location, Captain Pike (Anson Mount), Spock, and the rest of the crew are worried. In the images, even Georgiou is concerned for Burnham. I didn't thing Georgiou was concerned about anyone but herself these days. Given Burnham's penchant for taking the weight of the universe upon her shoulders, I am alo a little concerned about what, exactly, she is getting herself into.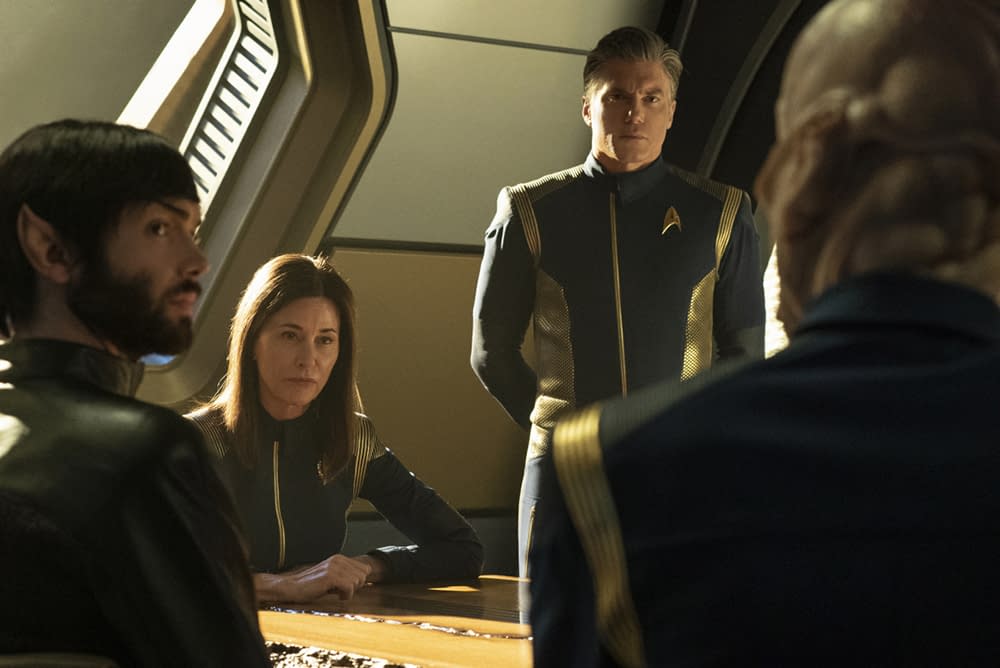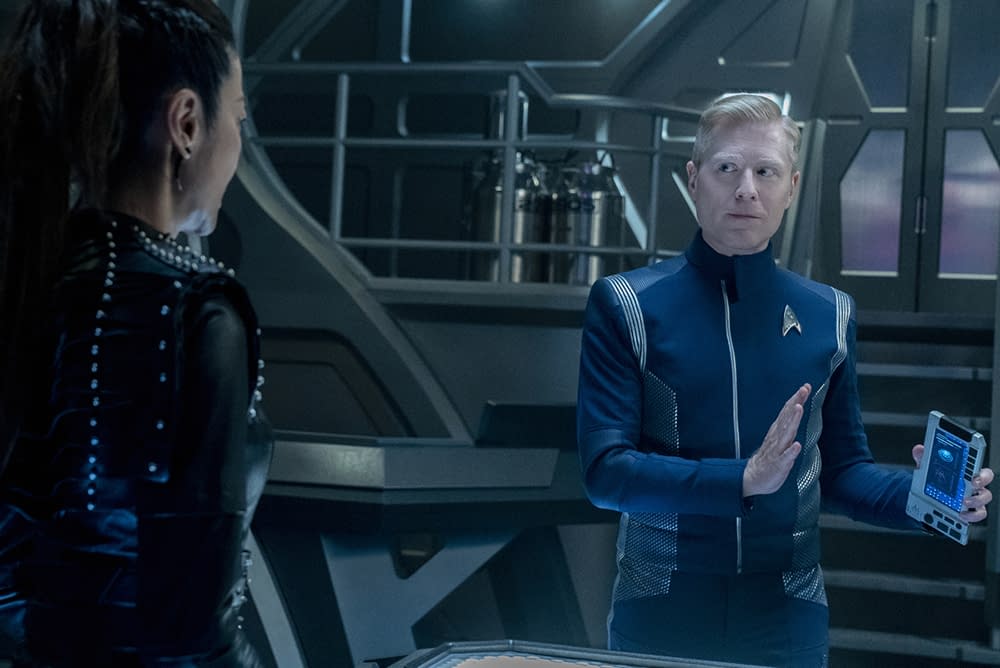 If there is anyone on the Discovery that has Burnham's best interests at heart, whether she wants it or not, it is Tyler (Shazad Latif). Throughout the season it has been obvious that Tyler and Burnham still have feelings for each other, and that Tyler is still very protective of her. The preview and released images give me hope that I will get at least one scene with Tyler and Burnham re-connecting. I can only hope that it will not be the last.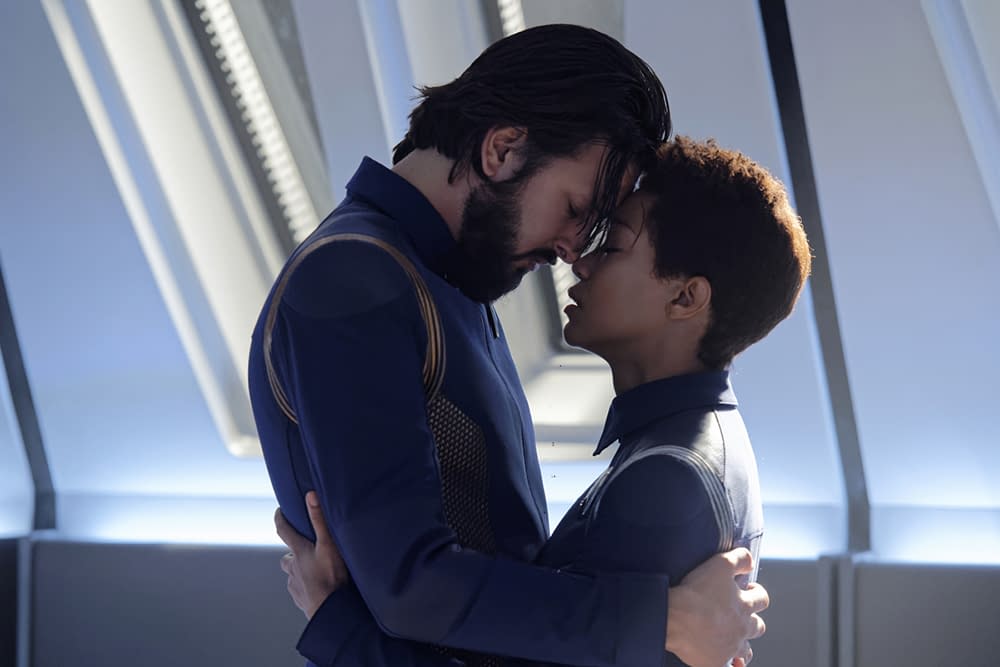 We now have less than 24 hours to wait before we find out more about the Red Angel, Section 31, and Burnham's place at the center of it all. After the last few phenomenal episodes of Star Trek: Discovery, I have no doubt that we are all in for one wild, emotional, exciting, and surprising ride. Won't you take my hand?
This week's episode of Star Trek: Discovery "Red Angel" will be available Thursday March 21 at 8:30PM EST on CBS All Access.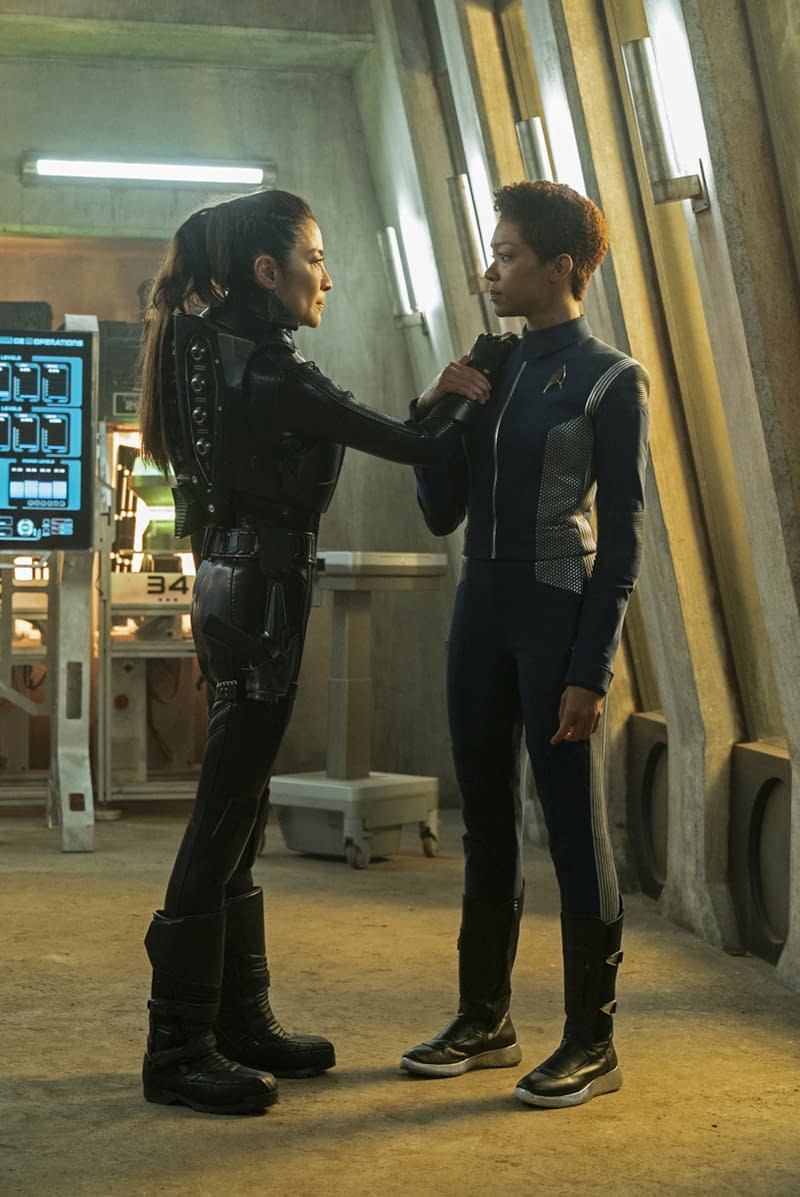 ---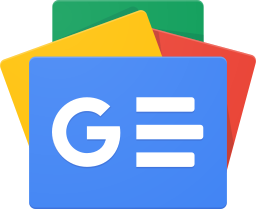 Stay up-to-date and support the site by following Bleeding Cool on Google News today!