Star Trek LGBTQ Actors Open Up About Their Journeys to "Discovery"
To say the pressure on the cast of Star Trek: Discovery to succeed within the franchise's paradigm would be an understatement. Not only has the series thrived on the ViacomCBS streaming platform Paramount+, but it also has the distinction as the most represented LGBTQ+ in its entire cast. Out Magazine conducted a series of interviews featuring Wilson Cruz and Anthony Rapp, Mary Wiseman, Emily Coutts, Tig Notaro, Blu del Barrio, and Ian Alexander– here are some of the highlights: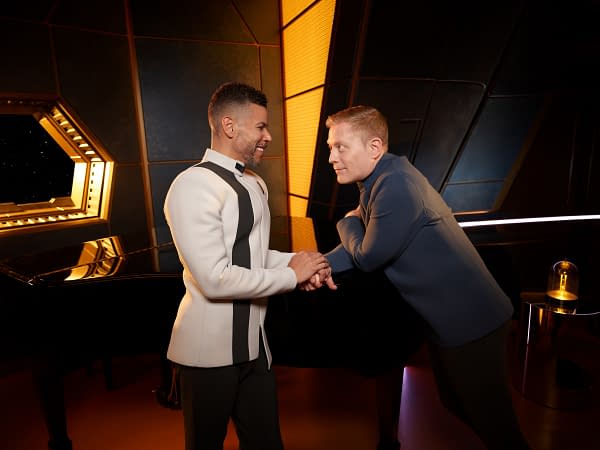 Cruz plays Dr. Hugh Culber, who not only serves as the medical doctor but also as Discovery's counselor. His partner is Rapp's chief engineer Paul Stamets, who for the bulk of the show's run, was the primary conduit that allowed the Federation vessel to perform jumps with its spore drive. "I never understood the worry that people have for me when they're like, 'Well, aren't you afraid that you'll just play gay roles for the rest of your life?' And I'm like, 'Why is that something I should be afraid of?'" Cruz laughs. "Tom Cruise isn't sitting around crying if he only has to play straight roles. So why can't I be excited about always playing gay roles?" "The stakes are just too high for me, not just for me personally, but for all of us in our society, in our world," Rapp said of his choice on playing gay roles. "Visibility makes a difference, it's unquestionable. The whole reason that progress has happened is that so many people sit up and demand to be seen."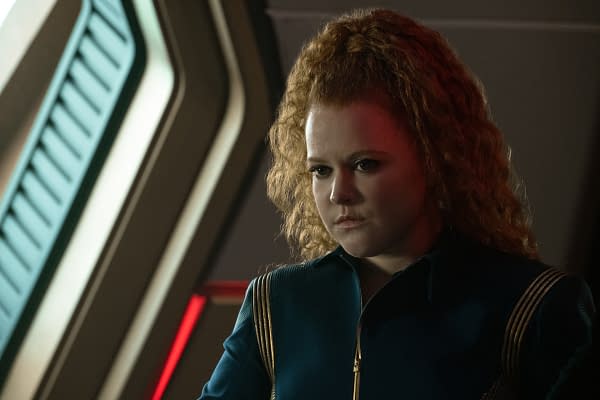 When Wiseman, who played Lt. Sylvia Tilly, was introduced to Star Trek: The Original Series, it didn't feel right at first given her upbringing. "Star Trek always kind of felt like something outside of me," she said. "I think mainly because I had an uncle who was a pretty conservative guy, and he was the guy in my life who loved Star Trek. So, it was always kind of 'over there, for men'…with maybe a more conservative ideology." Even when the actress was cast, she still had her reservations about being Tilly. "We didn't have to be like anybody that had come before, and particularly that she didn't have to be slick or cool. Which I'm super grateful for, because it would have been a bit like a square peg in a round hole if I had had to play somebody as cool as, I don't know, like [lead character] Michael Burnham," she laughed.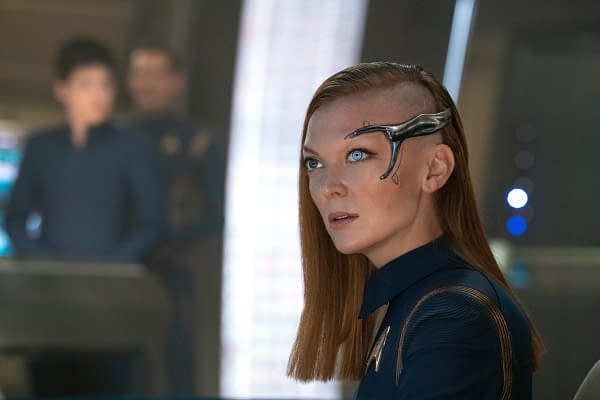 Coutts, who plays helmsperson Lt. Cmdr Keyla Detmer, started to become comfortable with who she is coming out around the time when she got the script in season two that saw the Discovery make the fateful decision to go the 32nd century. "This is where I'm at in my life right now," the actress recalled thinking. "I can stay where things are comfortable. Or I can go and grow into my full self, and really come out, and tell everyone, and celebrate that, and go to the future, whatever that holds. It wasn't so much that reading [the script] made me realize I was queer. I had been discovering that for many years prior. It was more that when I read it, I was inspired to be brave enough to finally come out, and tell people that I was gay, and trust that my future would be a beautiful thing if I was living openly and freely. I'm really grateful for that experience and proud of myself for taking the leap."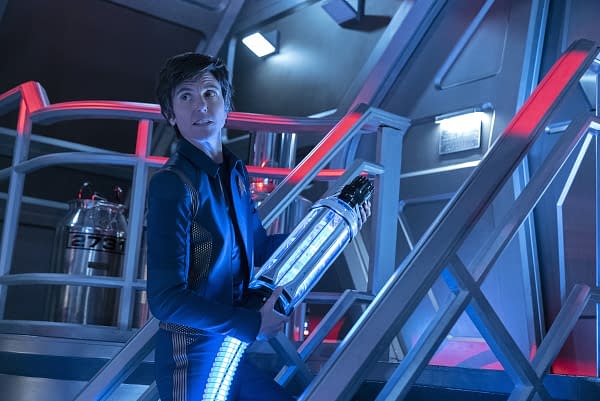 Notaro, who plays Cmdr Jett Reno, started as a one-off before being a recurring role as a fan favorite using her natural wit and sarcasm as a comedian to help play the grounded role shaped by her own tragedies. "I think that it is an interesting element to the character, but I think also relatable in ways that sometimes when you've been through something or struggling, the certain protective layer [Reno projects]…when you dig deeper, you find that there's some pain or a hard road that somebody's been down," Notaro said. "I think it'll be interesting to see what happens with that backstory. I really don't know what's coming. This is very much a written TV show. I'm not just showing up and being myself and saying whatever I want because if I said whatever I wanted, I certainly wouldn't be saying the crazy [scientific jargon]," she says. "That's not what would be coming out of my mouth."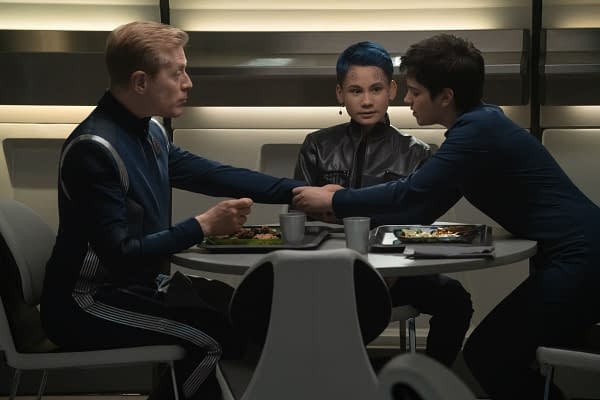 Del Barrio and Alexander play trans and non-binary characters in Ensign Adira and Gray, respectively. "I think chosen family is the big one," del Barrio said. "I think in terms of the LGBTQ+ community and this franchise as a whole even if there weren't 'canon' queer or trans characters everywhere and spread throughout, the idea of 'chosen family' was still there." "Trans voices and stories are finally being told," Alexander added. "People who aren't trans can relate to, you know, coming into your identity and finding a chosen family. But especially for people who are trans, they are so happy to finally see our stories being reflected in mainstream media." For more on the cast talking about their experience before getting cast in Star Trek, their lives since becoming part of the community, and how co-showrunner Michelle Paradise helped forged their path to the franchise, you can go to Out.com. Star Trek: Discovery season four resumes on Paramount+.