"Star Trek: Picard" – Jeri Ryan on Seven of Nine Return, First Time Filming with Sir Patrick Stewart & More [SPOILERS]
One of the more pleasant surprises in the Star Trek universe was the return of Jeri Ryan as Seven of Nine in Picard. The popular actor has developed a unique approach to her character, compared to how she portrayed Seven of Nine on Star Trek: Voyager in 2001.
From previews, fans already made aware of her imminent return to Trek, but didn't know when. During Picard's latest episode "Absolute Candor", Cristobal Rios' (Santiago Cabrera) ship La Sirena found itself on the receiving end of a dog fight against a Romulan Bird of Prey.
One ship came out of nowhere to assist the crew single-handedly taking out the threat. Before it was destroyed, the bird returned fire sending the assisting ship in a tailspin. Rios transported the lone pilot to the bridge revealing the former Borg drone. Before passing out, Seven deadpanned, "Picard, you owe me a ship."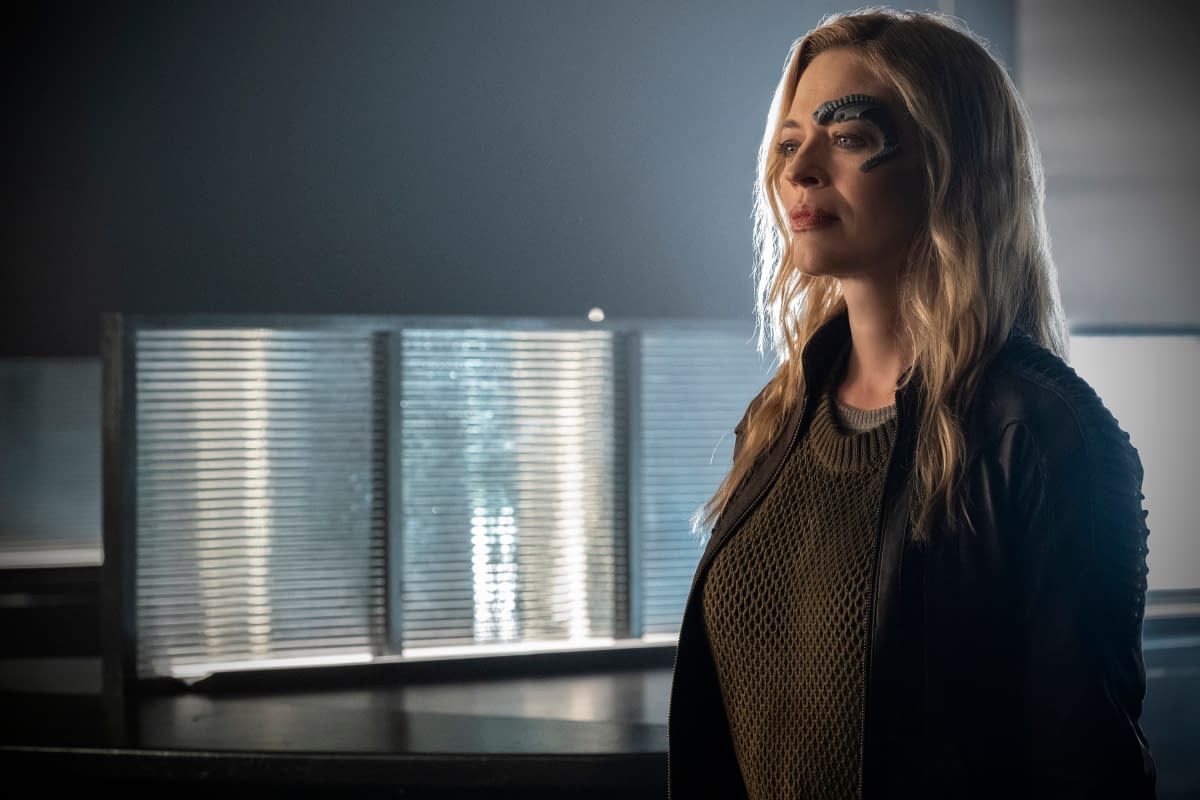 Ryan spoke with The Hollywood Reporter about what went into her reprising the role after 19 years – beginning with the immediate difference between Voyager and Picard.
"The scale of the show. The scale of these sets, the costumes, it's crazy. It's like you're doing a feature film every week. In one of my scenes, where I had to go in and work a console, we go in for the first rehearsal and I had to touch buttons and the screen actually does something! And I totally flipped out, like: 'Oh my god, actually having buttons that work!'"
Another dramatic difference for Ryan was the makeup experience:
"What's funny is that they actually added time to my ready time. They made [Seven's] prosthetics more complicated to put on. So now I actually do have prosthetic makeup to add, outside of the full Borg suit and makeup, that I didn't have on the old show. Though it's pretty crunchy at this point."
In case you were wondering? Ryan kept her Borg prosthetics from both series.
The only other Voyager cast members able to share the screen with the Next Generation folk are Robert Picardo and Kate Mulgrew as The Doctor and Admiral Kathyrn Janeway, respectively. Ryan and star Patrick Stewart never shared the screen together – and that factored in to their first scene together:
"My first scene, the big scene, was the one you see in the trailer, when we're in his office/ready room. That was my first day on set. It was daunting — not just because it was Patrick — but because I was still petrified — or 'Patrick-fied' — of if I could find the character again. I was still trying to figure out who she was."
Luckily for Ryan, Trek alum Jonathan Frakes directed the episode and helped with the transition back into her character. Frakes has familiarity with Voyager and Enterprise casts, having made appearances on both series:
"I was so fortunate because Jonathan Frakes was directing my first episode. So with that, I knew I was in good hands. [Frakes], more than anyone else, would get the importance of revisiting and being true to these characters. Because the challenge for me is: Where has she been for nearly 20 years? Finding her voice was the hardest thing for me; when I read the first script — I just couldn't hear her voice anywhere. [After a couple of takes] Frakes just sort of walked in and said 'there she is.'"
Even with the show already underway, Ryan's still in disbelief over playing the character again:
"Yeah, I feel that way all the time. I mean, even after having finished the first season, I see the promos come out and go 'oh my gosh, I'm actually playing Seven of Nine again.'"
Star Trek: Picard airs Thursdays on CBS All Access.