"Star Trek: Picard" Season 1 "Broken Pieces": The Chase is On! [PREVIEW]
In last week's episode of CBS All Access' Star Trek: Picard "Nepenthe", Jean-Luc (Patrick Stewart) and Soji (Isa Briones) found sanctuary on a planet. Reaching a cabin in the woods, they find his old crewmates from the U.S.S. Enterprise in William Riker (Jonathan Frakes) and Deanna Troi (Marina Sirtis).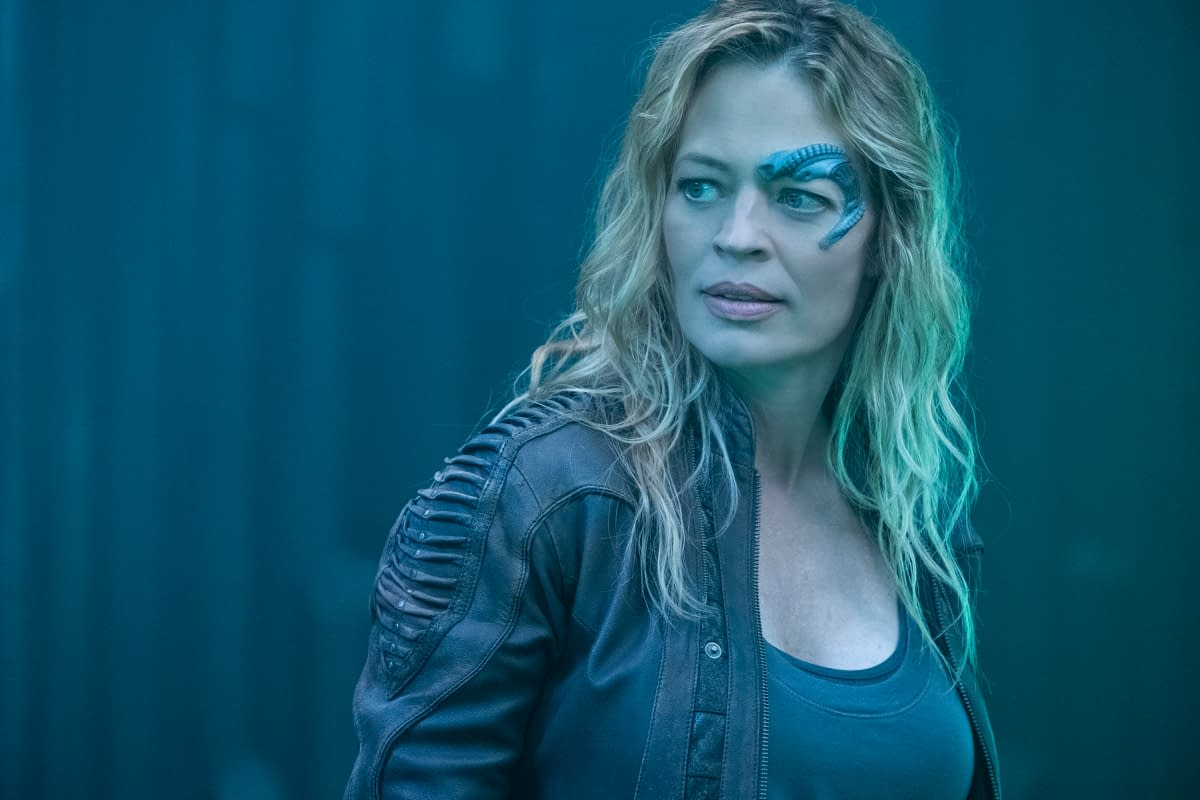 "Star Trek": With a Little Help from My Friends
While Picard catches up with Riker and Troi, he plans his next course of action while waiting to be picked up by Cristobel Rios (Santiago Cabrera) and the La Sirena. Soji, still in shock from discovering her world turned upside down, tries to come to terms with her life as an artificial life form and where she came from.
Meanwhile, on La Sirena, Rios tries to evade Narek (Harry Treadaway), who is in hot pursuit with his own ship. Internally, Agnes Jurati (Alison Pill) is trying to live with the guilt of murdering her love Bruce Maddox without telling the crew. At the beginning of "Nepenthe", we discover before she embarked on the journey, Commodore Oh (Tamlyn Tomita) performs the Vulcan mind meld on her. The Starfleet officer overwhelms the Daystrom Institute cyberneticist with apocalyptic imagery convincing her that synths like Soji are dangerous and must be stopped.
Breaking under pressure while Raffi (Michelle Hurd) attempted to cajole her with sweets, Agnes tried to commit suicide. Going into the convulsions, the EMH (Cabrera) appears saving her inducing her into a coma.
Hugh's Last Stand
As things break down around the Borg cube from Soji's escape, a furious Narissa (Peyton List) interrogates Hugh (Jonathan Del Arco) to Picard and Soji's whereabouts. Steadfastly refusing, Narissa orders her guards to execute a group of ex-Borg in front of him. Before she makes a further example out of him, Elnor (Evan Evagoria) steps into the rescue. During the scuffle, Narissa hurls a dagger catching Hugh in the throat killing him.
Surrounded by Narissa's forces, Elnor finds a pendant to summon for help – bringing us to the following synopsis for this week's "Broken Pieces".
"Star Trek: Picard" season 1, episode 8 "Broken Pieces": Picard realizes how far some will go to protect secrets that go back generations when truths about the attack on Mars are revealed; Narissa orders her guards to capture Elnor, setting off a chain reaction on the Borg cube.
Here are my lingering questions going into "Broken Pieces".
It's hard to imagine Riker and Troi idly sitting by knowing what Picard told them. What will they do now that he and Soji left to resume their journey?
Is Seven acting alone or did she enlist the help of the other Fenris Rangers?
Will we see Romulan and Federation in pursuit of the La Sirena given the co-conspirators?
What other characteristics did Maddox give Soji that Data couldn't do?