Succession Season 4: Skarsgård on Lukas Matsson's Motivation & More
With HBO's Succession returning for its fourth & final season on March 26th, Alexander Skarsgård talks Lukas Matsson's motivation and more.
---
On one side stands Logan Roy (Brian Cox), looking to complete his sale of Waystar Royco to Alexander Skarsgård's tech mogul Lukas Matsson. On the other side stands Roy's righteously unhappy kids (Jeremy Strong, Sarah Snook, Kieran Culkin & Alan Ruck), who've decided that they're not willing to sit by and let their future be sold out from underneath them. That's where things stand when HBO & Jesse Armstrong's award-winning Succession returns for its fourth & final season on March 26th. Speaking with EW, Skarsgård offered some insight into what Matsson's role will be in making sure the deal goes down, what it was like filming part of the season in Norway, and how he feels about Armstrong's decision to end the series.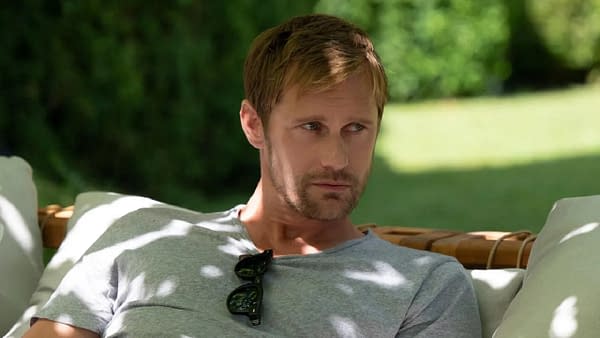 For Matsson, It's About Knowing Who to Work – And Who to Work Against Each Other: "Once he focuses on a task, he is almost unstoppable, and it's almost like a fun challenge to him to see if he can do this if he can pull it off," says the actor. "He has to figure out a way to work the different members of the family and the different members of the board."
Skarsgård on Filming in Norway: "We shot up in the fjords, up in the mountains — it was spectacularly beautiful. It's a company retreat, basically, an opportunity for relaxation but also hard negotiations about how to move forward. Obviously, my character's Swedish, but it's a neighboring country, and it was quite fun to get out of New York and shoot something on kind of Matsson's turf."
On "Succession" Ending After 4 Seasons: "I always felt that Jesse will end this when he feels it's the right time to end it. I was never worried that this was going to be a case where they do one or two seasons too many. I don't think that's worthy of Succession. I'm so honored to have been a small part of it."
The fourth season cast for HBO's Succession includes Brian Cox, Jeremy Strong, Sarah Snook, Kieran Culkin, Alan Ruck, Matthew Macfadyen, Nicholas Braun, J. Smith-Cameron, Peter Friedman, David Rasche, Fisher Stevens, Hiam Abbass, Justine Lupe, Scott Nicholson, Zoë Winters, and Jeannie Berlin. The newest additions to the cast this season are Annabeth Gish, Adam Godley, Eili Harboe, and Jóhannes Haukur Jóhannesson.
Returning cast includes Dagmara Domińczyk (Karolina Novotney), Alexander Skarsgård (Lukas Mattson), Arian Moayed (Stewy Hosseini), Juliana Canfield (Jess Jordan), Annabelle Dexter-Jones (Naomi Pierce), Hope Davis (Sandi Furness), Cherry Jones (Nan Pierce), Justin Kirk (Congressman Jeryd Mencken), Stephen Root (Future Freedom Summit Organizer Ron Petkus), Harriet Walter (Lady Caroline Collingwood), James Cromwell (Ewan Roy), Natalie Gold (Rava Roy), Caitlin Fitzgerald (Tabitha), Ashley Zukerman (Nate Sofrelli), Larry Pine (Sandy Furness), Mark-Linn Baker (Maxim Pierce), and Pip Torrens (Peter Munion). Created by showrunner Jesse Armstrong, the series is executive produced by Armstrong, Adam McKay, Frank Rich, Kevin Messick, Jane Tranter, Mark Mylod, Tony Roche, Scott Ferguson, Jon Brown, Lucy Prebble, Will Tracy, and Will Ferrell.