As every-day citizens and mere mortals, we spend our days marvelling at those in capes and spandex who patrol our cities, put down the "big-bads," and allow us peacefully sleep at night? But what happens after the fights are over? Once the dust (and large chunks of concrete) has settled, who's there to clean up the mess and get our lives back to normal?
That's the question the CW's looking to answer with dramedy Super Clean, a new series from GLOW co-executive producer Sascha Rothchild and CBS TV Studios based on the upcoming graphic novel SuperCLEAN from writers Heath Amodio and Cullen Bunn, and artist Jason "J" Wright; logo work from Anton Kromoff. Rothchild and Amodio will executive produce alongside John Baldecchi and Doug Barry, with Bunn producing.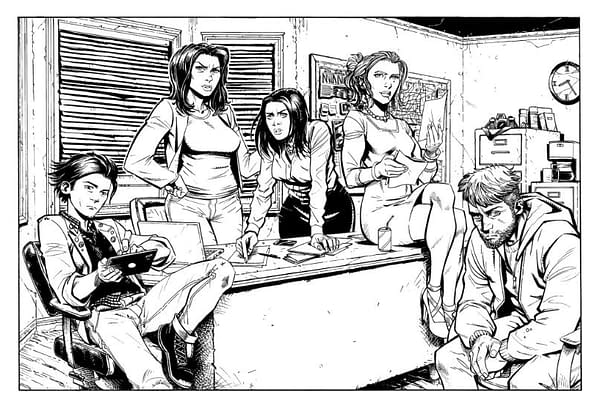 Adapted to series by Rothchild, Super Clean explores the superhero genre from the human side. Becky Masters is an uber-organized and brilliant human, with a ragtag team of non-powered cohorts navigating the danger and drama of "cleaning up" after superheroes and villains. As if that wasn't enough to handle, Becky's also trying to prove her superhero boyfriend innocent of a dastardly crime.
Here's a look at some early page artwork below (with early logo artwork above), shared by Amodio and Hustle and Heart Films in October 2018:
Enjoyed this article? Share it!