Supergirl Season 3: What They Find on the Darkside of the Moon
Even though it is a holiday, we're still getting a new episode of Supergirl, and it's an interesting one called 'Darkside of the Moon'. With the new scene The CW has released, they're not really trying to hide what I would've though would be a spoiler, but I will wait to talk about it until after the photo in case anyone wants to click away to avoid spoilers.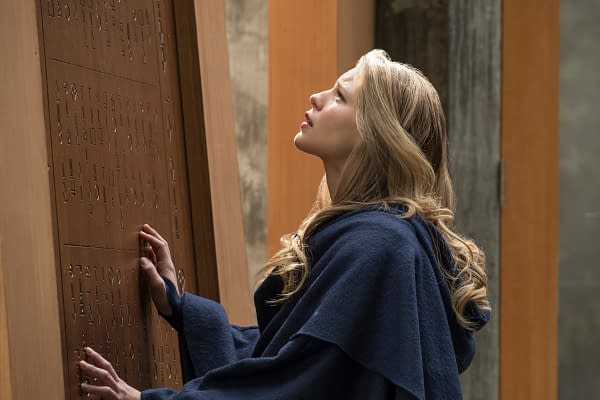 The scene shows Kara (Melissa Benoist) and Mon-El (Chris Wood) approaching a structure while looking for the black rock that can help separate Samantha Arias (Odette Annable) from Reign. But as they get closer, Kara starts to read the writing on the structure and realizes it's a memorial and the language is Kryptonian. She tells Mon-El that they're in Argo City just as a group of security robots show up that look exactly like the ones from the Fortress of Solitude. Then a group approaches and Kara recognizes the woman in front as Alura Zor-El (Erica Durance), her mother.
I'm not exactly sure why they're just putting out there that we're getting Argo City and Alura. It would seem like something you'd want to reveal in the episode, but usually when they do something like this, it means that there is some other twist in the episode. Like a few weeks back when they showed Tommy Merlyn (Colin Donnell) wearing the Green Arrow costume in the trailer — his appearance was only part of the surprise, and by advertising it may have gotten more people to tune in.
Supergirl airs tonight at 8 p.m. ET on the CW.
https://youtu.be/tPyQSHg6yLE