This week's episode of Supergirl focuses on the Lena Luthor vs Morgan Edge story, with Edge (Adrian Pasdar) accusing Lena (Katie McGrath) of trying to kill him and Supergirl (Melissa Benoist) gets involved. Probably James Olsen (Mehcad Brooks), as well. But that doesn't mean the folks at the DEO have completely forgotten about Reign (Odette Annable), nor the information they got from Fort Rozz the previous episode: that there are multiple Worldkillers. But what has Winn been up to?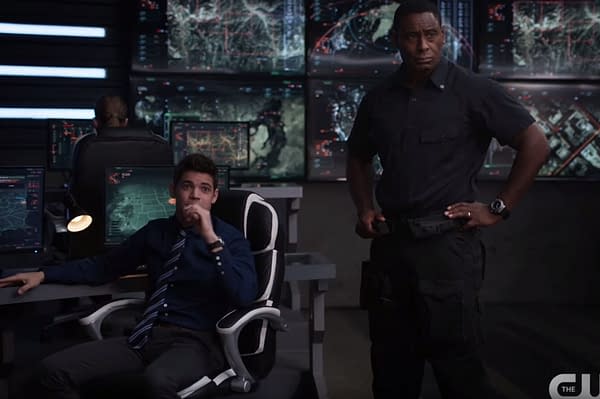 In a second clip from tonight's new episode, 'For Good', we see Kara, Mon-El (Chris Wood), Winn (Jeremy Jordan) and J'onn (David Harewood) talking about how Reign has been quiet since coming back from Fort Rozz, and that Winn isn't having any luck tracking them in the same way he tracks Kryptonians. This leads to the idea that perhaps they've been genetically modified (as they were in the comics), and Mon-El talks about how that is possible because the Legion has fought some genetically enhanced beings.
There is one really kind of odd moment where Winn is talking about how he tracks Supergirl and her cousin (they never say Superman) and Winn says it's nice because he knows where Superman is. That sounds really stalker-ish. And what happened to Winn's alien girlfriend? Are we seeing some subtle signs of something really disturbing starting here? Probably not, but hey. You never know.
Supergirl airs tonight at 8 p.m. ET on the CW.
https://youtu.be/L0sWFL9T_NM
Enjoyed this article? Share it!