TBS Proves there is No God by Renewing 'Miracle Workers'
I am still completely flummoxed by Miracle Workers, the heaven-centric "comedy" starring Daniel Radcliffe and Steve Buscemi. After a wildly uneven (yet amusing) pilot, the series dive-bombed into depths of banality that not all the vodka in the world could make amusing.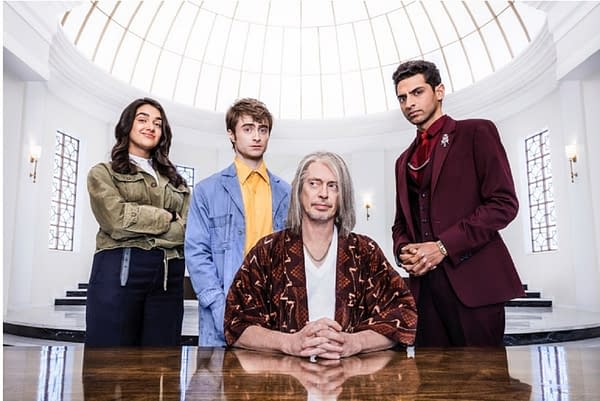 In the interest of keeping my liver healthy, my editor made the judgement call to end Bleeding Cool's coverage of Miracle Workers, since I was literally grudge watching it and scaring my neighbors every night, angrily screaming at the sky for some random deity to strike me from this earth.
I even went so far as to write a chart that measured how many of the commercials that aired during Miracle Workers were funnier than the show they sponsored. It grew embarrassingly big, but that talking lobster commercial really is a work of genius.
What went wrong? Daniel Radcliffe proved his comedic chops in Swiss Army Man, when co-star Paul Dano rode his farting corpse like a jet-ski to safety. I'm laughing while I type this. That's comedy gold!
And it's not like Buscemi is some slouch when it comes to comedy. That man is a legend with the yuck-yucks.
Miracle Workers just fell flat. Jokes that should have been slam dunks just fluttered idly past, which should not be possible when that joke centers around Bill Maher's penis exploding. That should be hilarious without much effort. Typing it got a chuckle out of me. But the episode surrounding that momentous event landed with all the impact of a slowly deflating balloon.
The kind that never quite gets airborne, just sputtering spastically as it flops about the room. That's Miracle Workers in a nutshell.
Then there was the episode that revolved almost entirely around God needing help with the toilet because he drank too much juice. After watching that one, I drank too much juice, too. Special juice made from potatoes. A fifth of a bottle later, and it still didn't kill the pain of that episode.
So, what does Miracle Workers have in its future? According to TBS, it's the "number one new comedy on television". Therefore, Miracle Workers is being renewed for a second season. Sure, it has a new premise, with the lead characters living their lives in a medieval village.
Maybe they'll do an episode about exploding Thomas Aquinas' penis.
One thing is for certain, though- this feels like a personal affront, like TBS renewed Miracle Workers just to get even with me for some slight. This will not stand, TBS. If you're going to renew this terribly unfunny show, then I am going to renew my coverage. I shall be the Khan to your Kirk. Ahab to Miracle Workers' white whale:
"From Hell's heart, I stab at thee, for hate's sake I spit my last breath at thee."

-Herman Melville, Moby Dick

(Also Khan, but much Montalbanier)
You never know, though. Maybe the second season of Miracle Workers will be glorious, and we can all ride this show's farting corpse, jet-ski style, to new comedic depths never before explored.
……
TBS Orders New Season of #1 New Cable Comedy Miracle Workers
Daniel Radcliffe and Steve Buscemi Will Hearken Back to Medieval Times in Season Two of Anthology Series
Created by Simon Rich and Executive Produced by Lorne Michaels
NEW YORK, MAY 15, 2019 – Prayers answered! On the heels of launching the #1 new cable comedy this season, TBS has ordered a second installment of Miracle Workers, the anthology series created by Simon Rich and executive produced by Lorne Michaels. The series has reached a multiplatform audience of 26.4 million viewers across all TBS platforms.
"I'm so grateful to have been given the opportunity to bring my novel What in God's Name to life in season one," says Rich. "And now that I've bled that sucker dry, I'm really excited to tell a brand-new story with the same group of brilliant actors."
Season two of Miracle Workers will be a medieval story about friendship, family and trying not to be murdered. Centered on a group of villagers in the dark ages trying to stay positive in an age of inequality and fake news, this installment will feature series regulars Daniel Radcliffe, Steve Buscemi, Geraldine Viswanathan, and Karan Soni returning in new roles and facing new challenges. "Was there ever better casting?" asks the Los Angeles Times.
"Simon's absurdist and comedic tales of human existence are truly unique," said Thom Hinkle, executive vice president of original programming for TBS, "He pitched us what he wants to explore in the dark ages with these brilliant actors and it's weird and smart and perfect."
Miracle Workers is created by Man Seeking Woman creator Simon Rich. It is executive produced by Lorne Michaels, Andrew Singer and Katy Jensen of Michaels' Broadway Video, along with Rich, Radcliffe and Buscemi.
……