The 2019 Bleedy TV Awards Year-in-Review: "Game of Thrones", Netflix, FOX News & More
Welcome to The 2019 Bleedy TV Awards Year-in-Review, where we take a look back at the year in television business and give out some well-deserved "awards" – whether they want them or not. From American Gods to Arthur… from Hallmark Channel to T-Pain… we're hitting a pretty broad range of topics. We'll be following up our look back at 2019 with some "awards" for the shows that made all sorts of waves over the past twelve months – and I'll have some assistance from Bleeding Cool's TV team with that one, too.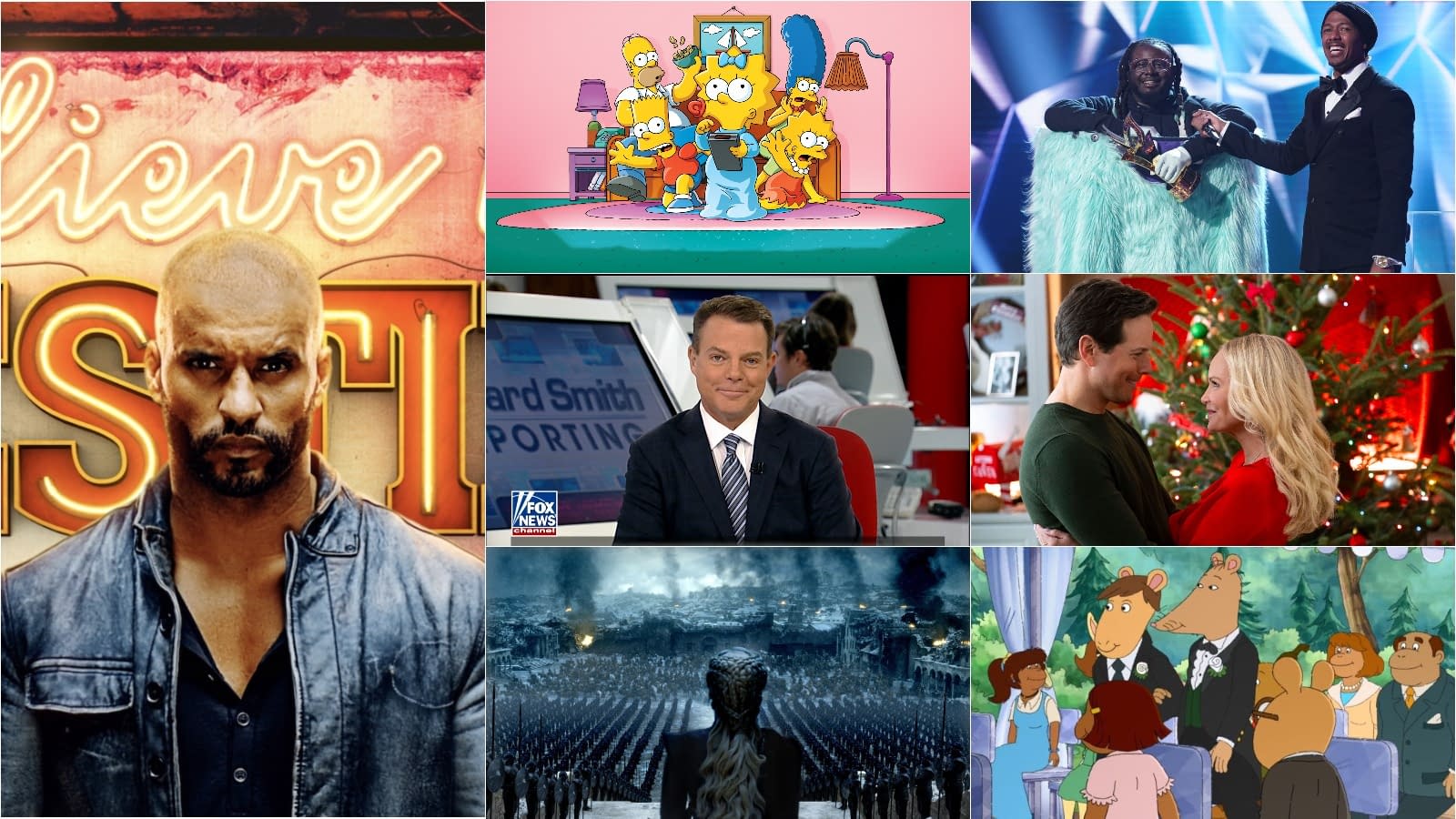 So sit back… relax… have fun… and join me while we wrap up the year by plucking out some news items that happened and awarding them their proper honors (you can check out our ten top 2019 shows here). But just to show we aren't without a little heart, in between our monthly categories are the trailers for shows we lost this year – consider it our own special "In Memoriam".
JANUARY
● The "American Top 40"/Casey Kasem "Keep Your Feet on the Ground and Keep Reaching for the Stars… And Keep Your Hands to Yourself… And Maybe Shut the F**k Up a Little" Award: Neil deGrasse Tyson
● The "When You Dance with The Devil, The Devil Doesn't Change. The Devil Changes You – and Your Bank Account" Award: NBC News, for paying out all of Megyn Kelly's $69M contract after plan to mainstream ex-FOX "News" host goes as expected.
● The Inigo Montoya/"You Keep Using That Word, I Don't Think You Know What It Means" Award: FOX's Rent: Live, which contained only 15 minutes of actual live performances (the rest was from a taped dress rehearsal, after actor Brennin Hunt was injured).
● The "When It Rains, It Showers" Award: R. Kelly, who was dropped by his record label RCA Records.
FEBRUARY
● The "If We Did Have a Cow, It Would've Long Died By Now" Award: The Simpsons, renewed for 423rd and 424th seasons – original voice cast's great-great-great grandchildren expected to return.
● The Donald Trump "Fisher-Price 'My First Dictatorship'" Freedom of The Press Award: (TIE)
Trump supporter in El Paso, Texas, who climbed into the media area at a rally and attacked BBC photojournalist Ron Skeans.
United States Coast Guard Lt. C********** P*** H*****, who compiled a "hit list" of news personalities he considered "traitors" from CNN and MSNBC.
● The "So We're Guessing He's Not Hosting in 2020?" Award: Kevin Hart, who ended up doing ten times more talking about why he wasn't hosting the Oscars than he would've said on stage if he actually did host.
● The Home Depot "DIY" Award: Jussie Smollett (Empire, "alleged" Chicago freestyle improv group)
● The "Auto-Tune THIS! [crotch grab]" Award: T-Pain, who beat out veteran singers Gladys Knight ("Bee") and Donny Osmond ("Peacock") for the honor of being the season one winner of FOX's The Masked Singer.
MARCH
● The "Grace Under Pressure" Award: CBS This Morning's Gayle King, who proved herself a "Queen" by keeping just enough control of her R. Kelly interview to give the singer all the time he needed to make his assistants and PR people regret they ever took the job.
● The "Duh" Award: Those "shocked" that the Democratic National Committee (DNC) would keep their debates off of FOX "News". They're not news. It would be like having one on Cartoon Network – except Apple and Onion have stronger journalistic ethics.
● The "Who Is the Member of Our TV Family We Still Need Around to Remind Us of How Stupid We Truly Are?" Award: Jeopardy host Alex Trebek
● The Soccer Mom "Thelma & Louise" Remake Award: Lori Loughlin & Felicity Huffman, for giving it the "old college try".
● The "Pissin' On Our Corn Flakes" Award: ESPNU, who spoiled the tournament bracket for the NCAA Division I Women's Basketball Tournament by posting it on-screen four hours before its intended release. Plans had to be changed while hopes and dreams were crushed.
APRIL
● The "Look Out! That Cumulus Congestus Has a Gun!" Award: The Weather Channel, who was the victim of a major software attack – leaving us scratching our heads and wondering if the world of high-tech meteorology is a bit more Bourne Identity than we first thought.
● The Kenny Rogers "Know When to Hold 'Em, Know When to Fold 'Em" Award: Pro gambler James Holzhauer, first Jeopardy contestant ever to walk away with a six-figure single-day winnings total ($110,914).
MAY
● The "'Bush' League Move" Award: Extra Extra, for bringing back Trump's very own Turtle and Access Hollywood tape hype-man Billy Bush as a host.
● The "Wait Until Alabama and Arkansas Learn God is Half-Rat/Half-Aardvark" Award: PBS's Arthur, for offering an animated "FU" to the two states via Mr. Ratburn and his boyfriend Patrick's marriage.
● The "Even Psychotic Dragon Ladies Deserve Happy Endings, I Guess" Award: Game of Thrones finale, and to the Game of Thrones fans who blinded themselves to the truly awful s**t Daenerys said and did over the seasons because of some projected need for to be on the throne. Extra credit for the s****y way a good chunk of fans treated the cast afterwards, too – great way to say thanks.
● The "Swear to God We Forgot It's Back On/Still On" Award: (TIE) ABC's American Idol & CBS's 60 Minutes
● The "Did We Run Out of Sitcoms Already?" Award: ABC, for following up the success of Live in Front of a Studio Audience: Norman Lear's All in the Family and The Jeffersons seven months later with Good Times and… All in the Family again? Not enough time for a run at Bosom Buddies?
● The Howard Beale "Mad As Hell" Award: Meteorologist Jamie Simpson from Dayton's WKEF-TV (ABC) and WRGT (Fox/MyNetworkTV), for calling out viewers complaining on social media about tornado coverage preempting The Bachelorette. Three tornadoes – two EF3s and one EF4 – hit the suburbs of Dayton, claiming at least one life, injuring dozens, and damaging and destroying close to 600 homes and businesses.
JUNE
● The "Soon to Be an Accessory to Every Murder in the U.S." Award: Oxygen, for giving wannabe's a whole lot of study material to work with – and nearly every conceivable demo their own homicidal spotlight.
JULY
The "Donny Dun Reed Wreel Gud" Award: Federal Communication Commission (FCC), for dramatically reducing requirements for children's educational programming. What that means? Less A-B-C's and 1-2-3's and more pimping toys and breakfast cereals in-between the animated gunplay.
The "I'll Take a Pack of Marlboro Character-Defining Smokes" Award: Netflix, which banned smoking or e-cigarette use in all future series and films – as long as they're rated TV-14 or PG-13 or below… "unless it's essential to the creative vision of the artist or because it's character-defining (historically or culturally important)". So in other words? You can't do it… unless you need to do it. Then you have to have a reason. And then you can do it. Like becoming a pickle.
The "Sadder Feeling Than I Was Expecting" Award: HGTV's A Very Brady Renovation
AUGUST
The "Right Hand Not Knowing What the Left Hand Is Investigating" Award: ABC entertainment president Karey Burke, who says she wasn't aware of The Rookie star Afton Williamson's allegations of bullying and racist comments until after Entertainment One opened an investigation.
The Monty Python "No One Expects the Federal Communications Commission!" Award: (TIE) ABC's Jimmy Kimmel Live, AMC's The Walking Dead, and Animal Planet's Lone Star Law – fined over $600,000 for "misuse" of the Emergency Alert System tones – because every other problem in the world has clearly been solved.
The "Redundancy" Award: Sarah Huckabee Sanders, who went from pimping Trump's ideas as his mouth piece through The White House to pimping Trump's ideas as his mouth piece through FOX "News" – which probably isn't much more than a walk down the hall.
The MTV VMA "Who Is Sebastian Maniscalco?" Award: (TIE) Sebastian Maniscalco, Kevin Hart
SEPTEMBER
The "Say Your Prayers, Eat Your Vitamins, Brother!" Award: (TIE) Gray Television and Nexstar Media Group, for both agreeing that the one thing this country was missing was The Star-Spangled Banner kicking off every broadcasting day. World peace soon to follow.
The "This Is Why Deputy Dewey Shouldn't Run Background Checks" Award: Shane Gillis, who was hired-then-fired from the 45th season cast of Saturday Night Live over derogatory remarks about Chinese Americans, Muslims, women, and the LGBTQ community during his Matt and Shane's Secret Podcast. We're still not sure how a ten minute basic online search "vetting" wouldn't have caught this.
The "Dance Comp with a Body Count" Award: Dancing with the Stars, which lost Christie Brinkley, Ray Lewis, and his partner Cheryl Burke to injuries.
OCTOBER
The "Where's Our Plinko Spinoff Show???" Award: The Price Is Right, which celebrated its 9000th episode – and still no one's been consumed by "The Big Wheel". Dare to dream.
The "But I'm Tryin, Roger. I'm Tryin' Real Hard to Be the Shepherd" Award: Original FOX "News" member and anchor Shepard Smith, for leaving the swamp behind with some parts of his dignity still in place. Hopefully, to walk the earth – like Caine in Kung Fu.
NOVEMBER
The "I T ' S A B O _ T F _ C K I N G T I M E !: 'I'd Like a "U", Vanna'" Award: Vanna White, for finally getting to host Wheel of Fortune – an achievement finally fulfilled since she joined the game show over 40 years ago.
The "Sometimes Democracy Is a Bit Overrated" Award: The People's Choice Awards names Avengers: Endgame "The Movie of 2019" – decision makes us yawn 3000.
The "Does That Godddamn Hourglass Ever Run Out of Sand?!?" Award: NBC's Days of Our Lives, which will find a way to keep that show going even if they have to go town-to-town "travelling minstrels"-style.
DECEMBER
The "You Had ONE JOB!" Award: Hallmark Channel, whose only job it was this holiday season was to line up their onslaught of mediocre holiday merriment, press "play", and ride out the ratings-fest. Complaints from One Million Moms (which might be made up of only 923 people – and not all moms) over wedding planning website Zola showing two brides kissing was too much for Hallmark. The network pulled the ad – though kept an ad of a heterosexual couple kissing. After a major pro-LGBTQ backlash, Hallmark would apologize to their viewers and offered to reinstate Zola's ad – an offer they accepted.
The "Show That Apparently Pissed Off Someone's God" Award: STARZ's American Gods, for spending way too much time constantly having to heal self-inflicted public relations wounds. Some advice? American Gods works best when the drama is saved for in front of the camera.
The "Your Globes Look A Little Small & Pale – Please Turn & Cough" Award: The Hollywood Foreign Press Association (HFPA), who are embracing a new decade by – forgetting that women and artists of color actually produced great work this year. And don't get us started on how a year of exceptional "Geek TV" was ignored… Watchmen shut out?!?