Our televisions are inundated with (usually excellent) shows based on our favorite DC Comics properties. Ahead of the CW-verse's Saturday domination of San Diego Comic-Con's (SDCC) Ballroom 20, the network has released this amazing "sizzle reel" highlighting some of the highlights of the previous seasons of Arrow, The Flash, Legends of Tomorrow, Black Lightning, and Supergirl. Not only that, but they also show panels from comics both – both classic and modern – that show the inspiration for the characters and storylines we enjoy.
But the best part of it? A special sneak peek at Batwoman, where we see some new footage from the upcoming show – and I couldn't be more hyped for this.
Let's have a look, shall we?
https://youtu.be/EKXRLtVs_28
Let's run down what we've seen. The very first live action shot we see is of Jay Garrick's Flash from that very familiar Elseworlds trailer/intro. This is followed by more of our more familiar Barry-Allen-as-Flash and a quick glimpse of Godspeed, who was recently teased was coming back for this next season.
Godspeed 2.0.#TheFlash season 6 version of Godspeed on set in Vancouver last night:
(https://t.co/J2Wd5rk7An) pic.twitter.com/dSANTaPBC5

— Hollywood North Buzz – YVRShoots (@yvrshoots) July 10, 2019
Some other highlights include hearing John Constantine saying "your team's moral compass is gone." (Truth? Any appearance by John Constantine is good.) We get Supergirl telling us she won't let fear win. (speaking of moral compasses!) We get some highlights reminding me how much I need more Black Lightning, Thunder and Tobias Whale in my life.
Then we get some of my favorites, as we see Jon Cryer as Lex Luthor yelling for "MISS TESSMACHER!" and Andrea Brooks as the perky femme fatale/executive assistant. We've should've seen the clues here, especially after it was announced that Brooks will return as a series regular this season. Even at the end of the season, we saw that while Lex "died," thanks to The Monitor and the upcoming "Crisis" event, he's only "comic book dead" and was destined to return.
Then we get some amazing tributes to Arrow, the show that started it all. Coming in to its final season, there's some great action shots of Oliver Queen with tributes to his team – and especially to Felicity Smoak, who left with The Monitor at the end of last season. Shouting on a rooftop (as is his signature move), Stephen Amell seems to pass the torch to Ruby Rose as we get into the preview of her show.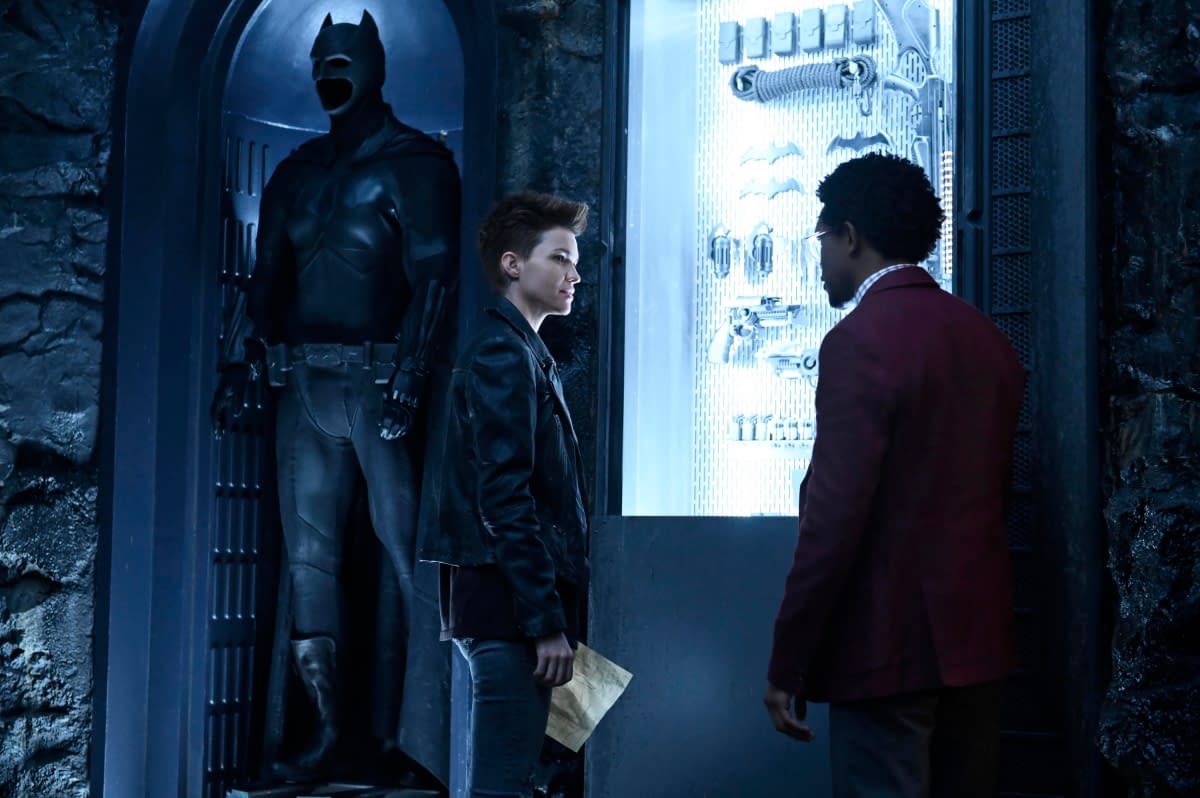 We get a shot of her ogling the Batsuit. "Whoa."
"The suit is literal perfection," exclaims an awestruck Luke Fox (Camrus Johnson).
"It will be, when it fits a woman."
I can't wait to see this, and what the rest of the universe has ready for us. Until then, I'm going to go watch this three or four more times.
Enjoyed this article? Share it!