The Flash Season 9: Danielle Panabaker Q&A; S02 "Flashback" Poster
The Flash star Danielle Panabaker's Instagram Stories Q&A covered a lot of ground; CW18 Milwaukee's Season 2/Season 9 "Flashback" poster.
---
With only a week to go until The CW's Grant Gustin (Barry Allen/The Flash), Candice Patton (Iris West-Allen) & Danielle Panabaker (Caitlin Snow)-starring The Flash returns for its ninth & final season, we have two very cool updates to pass along. With what we're glad to see will be a continuing series, CW18 Milwaukee shared its second "FLASH-back" poster honoring the influential Arrowverse series ahead of its final run. But before we get to that, Panabaker was kind enough to spend some Instagram Stories Q&A time yesterday after turning in her cut of Episode 909. So what did we learn? Of all of the episodes that she's directed, Panabaker is "really proud" of the ninth season episode that she directed. As for it being the final season, she has "lots of mixed emotions," and she "will miss everyone deeply." As for any props from the show that she might've taken home, Panabaer admits to "a coffee mug or two" (with a wink). Also, she promises behind-the-scenes looks "soon" (but spoilers are a major factor). As for Superman & Lois, Panabaker says she "would love to direct" an episode. In addition, she misses Carlos Valdes, found it "delightful" to have Stephen Amell ("He is stellar in the episode") back, revealed that she will be in the season premiere "but only briefly," and offered a negative regarding wearing a wig this season (though we're not sure what to make of the emoji… almost like she couldn't comment or say anything more… hmmm…)
In honor of the Arrowverse series' final run, CW18 Milwaukee has been releasing a series of "FLASH-back" posters reflecting the ones that were released over the past eight seasons, with updated info focusing on the final season premiere. This time around, we have a look back & a look ahead with the following Season 2 reminder: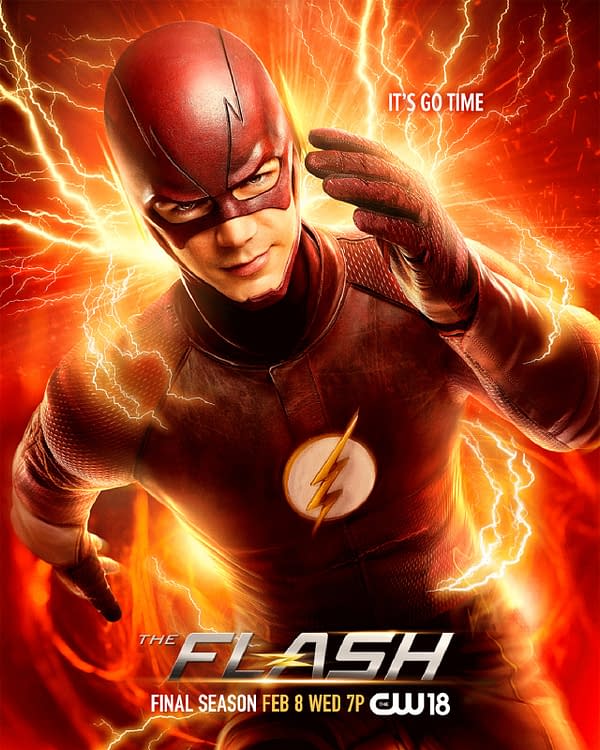 The Flash S09E01 "Wednesday Ever After" & S09E02 "Hear No Evil"
The Flash Season 9 Episode 1 "Wednesday Ever After": SEASON PREMIERE – Barry (Gustin) creates a map book to guide him and Iris (Patton) throughout their future in order to keep her safe, but the results are not what he expected, and instead, they relive the same day over and over again. Joe (Martin) has a heart-to-heart with Cecile (Nicolet). A new big bad is introduced to Team Flash, and friends and foes, old and new, begin to descend upon Central City. Vanessa Parise directed the episode with the story by Eric Wallace and teleplay by Thomas Pound & Sarah Tarkoff.
The Flash Season 9 Episode 2 "Hear No Evil": NEW KID IN TOWN – Barry (Gustin) feels guilty for what happened to Caitlin, and Mark (Cor) comes up with a plan which makes everyone skeptical. Meanwhile, Red Death looms in Central City and commands that failure is not an option. Joe (Martin) asks Cecile (Nicolet) to make a choice which leads Cecile to think about the greater good. Allegra (Kayla Compton) and Chester (Brandon McKnight) take a step in a new direction. Lastly, old friends pay an unexpected visit to S.T.A.R. Labs. Eric Wallace directed the episode written by Jonathan Butler & Kristen Kim.
After defeating the Reverse Flash once and for all, the 13-episode Season 9 picks up one week later following their epic battle, and Barry Allen (Gustin) and Iris West-Allen (Patton) are reconnecting and growing closer than ever before. But when a deadly group of Rogues descends on Central City led by a powerful new threat, The Flash and his team – Caitlin Snow (Panabaker), Meta-Empath Cecile Horton (Danielle Nicolet), the light-powered meta Allegra Garcia (Kayla Compton), brilliant tech-nerd Chester P. Runk (Brandon McKnight), and reformed cryogenics thief Mark Blaine (Jon Cor) – must once again defy impossible odds to save the day. But as The Rogues are defeated, a deadly new adversary rises to challenge Barry Allen's heroic legacy. And in their greatest battle yet, Barry and Team Flash will be pushed to their limits in order to save Central City one last time. Joining the cast for the show's final run are Javicia Leslie (Ryan Wilder/Batwoman), Nicole Maines (Nia Nal/Dreamer), Keiynan Lonsdale (Wally West/Kid Flash), David Ramsey (John Diggle/Spartan), Sendhil Ramamurthy (Ramsey Rosso/Bloodwork), and Stephen Amell (Oliver Queen/Green Arrow).