The Golden Girls Ep Removed by Hulu Over Rose, Blanche Blackface Scene
As we've already seen over the past two weeks with a line-up of series that includes Little Britain, 30 Rock, Scrubs, The Office, Community, and others, the growing national spotlight on systemic racism and unequal representation in all facets of media has resulted in shows either choosing to have potentially racially insensitive episodes (usually involving the use of blackface in some manner) pulled or having the work done for them by the studio or service. Viewers can now add The Golden Girls to that list, with Hulu removing third-season episode "Mixed Feelings" over a scene involving characters in blackface.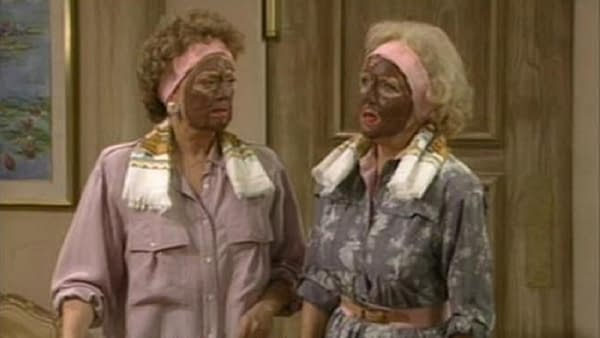 In the 1988 episode, Dorothy's (Beatrice Author) son Michael (Scott Jacoby) is intending to marry an older Black woman, Lorraine (Rosalind Cash). To say that the families on both sides of the potential aisle are none-too-pleased by the news would be an understatement. For Dorothy, it's the concerns that come from the age difference between the two. For Lorraine's family, it's their disapproval of her marrying a white man. The scene-in-question occurs when Rose (Betty White) and Blanche (Rue McClanahan) test out new mud face treatments when Lorraine's family arrives at their home. Greeting their guests with the mud masks still on, Rose says, "This is mud on our faces, we're not really Black."
The animation field was also made to confront the matter of fair and equal representation, in this case when it comes to voice acting. Kristen Bell (Central Park), Jenny Slate (Big Mouth), and Mike Henry (Family Guy) stepped down from their respective roles so that those characters could be voiced by a Black voice actor. Producers for FOX's The Simpsons released a statement pledging that white actors will no longer voice non-white characters on the long-running animated sitcom. Though the series wrapped up its final season earlier this year, BoJack Horseman star Alison Brie (Community, GLOW) posted on social media her regrets over voicing Diane Nguyen, a Vietnamese-American character.