"The Good Place" Season 4 "You've Changed, Man": Everyone's… Agreeing?!? Why Is That Making Me Nervous? [SPOILER REVIEW]
That's right, Janets, humans, and all other immortal beings of the afterlife – NBC's The Good Place is back and "The Soul Squad" is ready to save the Earth from being rebooted!
In case you couldn't already figure it out, The Good Place returned tonight for its run of last few episodes. And yes, there are MAJOR SPOILERS for this week's episode moving forward – you've been warned.
I mean, it's a review of the episode – what did you expect?
Sorry, just channeled "Bad Janet" there for a minute. But for real, there are spoilers.
With that out of the way, tonight's episode sped us along and kept everything on track for the finale, and we can get a better idea of where these last few episodes are taking us now that everyone is on board for not rebooting the Earth and making an actual, factual, honest-to-goodness The Medium Place.
I wonder how Mindy and Derek will feel about having neighbors? I'm sure we'll find out next week when they start making the afterlife of their dreams a reality!
Well, kind of. Maybe. Hopefully..???
Speaking of hope – I really hope they stick with "Disco Janet". She's the absolute best! Besides, any excuse to blast disco hits and I'm in. Why aren't you skating along with me?
All disco aside, they've done the impossible tonight: the humans basically solved world peace…but in the afterlife. I mean, they created a whole new system that everyone agrees on – even Shawn, which is impressive. Which begs the question…
How on Earth (er, how in the afterlife) are they possibly going to wrap this all up in three episodes?
Chidi is more confident and Eleanor is digging it (along with Jason and basically everyone else) – but is everything just amazing chocolate thunder from here on out… just like that? I don't buy it. Chidi needs some weakness or something – he's just a little too "perfect" now. It also feels like everyone's missing something – I'm just not sure what… yet.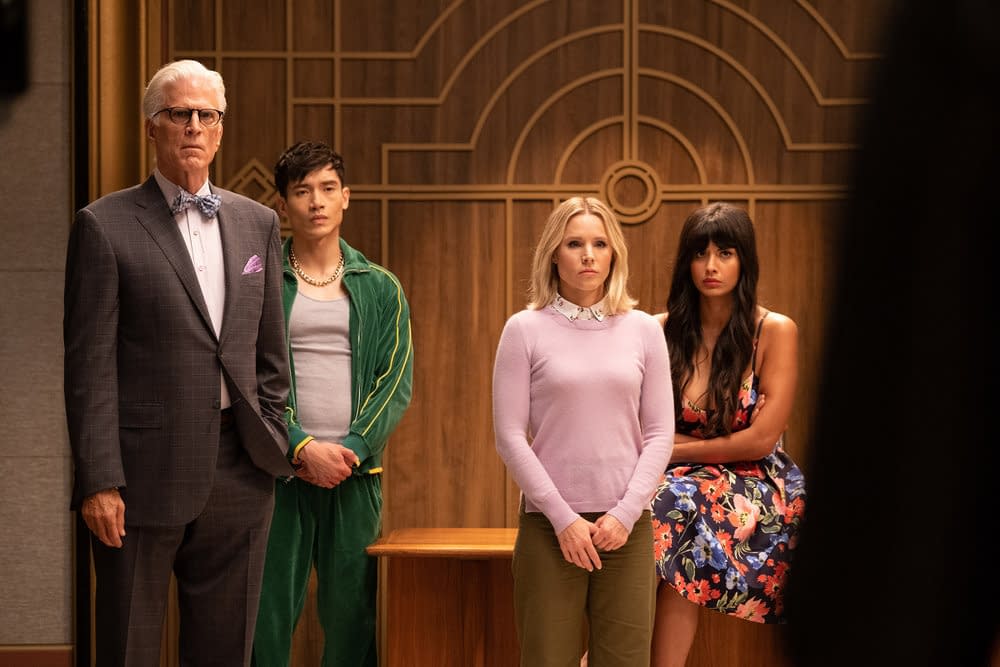 That aside, I'm super interested to see how The Medium Place and the entire revised afterlife system works out. Will it go horribly wrong? Maybe! Is humanity still doomed to start over entirely (without Timothy Olyphant)? Probably not! Thanks to Timothy Olyphant…
We're down to the final three episodes – I can't wait to see how they wrap up the afterlife and the series.
See you next week when NBC's The Good Place returns with "Mondays, Am I Right?".