The Magicians Season 3: Their Destiny to be the King of Pain
SYFY has released a new conceptual trailer set aboard the Muntjac, a ship that will take our six heroes off on an adventure to bring back magic. That sounds so epic and anyone who watches the show will know that it will go so much more silly, dark and twisted than that. This group of college-aged kids found their way to a magical realm where they became kings and queens only to let magic disappear from the land. And now they want it back. One of the best shows on SYFY, The Magicians takes all preconceived notions of epic fantasy storytelling and tossing them in a blender with a dash of pop culture, a swig of insanity and just a pinch of the unexpected.
The trailer is set to Valerie Broussard's cover of the Police song King of Pain… and it may just be one of the creepiest covers I've ever heard.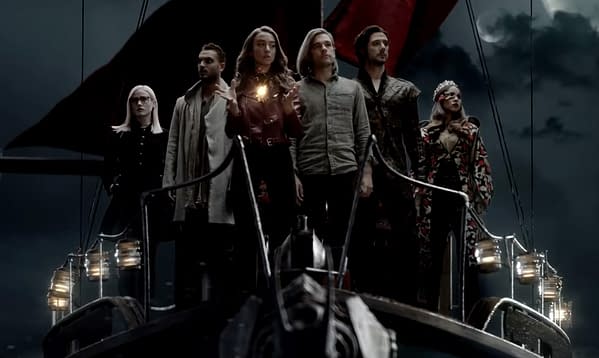 The Magicians is based upon Lev Grossman's best-selling books, The Magicians centers around Brakebills University, a secret institution specializing in magic. There, amidst an unorthodox education of spellcasting, a group of twenty-something friends soon discover that a magical fantasy world they read about as children is all too real— and poses grave danger to humanity. The series stars Jason Ralph, Stella Maeve, Olivia Taylor Dudley, Arjun Gupta, Hale Appleman, Summber Bishil and Jade Tailor. Felicia Day joins the cast in the new season.
The Magicians return for season 3 starting January 10th on SYFY.
https://youtu.be/83M5JIxPom8