The Main Man Takes a Peak Behind the Chain on SYFY's 'Krypton'
There's just about a month more to the wait before Krypton returns to SYFY for its second season. The stakes have been raised this time around, as the galaxy's most notorious bounty hunter, Lobo (Emmett J. Scanlan), is on the hunt.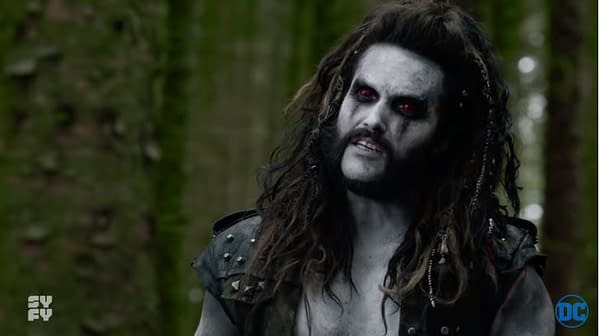 SYFY was kind enough to post this cool behind the scenes peak at the Main Man's debut on Krypton, which returns for its second season on June 12th:
How will that bode for "The Grandfather of Steel" Seg-El (Cameron Cuffe) as he tries to ensure that his timeline isn't completely undone while he tries to restore power to the people of planet Krypton, who are living under the tyranical yoke of Zod (Colin Salmon)
Here's a look at more of what to expect from the second season of Krypton:
Season 2 brings us back to a changed Kandor, locked in a battle over its freedom and its future. General Dru-Zod is now in control. He's on a ruthless mission to rebuild Krypton according to his ideals and to secure its future by conquering the universe. Faced with a bleak outlook, our hero, Seg-El, attempts to unite a dispersed group of resisters in an effort to defeat Zod and restore hope to their beloved planet. Their chance at redemption is threatened however, by their opposing tactics, shifting alliances and conflicting moral boundaries – forcing each of them to individually determine how far they're willing to go in pursuit of a better tomorrow.
The premise behind Krypton is pretty solid, with Adam Strange traveling back in time to help ensure that the Man of Steel is allowed to exist in the future. Season one of Krypton is available on the DC Universe app.
What if Superman never existed? Set two generations before the destruction of Superman's home planet, KRYPTON follows Seg-El (Cameron Cuffe – The Halcyon), the legendary Man of Steel's grandfather, who is faced with a life and death conflict – save his home planet or let it be destroyed in order to restore the fate of his future grandson. With Krypton's leadership in disarray and the House of El ostracized, Seg must balance the quest to redeem his family's honor and protect the ones he loves while being challenged by familiar DC characters Brainiac (Blake Ritson – Da Vinci's Demons) and Earthly time-traveler Adam Strange (Shaun Sipos – The Vampire Diaries).