The Mandalorian: You Caught Mark Hamill's Season 1 Cameo, Right?
Fans of Disney+'s live-action Star Wars spinoff series The Mandalorian have every reason in the world to be excited about its return. Series creator Jon Favreau confirmed that the second season's October premiere window was still on track, and some of the faces you might just be seeing include Rosario Dawson, Timothy Olyphant, Temuera Morrison, Katee Sackhoff, and Michael Biehn, with Favreau, EP Dave Filoni, Peyton Reed (Ant-Man), Robert Rodriguez (Sin City), and Sam Hargrave (Extraction) spending time behind the camera. But that doesn't mean the streaming service is done with the first season quite yet, with Disney Gallery: The Mandalorian having offered a focus on a different aspect of the show's season one production with each episode. With this week's season finale episode "Connections," viewers were taken on a tour of all the ways The Mandalorian tied into Star Wars lore (including the original trilogy of films, as well as television specials and series). That's where we learned that not only did a character from Return of the Jedi appear in "Chapter 5: The Gunslinger," but this character was played by none other than Mark Hamill.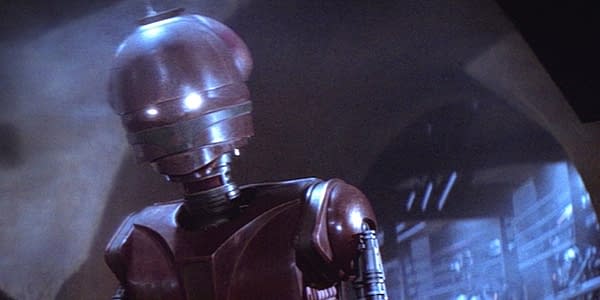 Relax and take a deep breath, it wasn't that guy. At the Mos Eisley spaceport on Tatooine (the one in Star Wars: A New Hope where Harrison Ford's Han Solo shot first), there's a droid that's working bar who viewers noticed bared a striking similarity to EV-9D9, Jabba the Hutt's lackey in Star Wars: Return of the Jedi. Turns out there's a reason for that: it is EV-9D9, and the even cooler/more surprising part? The booze-slinger was voiced by none other than "Mr. Luke Skywalker" himself, Hamill (still fresh off his hysterical guest appearance on What We Do in the Shadows).
Set between the events in Return of the Jedi and The Force Awakens, showrunner Jon Favreau and Dave Filoni's (The Clone Wars) The Mandalorian takes place after the fall of the Empire and before the emergence of the First Order and follows a lone gunfighter in the outer reaches of the galaxy far from the authority of the New Republic. Disney+'s The Mandalorian stars Pedro Pascal, Gina Carano, Nick Nolte, Giancarlo Esposito, Ming-Na Wen, Carl Weathers, Emily Swallow, Omid Abtahi, Werner Herzog, Taika Waititi, Bill Burr, and Mark Boone Jr. star.