The Midnight Gospel Transmits Countdown Clock from Chromatic Ribbon
Adventure Time creator Pendleton Ward and comedian Duncan Trussell's The Midnight Gospel is ready to start broadcast across space and time when it hits Netflix's airwaves on Monday, April 20. Just in case you tend to be forgetful (we'll avoid the oh-so-easy 4/20 jokes), the streaming service has come up with a pretty cool way to remember. Over at Netflix's YouTube channel, Ward and Trussell have set up an incoming transmission from the Chromatic Ribbon that's counting down the hours and minutes until Clancy's first spacecast (at 15 hours and counting at the time this is being written). Co-created and executive produced by Ward and Trussell, the series focuses on Clancy, a "spacecaster" with a malfunctioning multiverse simulator that opens Clancy up to literally endless possibilities. As we learned from the previously-released teaser, Clancy decides to leave the comfort of his home to interview beings living on dying worlds, opening the series to a universe of possibilities.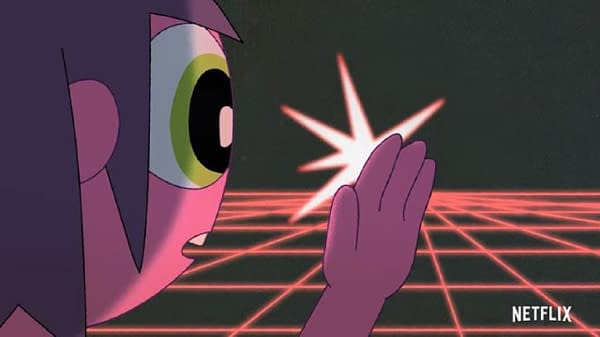 What makes the series especially unique is the way it takes interview clips from Trussell's podcast Duncan Trussell Family Hour and makes them come to life in some seriously striking visual ways. As impressive as the work of animation studio Titmouse has been in the past, the opening space scene in the trailer below shows they've elevated their game for the eight-episode animated effort. Don't take out word for it, check out the official series trailer for Netflix's The Midnight Gospel below, followed by the official countdown video (with live chat ongoing in Netflix's YT channel).
https://youtu.be/HX60KsGX_MA
In an interview last week in support of the series, Ward explained that it was Trussell's ability to have entertaining and informative interviews with anyone, no matter their background or experience: "He [Trussell] interviews meditation teachers and Zen gurus, comedians and philosophers … and in those conversations, he's an open book. He talks about his insecurities and flaws and he's sweet and uplifting as he listens with intention to his guests … and he's a comedian!" Impressed by his ability to make pretty much any topic entertaining, Ward asked Trussell about the idea of an animated series inspired by his podcasts: "I drew a rough animatic of how I imagined it, where he was interviewing Dr. Drew and they were both fighting zombies in an apocalyptic reality while they talked about curbing opioid addiction with weed. Duncan was into it and then we went about developing it more together and pitching it."