"The Office" Leaving Netflix in 2020; Exclusive to NBCUniversal Streamer in 2021 [UPDATE]
UPDATE: Details from The Hollywood Reporter:
"NBCU's streaming platform will retain exclusive domestic streaming rights to The Office for five years, paying $100 million per year to stream the series and outbidding Netflix for the rights. Producers Universal Television held the auction, which sources describe as "arms length" in process. That means that Universal Television and potential bidders, like sibling company NBCU streaming and Netflix — were kept far apart in a bid to ensure a fair auction and that profit participants got the best deal for the series."

By the time you're done reading this sentence, there's a very good chance that 27 new streaming services were just started… now make that 28 streamers. Okay, maybe that's a bit of an exaggeration – but there's no denying that we're living in a streaming world. And with all of these services comes the competition over content, with several streamers actively looking to bring licensed shows to a new "home" for a little exclusivity. A perfect example of that came earlier this year, with grumblings that NBCUniversal would secure modern sitcom classic The Office from Netflix for their upcoming new streaming service at the end of this year.
Well, it won't be at the end of 2019… but the NBC sitcom will move all nine seasons from Netflix when the current deal runs out in late 2020, shifting exclusively to NBCUniversal's upcoming streaming service (expected to debut in 2020) beginning in 2021.
"'The Office' has become a staple of pop-culture and is a rare gem whose relevance continues to grow at a time when fans have more entertainment choices than ever before. We can't wait to welcome the gang from Dunder Mifflin to NBCUniversal's new streaming service."

– Bonnie Hammer, Chairman – Direct-to-Consumer/Digital Enterprises, NBCUniversal
Amazing what a difference two months make: The Wall Street Journal reported that The Office would find a permanent new home on NBCUniversal's streamer when its deal with Netflix expires in 2020:
"NBCUniversal, which owns the show, licensed reruns of the comedy to the streaming-video giant years ago. Now, NBCUniversal is launching its own streaming service, and has begun internal discussions about removing The Office from Netflix when the contract expires in 2021, according to people familiar with the situation."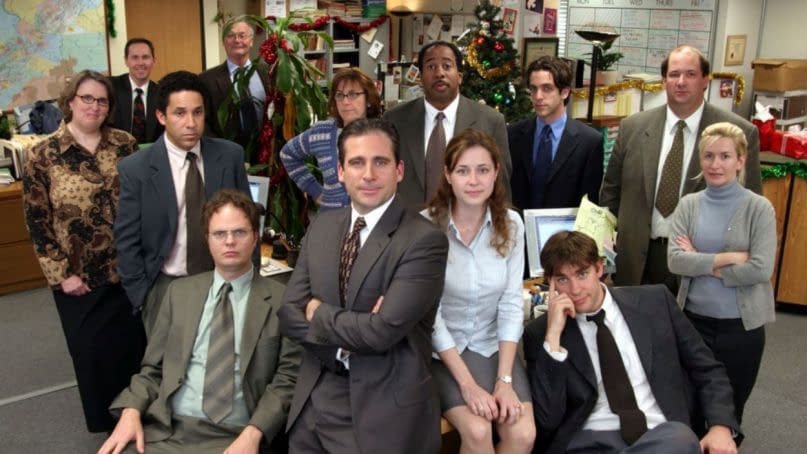 Except Netflix's "The Powers That Be" took to the streaming service's official Twitter account to not only reassure its subscribers that Dunder-Mifflin would still have a zip code on the streaming service through 2021… and possibly beyond:
Welcome to… The Great Streaming War of 2020!