We Chatted with 'The Orville' Cast and Crew During SDCC
We'll keep saying it, but one of the surprise things that happened at 2017's San Diego-Comic Con was The Orville. Suffering from a bout of misrepresentation from network FOX (Seth MacFarlane's words) during season one, the show's star and head writer completely changed our expectations for the show during the pressroom.
We were hopeful going into 2018's The Orville pressroom, the gathered stars of Chad Coleman (Klyden), Mark Jackson (Isaac), J. Lee (Lt. John LaMarr), Penny Johnson Jerald (Dr. Clare Finn), Scott Grimes (Lt. Gordon Malloy), Adrianne Palicki (Cmdr. Kelly Grayson), Peter Macon ( Lt. Cmdr. Bortus), and MacFarlane (Capt. Ed Mercer) were joined by series directors and writers Jon Cassar, Branon Braga, and David A. Goodman to discuss [what they could, which wasn't much] about the upcoming second season of the show.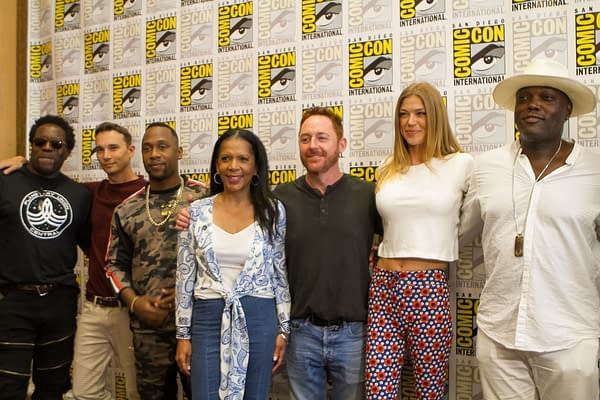 Scott Grimes started out by asking everyone at our very crowded table how WE were doing, commenting that he had just come from the American Dad stuff [I normally wouldn't complain about scheduling during SDCC, but Cosmos, The Orville, and American Dad all over-laped, so we were unable to chat with everyone in Cosmos and The Orville rooms].
I started by asking both Scott and J. Lee what their favorite scene to film from season 1 was, and they were both quick to respond "all of them". This of course got a laugh, but Scott followed that up with stating how much the love to be "at the front of the ship, chatting with each other."
"But ok, probably the episode where I had one leg. It was tough though, bouncing around. You think it'd be easy to hop around on one leg all day, but it was horrible," Scott said. "It was terrible, but also funny as hell," J. Lee said.
The pair were asked if they had any indication that the show would do well when they first joined, Scott said he had no idea, and "still has no idea, but it seems like it's found a place," while J. Lee said he "always knew, I could tell this was something Seth wanted to do for along time. His playground."
Although everyone we spoke to was unable to tell us ANYTHING about season 2 [Grimes said he was going to read the email everyone was sent reminding them NOT to say anything], they did tease a number of great character actors coming to the sophomore season. Also, new ship sets, and at least 3 new planets.
David A. Goodman commented that one of the big things they learned from season 1 was that the audience wanted in- that they 'got it'. "Going into season 2, what we're asking is if the audience will buy in again, with our variety. Some shows are straight up comedy, some are dramatic and dark, but it's really a mix and finding good stories to tell and using our characters in good ways."
Brannon Braga continued, saying that some of the episodes have stretches without comedy. "Something really serious is happening, and we didn't want to undercut the legitimacy of the drama, it's really what Seth envisioned for the show. I felt it freed us up knowing that we didn't have to be nervous or worried about it."
Jon Cassar and Brannon both spoke to the similarities between The Orville and the true ethos of Star Trek; infinite diversity in infinite combinations, and how the show really does aim to fulfill that. They also teased a bit of how the writers room works on the show- sometimes a story comes from a make-up created by that incredible team, or a tiny nugget of information from another episode. "And sometimes it's more we sit around and just go 'what the f*** are we gonna do?'" Brannon joked.
This brought me to my question from last year, the possibility of a musical episode. "That's more like a season 5 thing," Brannon said. "We would do it if our lead actor could sing," Cassar said, then finished "oh sh**, he can sing. Ok look, there's a lot of singing that goes on, more singing that last season."
Adrianne Palicki says what sold her on doing the show was reading the first five pages of the script, which were the opening scene with her and Rob Lowe *ahem*. "I think the difficulty of that scene was that it needed to be from a genuine place, because otherwise that character could never come back. People would hate HATE Kelly."
Penny Johnson Jerald says that season 1 set the foundation of the series, "are these likable people? Watchable people, from that very first scene. In season 1 it was finding out who these people are, and season 2 is more 'wow, they're kinda like me, too' type of thing."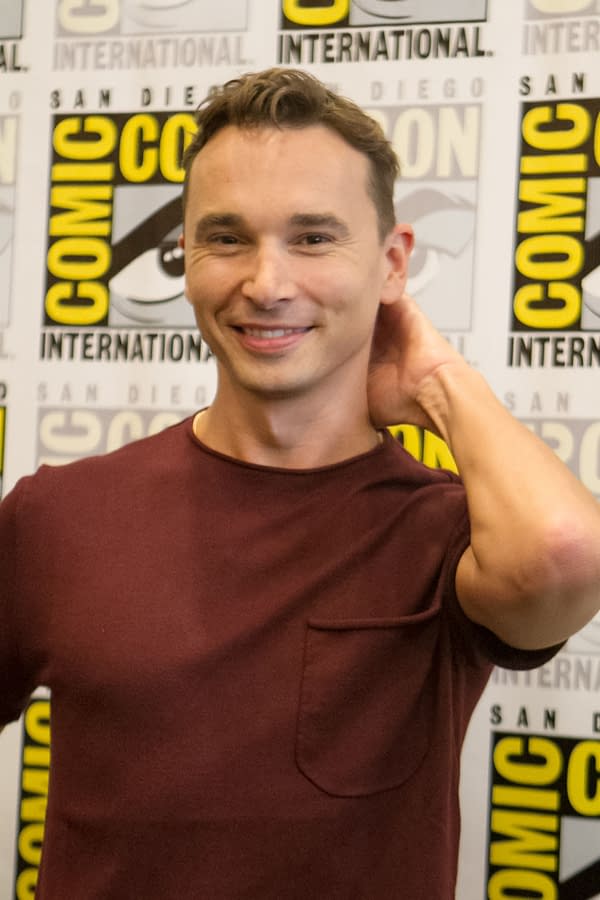 Sadly, we didn't get to chat with Chad, Peter, Mark, or Seth this time as everyone had to rush out to make it to the panel, but the trailer totally made up for it.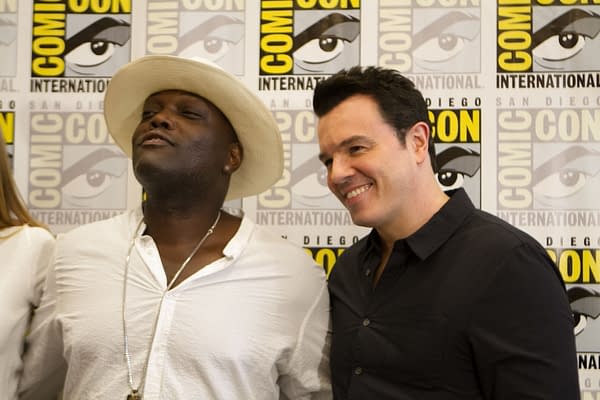 "The show was always intended to be what it is now," MacFarlane said during the panel, and we believe him.
The Orville season 2 is set to hit on December 30th 2018.
https://youtu.be/lavy7qZ1aoo