The Rookie Season 5 Ep. 13 Preview: John & Bailey's Crowded Evening
In the following preview for ABC's The Rookie S05E13 "Daddy Cop," we learn how the crew ends up in the middle of John & Bailey's dinner.
---
Based on the images and previews that were released for ABC's Nathan Fillion-starring The Rookie S05E13 "Daddy Cop," we know that at some point, the crew ends up over at John (Fillion) and Bailey's (Jenna Dewan) place to help Lucy (Melissa O'Neil) map out a career rescue plan for Tim (Eric Winter). But how did they all end up there? Well, without spoiling anything? Let's just say that the episode's blackout and heatwave might have a little something to do with it…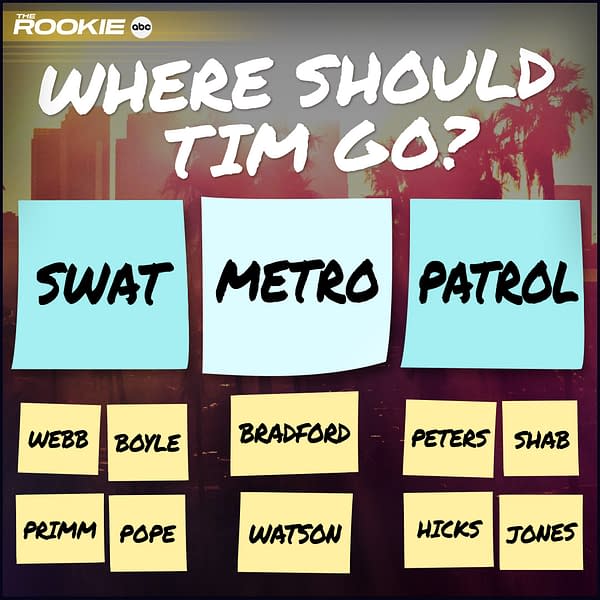 Here's a look at a preview for tonight's episode of ABC's The Rookie, followed by a look back at previously-released previews as well as a look ahead with the overview for S05E14 "Death Sentence":
The Rookie Season 5 Episodes 13 & 14 Previews
The Rookie Season 5 Episode 13 "Daddy Cop": Written by Fredrick Kotto and directed by Anne Renton, the January 17th episode takes place in the midst of a heatwave & a citywide blackout, where Officer John Nolan (Fillion) and Aaron (Tru Valentino) follow increasingly large leads after they discover criminals hiding at the station. While on duty, Officer Chen (O'Neil) makes an alarming discovery after being called to a scene where a pungent smell has wreaked havoc. Meanwhile, Lucy and Harper (Mekia Cox) scheme to get Tim (Winter) out of his new job and into a more exciting position. Now, here's a look at the preview images released for "Daddy Cop," followed by the episode promo & previews, and a look ahead to S05E14 "Death Sentence":
The Rookie Season 5 Episode 14 "Death Sentence": Officer John Nolan and Bailey (Dewan) are on the hunt for a mystery gunman after a shooting hits a little too close to home. Meanwhile, Aaron struggles to live within his means and joins Lucy to help Tamara (Dylan Conrique) when the mother of a child she babysits goes missing. Elsewhere, Wesley (Shawn Ashmore) suspects that a judge is taking bribes after he excludes valuable eyewitness testimony from a case. Written by Diana Mendez Boucher and directed by Faye Brenner.