The Umbrella Academy Star Justin Min Posts Hargreeves Family Reunion
We will readily admit that we've let our obsession with Netflix's The Umbrella Academy get the best of us and mess with our senses. We were fairly certain that we would've gotten at least a teaser by now, if not a teaser with some preview images. Dare we ask for which month will be the premiere window? To be fair, a global pandemic does tend to put a damper on things a bit; and it's not like Ellen Page, Tom Hopper, David Castañeda, Emmy Raver-Lampman, Robert Sheehan, Aidan Gallagher, Justin Min, series creator/EP Steve Blackman , and EP Jeff King haven't been burning the midnight oil (more on that below). But to put your mind at ease (and hopefully serve as the prelude to a wave of really cool stuff still to come), Min has taken to social media to share a Zoom image of the team back together and (we're assuming) talking all things The Umbrella Academy. Our two biggest takeaways? It's great seeing the "band" back together, and Blackman gets bonus points for the Tiger King backdrop.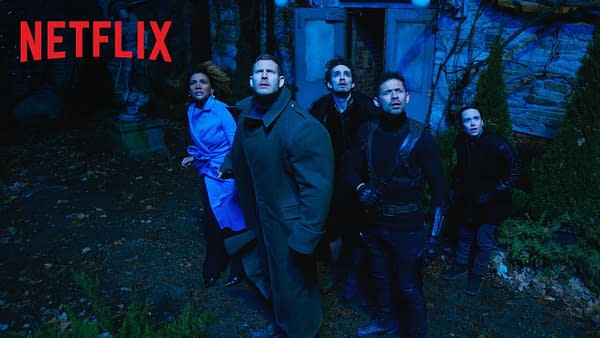 In March, Blackman took to Instagram to show the team working hard on post-production on the live-action adaptation of Gerard Way and Gabriel Ba's comic book series. Then last month, Min offered us a personal glimpse into how ADR (Automated Dialog Replacement) recording was going (otherwise known as "looping"). Now, it's a look at what appears to be the season's episode titles and writers, thanks to the WGA site. We're avoiding assigning them specific episode numbers until they're confirmed, but the running order for the season could be as follows (with writers included): "743" (Bronwyn Garrity and Roberto Askins), "A Light Supper" (Aeryn Michelle Williams), "OGA for OGA" (Nikki Schiefelbein), "Right Back Where We Started" (Blackman), "The End of Something" (Blackman), "The Frankel Footage" (Mark Goffman), "The Majestic 12" (Garrity), "The Seven Stages" (Goffman and Jesse McKeown), "The Swedish Job" (McKeown), and "Valhalla" (Robert Askins). Just a quick reminder that all of this is unofficial until it's official, but they do have us curious.