Tucker Carlson Take on Blake Neff More Whining Than Apology: Opinion
In what we're hoping is an example of covering something so you don't have to watch it, Tucker Carlson addressed the resignation of Tucker Carlson Tonight writer Blake Neff over racist, sexist, and other offensive messages posted under a pseudonym on the forum AutoAdmit. Waiting until the end of Monday night's show to milk the controversy for every drop of ratings glory he can suckle, Carlson began by acknowledging that what Neff did was "wrong" and that the messages posted by Neff (who once said "anything he's [Carlson] reading off the teleprompter, the first draft was written by me") have "no connection to the show: "First, what Black wrote anonymously was wrong. We don't endorse those words, they have no connection to the show."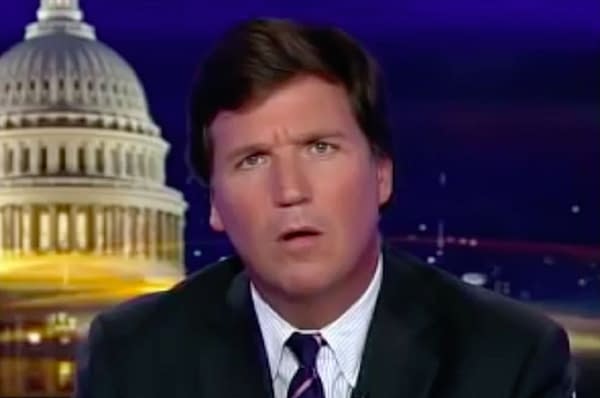 Now for those of you who think Carlson then went on to further criticize Neff, followed by acknowledging that FOX News really wasn't news and that his show profits from creating and stoking division along racial, ethnic, religious, gender, and sexual orientation lines? Either check your respective prescriptions to make sure you're taking the right dose or the back of your neck to make sure you're not an alien pod person. Oh no, the brunt of Carlson's attempt at "righteous anger" was aimed at this who (wait for it)… would actually take joy in someone who posts racist, sexist, and other offensive messages having to resign from a news program that has heavy, cult-like influence over others. Shocking, right?
Then the wording got really weird: "It is wrong to attack people for qualities they cannot control." Is he claiming Neff has some kind of issue or condition? Or is he inferring that those different from him should be given sympathy because, in his eyes, those differences are bad things? I'll leave that to you to interpret. Carlson continues, "In this country, we judge people for what they do, not for how they were born. We often say that because we mean it – we will continue to defend that principle, often alone among national news programs, because it is essential, nothing is more important. Blake fell short of that standard and he has paid a very heavy price for it." Ummm… "heavy price"? He resigned instead of being fired, which is pretty impressive for someone who posts racist, sexist, and other offensive messages.
"We should also point out to the ghouls that are beating their chest in triumph at the destruction of a young man that self-righteousness also has its costs," said Carlson, who clearly sees anyone who has issues with someone who posts racist, sexist, and other offensive messages as being "self-righteous." As for the "costs"? Ummm… feeling good that some who posts racist, sexist, and other offensive messages no longer has a job in the media?
But "Pastor Carlson" wasn't done preaching from his ivory soapbox quite yet: "We are all human. When we pretend we are holy, we are lying. When we pose as blameless in order to hurt other people, we are committing the gravest sin of all and we will be punished for it, no question." Huh? So is Carlson saying that in his mind, everyone posts these types of messages all of the time? Because if that's the case, someone might want to do a bit more of a deep-dive into other online pseudonyms. Also, all this talk of "costs" and "punished"? Is this what constitutes a threat in "Carlson World"? His god can beat up your god? I actually imagine Carlson's god showing up to the fight and throwing out one of those, "Don't you know who my dad is?" lines, leaning hard on the unearned trust that comes from two scoops of undeserved privilege.
So what better time to take a "long-planned" vacation?
In an internal memo sent last week by FOX News Media CEO Suzanne Scott and FOX News Media president and executive editor Jay Wallace to the network staff, the executives wrote:
"Yesterday we learned that now-former employee Blake Neff, a writer on Tucker Carlson Tonight, made horrendous and deeply offensive racist, sexist and homophobic comments under a pseudonym on the forum AutoAdmit. We want to make abundantly clear that FOX News Media strongly condemns this horrific racist, misogynistic and homophobic behavior. Neff's abhorrent conduct on this forum was never divulged to the show or the network until Friday, at which point we swiftly accepted his resignation. Make no mistake, actions such as his cannot and will not be tolerated at any time in any part of our work force. Tucker will be addressing this on his show on Monday night."
According to CNN's report published last Friday, Neff was still posting under an assumed name as recently as that week. Along with a number of general offensive comments, the ex-Tucker Carlson Tonight writer called out Reps. Alexandria Ocasio-Cortez, (who Carlson went after again on his Monday night show), Ilhan Omar, Ayanna Pressley, and Rashida Tlaib specifically by name before continuing with an offensive and absurd assertion.